It has been a summer of vast turnover at Liverpool, leaving plenty of questions to be asked ahead of the new season.
With all the comings and goings, it is still unclear who Jurgen Klopp plans to play against Chelsea – he even admitted this himself.
There are plenty of questions to be asked, on and off the pitch, that we may not find the answer out for some time.
With that in mind, we put together a list of questions supporters are pondering, and did our best to answer.
Who will start in defensive midfield vs. Chelsea?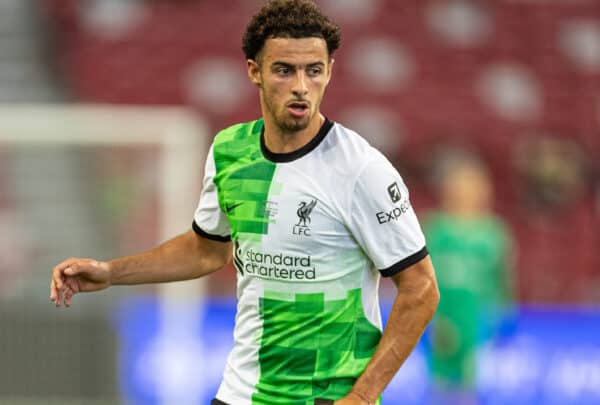 It is a question Liverpool fans have been mulling over since the first news of Fabinho's departure broke over a fortnight ago, but there is still no obvious answer.
In the new system, that we will come onto later, Trent Alexander-Arnold partners a defensive midfielder who can do the vast majority of the running for him – this allows the Reds' No. 66 to focus on doing what he is best at, creating.
The obvious candidate for the role is Romeo Lavia, but with his arrival from Southampton still to be confirmed, he is unlikely to be ready to go straight into the team given the nuances of Klopp's defensive midfield.
Curtis Jones is now the frontrunner.
Having played the position in pre-season, his manager said: "In this position? If nobody else is there, he can play that definitely."
He has taken his good form in holding midfield for England U21s into pre-season, and Klopp has seen his potential in the position.
Alexander-Arnold is also an option there, but it would be an unlikely move as the team would lose some of the benefits you gain from having him floating as a hybrid right-back.
And the front three?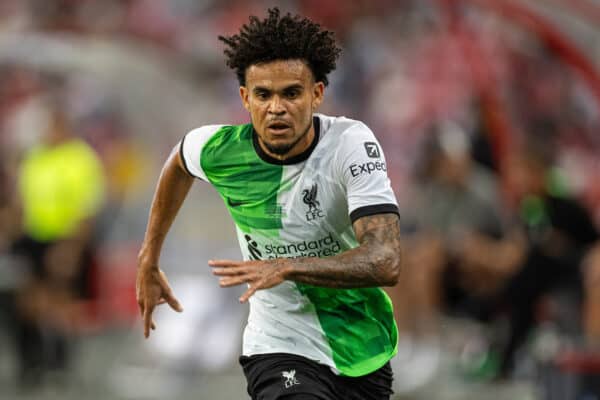 This is obviously a good problem to have, but Klopp does need an idea of where his players will line up come the start of the season.
An attacking trio of Luis Diaz, Cody Gakpo and Salah is the most likely look for the Chelsea match.
However, Diogo Jota played his way back into the team at end of last season and Darwin Nunez has been on fire in pre-season.
With the Europa League on the horizon, the forwards needn't worry about a lack of game time, but they will each think themselves worthy of a starting spot in the Premier League.
One thing we've learned is that Nunez is should play through the middle, rather than on the left.
---
Who we think the front three will be vs. Chelsea:
Sam: Diaz, Gakpo, Salah
Adam: Jota, Gakpo, Salah
Jack: Jota, Gakpo, Salah
Matt: Jota, Gakpo, Salah
Is the new system here to stay?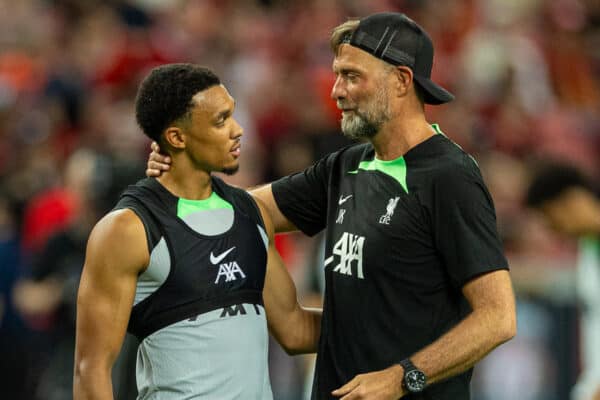 With Liverpool's hopes of securing Champions League football fading, Klopp decided to change approach towards the end of last season.
Moving away from a traditional 4-3-3, the Reds began to play in a formation closer to 3-4-3 while in possession.
This involves Alexander-Arnold moving infield from right-back before dropping again when out of possession.
The change improved Liverpool's fortunes for the run-in and it looks to be here to stay.
The manager has kept with it in pre-season and his signings seem to cater towards making the new system a permanent one.
With Dominik Szoboszlai and Alexis Mac Allister both capable of covering plenty of ground, as well as contributing in both attack and defence, they are the perfect players to compliment transfer target Lavia, in midfield.
The answer to this question is an unequivocal yes.
So, who will be Trent's backup?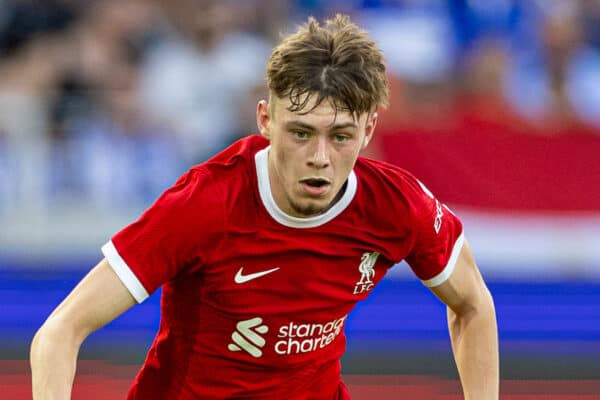 With Liverpool fighting on four fronts, including a hopefully long stint in the Europa League, it is clear Alexander-Arnold won't be able to play every game.
This poses a problem, though, as he is integral to the new system due to his unique talents on the ball.
At the moment, with Liverpool unlikely to go into the market for another right-back, it seems Conor Bradley is the man to fill Alexander-Arnold's boots.
Bradley has been auditioning for the role in pre-season and, while he clearly isn't the same player as Alexander-Arnold, could prove a useful deputy against weaker sides in the Europa League and domestic cup competitions.
Long-term, though, Bradley's attributes are more suited to playing as a more traditional attacking right-back.
When will the Anfield Road stand be ready?
Anfield was supposed to be hosting 61,000 supporters for the new season's first home game. Instead, there will be just 51,000 in attendance.
This is due to work on the redeveloped Anfield Road Stand taking longer than anticipated.
The plan is now to host a phased reopening of the stand, with the capacity gradually rising over the next couple of months.
Liverpool CEO Billy Hogan told This Is Anfield: "We'll open it incrementally over the course of the next several weeks, working very closely with Buckingham and Liverpool City Council to make sure that we do that in the appropriate way."
The new target for completion is hoped to be in time for the Merseyside Derby on October 21.
Are Liverpool short on midfielders?
Despite acquiring two quality midfielders, as well as Lavia or Andre probably, Liverpool are still shorter in midfield than they were last season.
After Milner, Naby Keita and Alex Oxlade-Chamberlain all left, the club decided to upgrade with Alexis Mac Allister and Dominik Szoboszlai.
Since, though, circumstances have changed again due to the departure of Henderson and Fabinho.
Should he sign, Lavia will likely take Fabinho's spot as first-choice holding midfielder.
This has left many believing Liverpool need to sign a fourth midfielder this summer however, the more likely outcome will be increased responsibility for Stefan Bajcetic.
He, though, looked better as a box-to-box midfielder rather than a defensive midfielder when featuring last season.
Will the new players hit the ground running?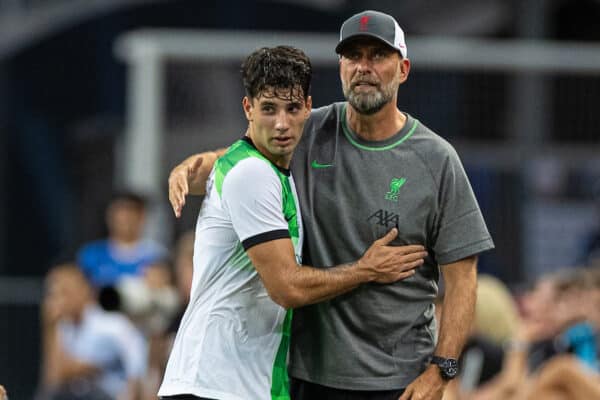 Well, the early signs are certainly good.
Szoboszlai and Mac Allister, the latter especially, both completed their moves well in time to feature in the Reds' pre-season fixtures.
This is something Klopp has always deemed a massive positive and the reason for Liverpool always trying to get their business done early in the window.
Mac Allister has played in all four friendly fixtures so far, particularly impressing in the Reds' 4-0 win over Leicester.
He is the most likely to slot straight into the starting XI for the Premier League opener.
Meanwhile, Szoboszlai has had a more interrupted start to life at Liverpool but still looks in good shape going into the new season.
He rolled his ankle in training but was back for the Leicester match, having a big impact during his time on the pitch vs. Leicester and Bayern Munich.
Lavia is a different story, arriving late if he does join, he will take longer to integrate into a difficult position to play.