Liverpool recently revealed their most popular shirt choices for 2023/24, and two of the club's new signings sit in the top three. Though, Dominik Szoboszlai won't be dethroned easily.
Alexis Mac Allister and Szoboszlai have started the season in impressive fashion, settling in without delay to form Liverpool's new-look midfield.
Their arrivals were met with plenty of excitement, and when you add in their early performances, it is no surprise that their shirts are among the most popular for fans.
Mac Allister is the third best-selling name and number on the back of Liverpool shirts according to LFC Retail, while Szoboszlai dethroned Mohamed Salah for the top spot.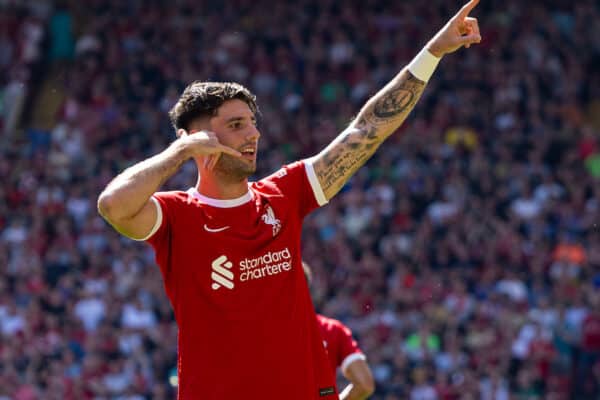 The £60 million signing has rolled back the years in the club's famous No. 8, but a cheeky social media post has seen his Argentine team-mate make it known he is eyeing his top spot.
"Thank you to all the fans," Mac Allister penned on Instagram after he was revealed as the third most-popular name and number combination, adding: "We'll catch you, @SzoboszlaiDominik" – with an accompanying laughing emoji.
"Neveeer" was the response from Szoboszlai, whose popularity is only set to grow.
The duo are forming quite the bond on and off the pitch and are leading the charge in what Jurgen Klopp has coined 'Liverpool 2.0' – a team which the manager feels is "easy" to love.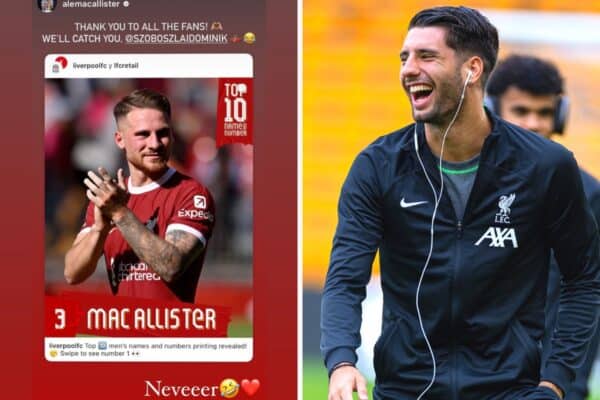 "I said before the Aston Villa game when I stand in the dressing room and look at the team I really, really love this team," Klopp recently said.
"It's early days, and I really think it's easy for people to love this team as well."
That it is, and it is clear that Szoboszlai and Mac Allister form a big part of that. Long may it continue.
* Order the new Liverpool FC kit from the official LFC online store here.