The first chunk Liverpool's season is done and dusted, but which Reds players have stood out as the star men in 2023/24 to date?
Jurgen Klopp's side may have had the odd speedbump in the road, such as the recent draw at Luton, but it has undoubtedly been an excellent start to the campaign.
Liverpool are second in the Premier League after 12 matches, and only one point adrift of leaders Man City, with the final international break now getting in the way.
Once Klopp and his players reconvene next week, a relentless run of fixtures start, with wall-to-wall domestic action until spring, plus the final two Europa League group games.
The question is: who have been Liverpool's five best players so far in 2023/24?
Here's what we think…
5. Darwin Nunez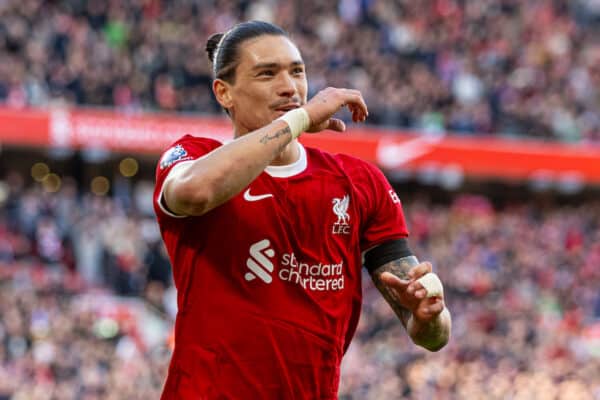 Appearances: 17
Goals: 7
Assists: 5
---
After a hit-and-miss first season in a Liverpool shirt – one that saw a scandalous amount of harsh criticism come his way – Darwin Nunez has gone up a gear.
There are still unfathomable moments thrown in, such as the sitters against Luton and Toulouse, but there has been so much to admire about his performances.
Perhaps the aspect of Nunez's play that has stood out the most is his link-up with Mohamed Salah, with the Uruguayan assisting his teammate four times in the Premier League this season.
Not only that, but they have created the most chances between them in the division (19), according to Opta, and Nunez has seven goals to his name, in all competitions.
The 24-year-old isn't perfect and can still improve his all-round game, but he rarely feels out of the action and is adored by Liverpool fans.
He is only heading in the right direction and has proved to be one of the Reds' best early performers.
4. Dominik Szoboszlai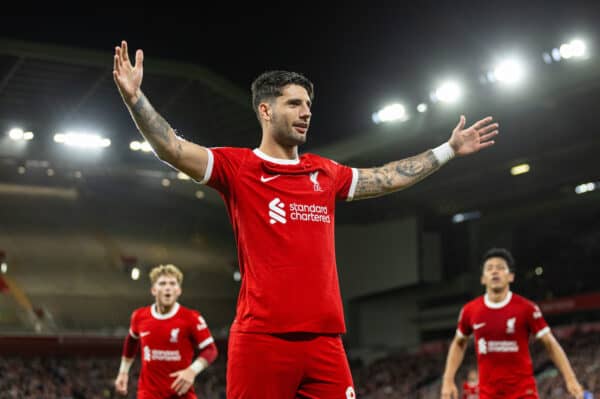 Appearances: 17
Goals: 2
Assists: 2
---
Remember when Liverpool were going to sign Mason Mount and there had barely been any links surrounding a move for Dominik Szoboszlai?
Instead, the latter came in from RB Leipzig, and he has enjoyed one of the best starts to a Reds career by a midfielder since Xabi Alonso in 2004.
Szoboszlai has been colossal in the middle of the park, combining elite technical ability with an astonishing engine – he is Liverpool's fastest recorded player this season – and he has two goals and assists apiece to his name.
Throw in a Steven Gerrard-esque shot, great leadership and the fact that he seems more durable than so many Reds midfielders from recent years, and you have a complete footballer.
He has only just turned 23, too, and the future couldn't be brighter for him.
3. Mohamed Salah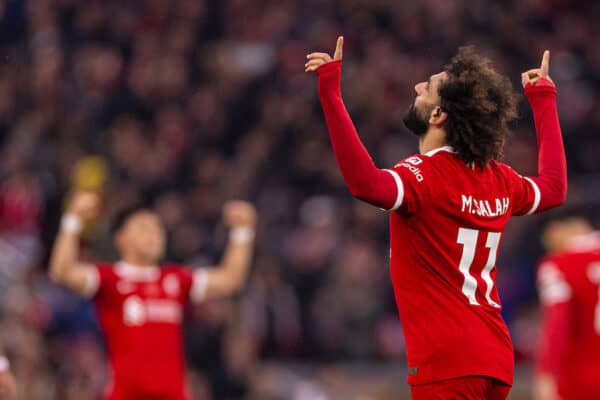 Appearances: 17
Goals: 12
Assists: 4
---
When Al-Ittihad came in with a £150 million bid for Salah in the summer, there were some who felt Liverpool should consider accepting it.
It felt nonsencial at the time, and as the Egyptian King has shown in the months since, he remains as important as ever to this Reds team.
Granted, some of Salah's all-round performances may have been a little patchy at times, but his end product and work ethic haven't slowed up, and he is still one of the best attackers in the world.
Twelve goals in 17 appearances is typically clinical, and against Brentford, the 31-year-old became the first-ever Liverpool player to score in all of the Reds's first six league games in a season.
Rumours of Salah leaving will only start up again in January and next summer – it is easy to envisage him moving on at the end of the campaign – but he still has enough in the tank to be priceless for several more years.
Is he now one of Liverpool's three greatest players of all time, alongside Sir Kenny Dalglish and Steven Gerrard?
2. Virgil van Dijk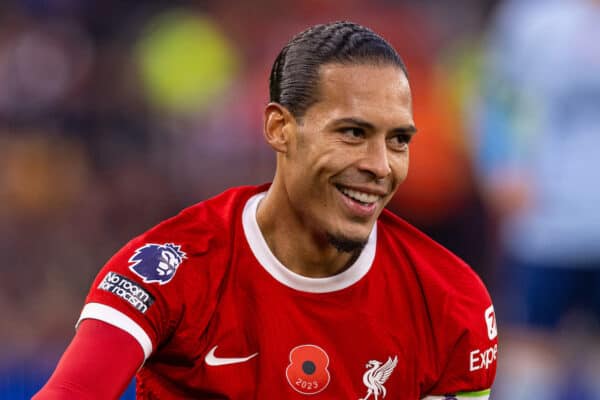 Appearances: 11
Goals: 0
Assists: 2
---
By his freakish standards, Virgil van Dijk was below-par last season, looking like a mere mortal instead of the best centre-back we've ever seen.
The Dutchman has been phenomenal in 2023/24, however, strutting into it as Liverpool's new captain and looking revitalised by having a new midfield in front of him.
Barring the red card at Newcastle, which was harsh but clumsy, Van Dijk has been near-perfect, and is arguably back to being the best in the world in his position.
So far this season, the 32-year-old hasn't been dribbled past once in the league – that stat feels like it was invented by him! – and he has also completed 91.7 percent of his passes.
Moreover, only Nottingham Forest's Scott McKenna (87 percent) has a higher aerial duel win rate percentage than Van Dijk (82.3 percent), but the former has only started five league games.
The Liverpool legend looks as good as ever, making his job look effortless once more, and rumours of his demise have been greatly exaggerated.
1. Alisson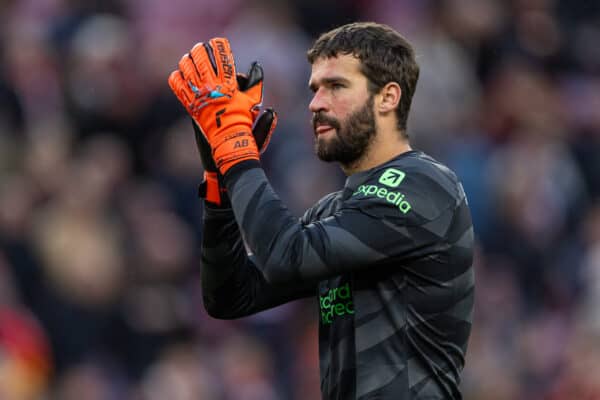 Appearances: 13
Clean sheets: 5
---
If Van Dijk is the best centre-back on the planet, Alisson is certainly the leading goalkeeper in the game, and has been for some time.
He may not always have been as heavily involved as the other names on this list, due to Liverpool's dominance in games, but he continues to bail them out with remarkable consistency.
Alisson's greatest strength is making everything look so easy, but it is only his world-class positional sense, speed of feet and reading of play that make him so immaculate.
How often does he make a save for the cameras?
Alisson has the highest save percentage (78.7 percent) of all the goalkeepers in the Premier League, and he is still the player whose absence would hurt Liverpool the most, with his one-on-one-ability particularly unrivalled.
He is an extraordinary footballer, and one of the best to have ever played in goal for any team.
Liverpool should not be in a position whereby Alisson has to be considered the best performer, but it is a title he has rightly earned.