Alisson's last appearance for Brazil was last December in the World Cup quarter-finals, and his absence from the starting lineup is expected to continue this month.
Brazil have played five matches since they were knocked out in Qatar and Liverpool's No. 1 has been on the bench for four of them and absent entirely for another.
From a Liverpool perspective, the idea of minimising Alisson's risk of injury while on international duty is welcomed, but it will be a huge personal disappointment for the 31-year-old.
Fernando Diniz is the current interim head coach of the Selecao and has opted for Man City's Ederson over Alisson in goal, which he is set to do again this month.
Brazil meet Venezuela and Uruguay in World Cup qualifiers and the visit of the former (Friday at 1.30am BST) is expected to see Alisson snubbed for the sixth successive match.
According to various reports in Brazil, including ESPN and Globo, the team lining up throughout their main training sessions have included Ederson over Alisson.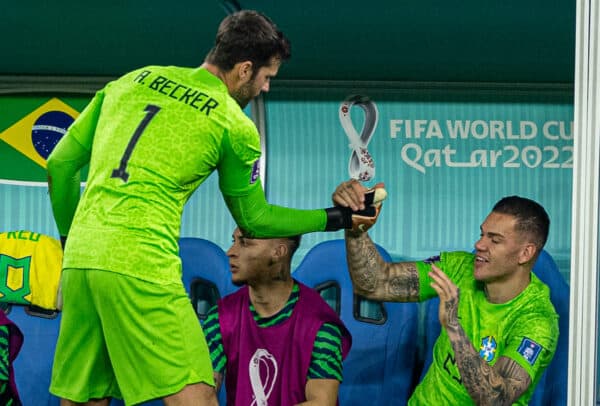 Brazil are fortunate to have two of the most high-profile goalkeepers but Alisson's omission over his Man City counterpart remains bemusing to say the least.
Ederson was the one put in front of the press in the build up to the match with Venezuela and explained that the competition with Alisson is "healthy" and "good for Brazil."
"The relationship between the goalkeepers is very good, it's a healthy competition," the City 'keeper said.
"It's great to have two goalkeepers who are always looking for and achieving personal and professional goals.
"The coach only chooses one and whoever play will be able to do the job. It can only be good for Brazil."
During the September break, Diniz insisted the "dispute" over which goalkeeper starts "will always be open," and while that choice is seemingly straightforward for those of a Liverpool persuasion, at least Alisson will be largely kept out of harm's way.