Jurgen Klopp was measured in his response to Liverpool's draw at Brighton. We've got the important bits from his post-match press conference, for you.
Here are four key points from the manager's post-match press conference…
"A fair result"
The statistics show an even match with 14 shots each and a difference of eight percent possession-wise, in Liverpool's favour.
After the match, Klopp admitted the match "was intense for both teams" and concluded, saying it was "a fair result."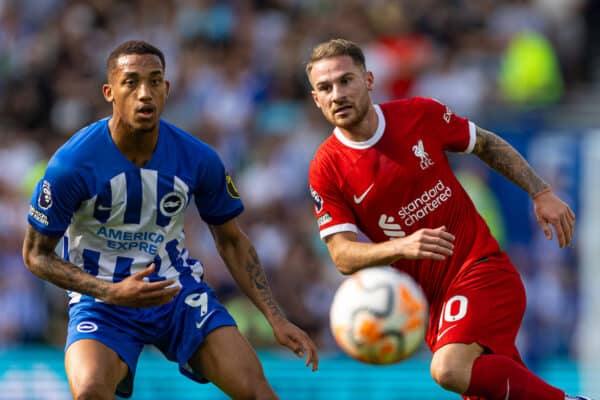 However, he also added: "I really think if we'd scored the third one, we would have deserved to win."
While sharing the points may have been the fairest outcome, it always feels worse after the Reds had the lead.
Klopp is "over" the potential red card
It was clear that the manager was trying to remain composed after the game and, when asked if Pascal Gross should have been dismissed, he revealed he hadn't yet seen the incident back.
"I didn't think about red but I heard now it's about goalscoring opportunity. If it's a goalscoring opportunity, we can ask a question here," Klopp added before asking the room said question.
Several hands went up to say it was a clear goalscoring opportunity. Klopp didn't dwell on it, though, and said: "I'm over it, I'm too old for these kind of things.
"We will not change it I heard anymore."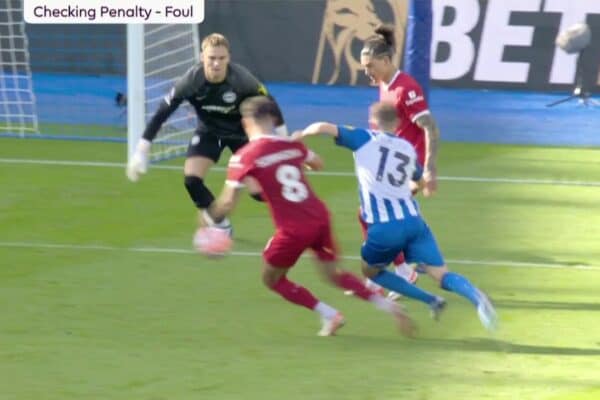 Klopp is a "real supporter" of Roberto De Zerbi
Like before the match, Klopp was once again complimentary of the Brighton boss after the game.
"I have to say I could not repect more what he (De Zerbi) is doing," Klopp began.
"Honestly, I'm a real supporter of it. I'm a football lover and the impact he has on football should not be underestimated.
"In the moment when he got a bit outraged, I used my age to calm him down.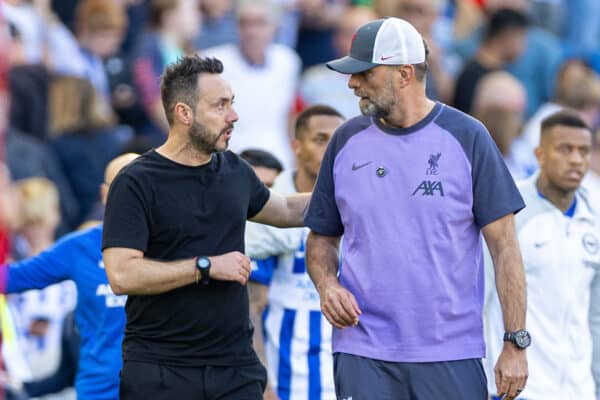 "If I'm in the moment like this (outrage), there's a moment when the moment of never-coming-back appears. I tried to calm him down, I'm not sure if he needed it or not."
Surprised at the half-time lead?
Brighton definitely had the better of the first half, but ultimately were left trailing at the break thanks to two goals from Mo Salah.
The manager was asked whether he was surprised by the turn of events, and replied: "The thing is, I know how it looked and I accept that 100% some things I didn't like.
"But, you could hear in the stadium how often we we were really close to winning the ball. That's the risk to take…
"We kept going and we deserved the resilience. No I was not surprised, to be honest. I know some moments they had the upper hand."
---
* Remember to subscribe to This Is Anfield on YouTube to watch every LFC press conference in full.