The prospect of broadcasting live VAR communications during Premier League matches has been dismissed, with fears that it would be too "chaotic" for listeners.
VAR was introduced to the top flight at the start of the 2019/20 season but refereeing errors have persisted, leading to calls for greater transparency between officials and supporters.
One of the ideas that is often circulated to improve clarity is to enable fans to hear the conversations between referees and the VAR room, but that has been shot down by a member of the International Football Association Board (Ifab).
Ifab secretary Lukas Brud admits fans should be able to hear the processes involved in making decisions, as has been demonstrated on recent 'Match Officials: Mic'd Up' shows on Sky Sports.
The board do however maintain that those conversations should not be made public during games, with Brud's view being that it would be "counterproductive" to do so.
"I was allowed to observe and see communication between match officials during a review and it is quite a chaotic situation," Brud told BBC Radio 5 Live.
"Not in a negative sense, but there's many people talking at the same time and I think it would be counterproductive for anyone to listen to all those voices talking to each other.
"Then you have the VAR and the assistant VAR, the replay operators, the referee and maybe even the assistant referees and fourth official, so all of a sudden it becomes quite a chaotic experience."
Luis Diaz saw his goal at Tottenham wrongly disallowed due to an unprecedented communication error between on-pitch referee Simon Hooper and VAR Darren England.
It led to even greater pressure to improve the current protocols, reigniting the ongoing debates around transparency and improving the experience for supporters in stadiums.
Brud believes fans would not benefit from being able to listen to the audio as it is happening but did add that a "green light" has been given for the announcement of decisions at matches.
He continued: "We have given the green light to test the announcement of decisions to bring a little more transparency to decision-making, but we are not prepared at this point to open up communication live to the audience."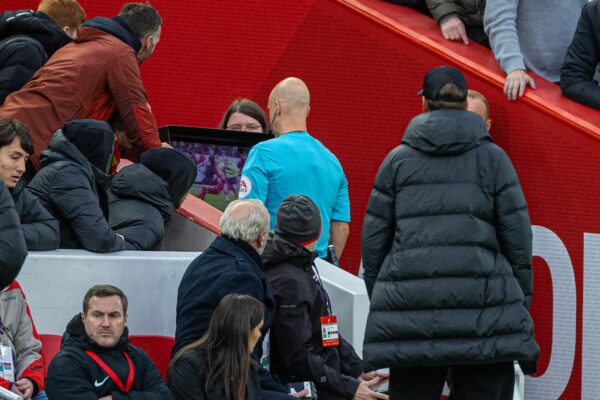 Comparisons have been drawn with the straightforwardness of the processes in rugby and many have questioned whether similar methods could be applied across football.
Brud argues not, saying: "They are different sports with different setups. We cannot compare by simply saying it is the same. In football, processes are slightly different.
"Football is different because everyone is putting a magnifying glass on every decision and every single word would then be analysed in the media and it would create a very unsafe environment for referees.
"They need to feel safe when they are focused on decision-making."