Harvey Elliott has been lauded for his commitment on and off the pitch at Liverpool this season, despite only starting five of his 12 games.
Elliott has been a staple of Jurgen Klopp's side since recovering from a serious ankle injury in 2021, playing 46 times last season including 25 starts.
While he was required regularly throughout the previous campaign, high-profile additions to the midfield have seen the 20-year-old's minutes limited in the Premier League this time out.
He has started every game in the Europa League and League Cup, but only one in the league, though his performances off the bench have been exceptional.
That has stuck out for assistant manager Pepijn Lijnders, who also praised a player "senior" beyond his years for his role in training.
"I said to Harvey, probably two or three weeks ago, I have never seen him this good in training," Lijnders told reporters on Tuesday.
"He was not playing at the time, that's why I spoke with him.
"It shows a lot, the consistency he's coming on or starting [with], it's always there.
"I think he's really consistent with his performance. That's something we wanted from him and that's what he feels.
"He acts more like a senior than you think, similar with Curtis – they are such a long time already with us – and he has this character as well to be like that.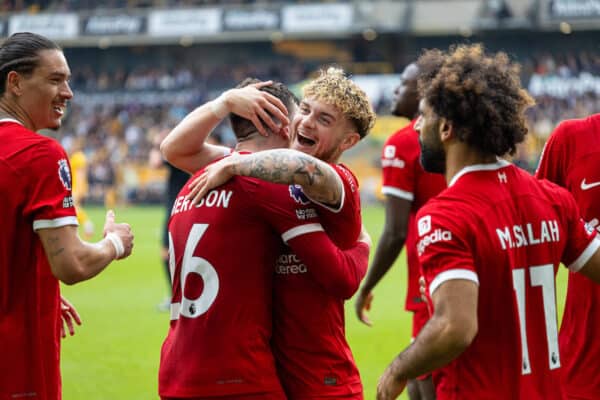 "He makes impact, he is this player who has to make impact, he is the player who, between the lines and on the outside when he plays there, has to create, who has to play the final pass, who needs to arrive and score.
"He's a really, really good player, we all see this."
At 20, Elliott has already been involved in six seasons as a senior professional, with 123 appearances across spells with Fulham, Blackburn and Liverpool.
More recently he has worn the captain's armband for England U21s, excelling in the October international break with two goals and two assists in two games.