Jurgen Klopp spoke of wanting a replay after the VAR debacle at Tottenham but, in the same breath, acknowledged "common sense" would have been the best solution.
If you are sick of the whataboutery and tribalism that this incident has brought about, know you are not alone.
Luis Diaz's goal failing to be awarded on Saturday thanks to an unprecedented error has triggered quite the debate, which the Liverpool manager added to on Wednesday.
"I can say immediately, and some people won't want me to say, not as a manager of Liverpool, more as a football person, the only outcome should be a replay," he told the press.
That has since spiralled and turned into Klopp 'demanding' a replay when it could not be further from the truth – it is what he believes is a possible solution, like "common sense" would have been.
"Nobody wants to make these kinds of mistakes and wants to be in the middle of all the attention for all the wrong reasons," Klopp said.
"We have to talk about it really calm, what could be the possible outcome?
"If that would happen again, I would say replay. Fine. We play it again.
"Or, much better than a replay, sort it in that moment. Just with common sense. Then you don't have that problem anymore.
"Maybe it happens in 10 years again, and then they can say, 'yes, last time we had to organise a replay, now we can do it like that [with common sense]. What a wonderful solution'.
"That would be a big improvement, but we will see."
The "common sense" that Klopp speaks of is the officials recognising their mistake and making the necessary decision to fix it in the moment.
"The ref has the opportunity to bring both coaches together and say, 'We made a mistake, but we can sort it. Let Liverpool score a goal and we start from there'," Klopp explained.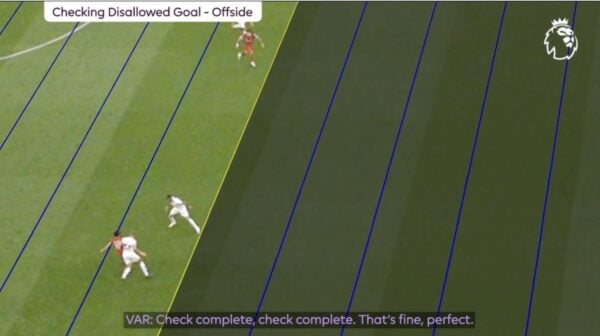 "In this specific game, what makes it a bit more special is that we conceded two minutes after we scored a regular goal.
"And how all things depend on each other, if the goal would've counted we would've started the game in the centre of the pitch and not where it started. It would've been different.
"That's one thing and that's my view on it. I'm not angry with any of them. Not at all."
Continuing, he added: "In a game, and it's not because we are involved, in a situation like this, real massive mistake of all people involved then correct it in that moment.
"Obviously, the decisive people in that moment thought that's not what they can do. Fine, then let's do a replay.
"And if it happened next time, give them the chance to do it like this and we don't have that problem anymore."
Pretty level-headed thinking really, even if he went out on his own regarding a replay, but 'demand' one he did not.