A sports journalist who spent a year with Steven Gerrard has recounted the tales he experienced along the way, including a post-match moment with the Liverpool manager in Istanbul.
Ned Boulting worked on a Sky One documentary titled 'Steven Gerrard: A Year in My Life' back in 2006 during what was perhaps the former skipper's greatest period in a Liverpool shirt.
The production involved Gerrard being followed by a camera crew throughout the 2005/06 season, with staff members and teammates all involved in giving an insight into the former No. 8's life.
Speaking to This Is Anfield, Boulting recalled his encounters with Rafa Benitez, a man he spent a lot of time in the company of during the process.
"The character from that squad that I got to know the best, by some distance, was Rafa Benitez," Boulting explained.
"Rafa was someone who loved an off-the-record briefing, so sometimes we'd finish filming and three-quarters of an hour later he still hadn't left the room.
"He was slagging off, sometimes Gerrard, he'd be slagging off players, he'd be saying this, that and the other behind their backs, but he was just testing you.
"He was just floating these little things out there to see what you did with these nuggets of information. Whether or not you broke his confidence."
Boulting also revealed that he was the first person to receive a hug from Benitez following Liverpool's penalty shootout win over AC Milan in Istanbul.
"I was standing right next to the Liverpool dugout effectively and Benitez, within seconds, turned around to hug somebody, anybody. It didn't matter who it was and it happened to be me," Boulting continued.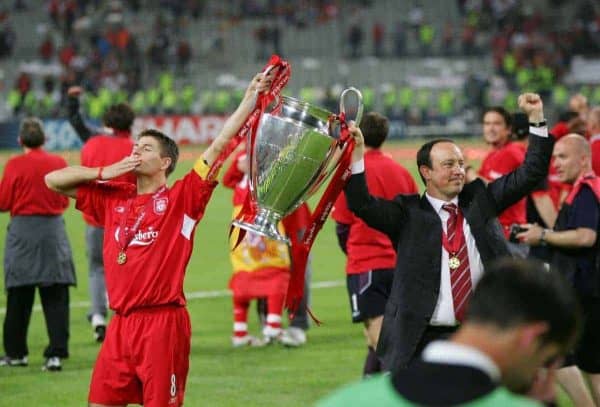 "I almost got my ribs crushed by Rafa Benitez in that moment where it all came right for him!"
It is a fascinating story about a man who very rarely showed outward emotion during his time on the touchline at Anfield.
Benitez was well-known for never celebrating goals during his spell in charge, so it is great to hear that he allowed himself a moment on what was arguably the greatest night in the club's history.
---
You can watch our full interview with Ned Boulting here.