Curtis Jones is embracing the "healthy competition" that exists in Liverpool's midfield and he's learning from some of the best, including Alexis Mac Allister.
Since returning to the team at the backend of last season, Jones' importance to Jurgen Klopp's side has grown game by game.
The 22-year-old knows he's "still got things to learn" but that he's "getting there," and it is safe to say he would not blink at the chance to have Mac Allister's traits rub off on him.
"Mac Allister, the way he protects the ball I've never seen before," Jones eulogised to the press. "He does this thing where he receives the ball, sticks his bum out and you can't take the ball from him.
"So I'm thinking, his experience, he knows when he's going to get pressed and which way he moves."
The Argentine may not be playing in a position that highlights the vast skills he possesses, but the No. 10 has showcased why his signing was a significant coup for the club.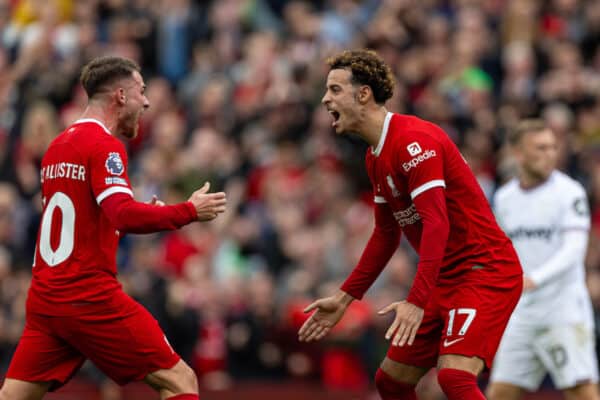 Mac Allister's favoured position would be on the left of midfield, where Jones is deployed, but the Scouser is not afraid of competition as it has always been that way at Liverpool.
"It's Liverpool at the end of the day, so the competition is always tough," he said. "I came around the team when I was 17, and the competition then was [Gini] Wijnaldum, [Jordan] Henderson, [Naby] Keita, [Alex Oxlade] Chamberlain. It's always been a world-class team.
"I'm at the point now where it's changing a bit, there's younger lads in there.
"It's freshened up, it's changed around, but it's still going to be [a place where] if you're a centre mid who is playing well, of course you know you're keeping your place, and if not then of course it's going to get changed around.
"The competition is good, it's healthy. We're bonding well as a team, that's the important thing.
"[Liverpool] attracts the best ones, and if you've got a squad full of lads who can change a game, then if one isn't having a good game then it's going to get changed round. That's just what it is."