Liverpool trudged through the rain and into the League Cup quarter-finals as Darwin Nunez's brilliant winner saw Jurgen Klopp's team beat Bournemouth.
It was by no means pretty but Liverpool supporters had plenty to celebrate come full time at the Vitality Stadium.
With eight changes to the team, a couple of youngsters may have played themselves into contention to start in the Premier League.
Here, Sam Millne (@sam_millne), Patrick Allen (@P_Allen21) and Adam Beattie (@beatts94) discuss the weather conditions and the Reds' top performers from Liverpool's game against Bournemouth.
Your initial reaction to the draw?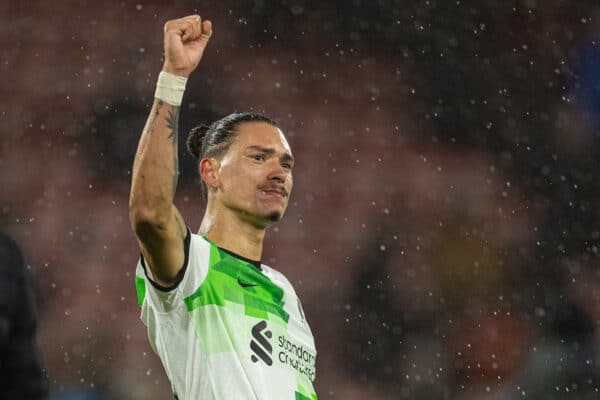 Paddy: Obviously I'd have preferred Middlesbrough or Port Vale but you can never turn your nose up at a home draw in a quarter-final of a competition, especially when it's against a side you've already beaten this season.
Sam: There's absolutely nothing to complain about there. Personally, I would have taken a home draw against anybody.
The only issue I can see is that the tie vs. West Ham is sandwiched between matches against Man United and Arsenal.
Adam: It's opening up nicely for us! West Ham could cause us problems but I've got lots of faith in the depth of this squad to get the job done, particularly at home.
You get the sense that Klopp already senses an opportunity here and his reaction at the end told us all we needed to know.
Adam, you were there, how much did conditions affect play?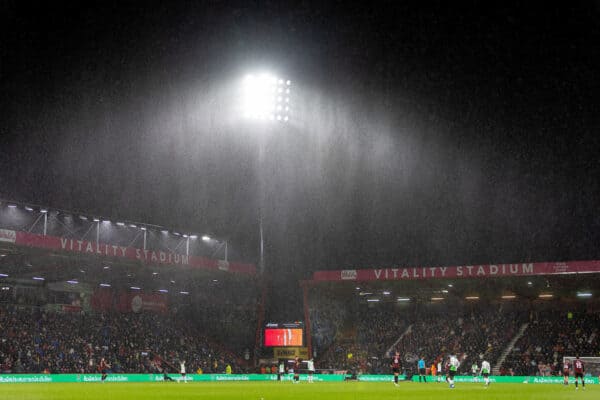 Adam: I've seen a lot of football in my life but I've never seen anything quite like that!
Goal-kicks were just stalling in the air and even coming back towards goal at times. It was a bit of a lottery but it made the fact they got the job done all the more impressive.
We can take a lot of pride and confidence from battling through that; if we can play in a storm we can play in anything!
Who impressed the most for you?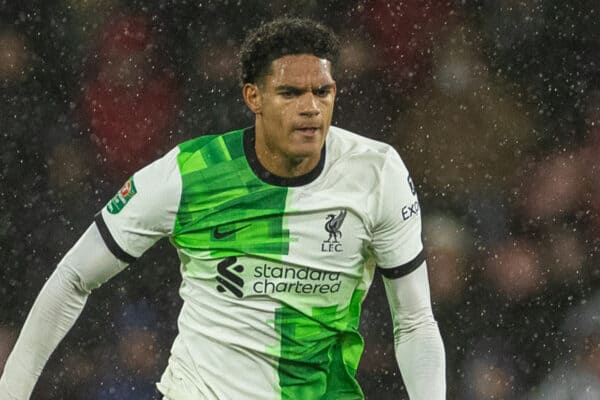 Paddy: Quansah was outstanding. It was a really tough game conditions-wise and for someone who was only making his fourth senior start, he handled the occasion superbly.
Curtis Jones looked a lot sharper than he did against Toulouse, too.
Sam: I'd agree that Quansah was great defensively, and he's clearly earning the trust of his teammates.
I'd have to give a shout for Joe Gomez as man of the match, too. He had a quietly solid performance at right-back with a couple of dangerous crosses considering the wind.
Nunez's impact can't be underestimated either – that goal came at a crucial time when Bournemouth were on top.
Adam: I'd have no issue if I saw Quansa'hs name on a Premier League team sheet and that speaks volumes on what he's showing us.
Has anyone played themselves into the team vs. Luton?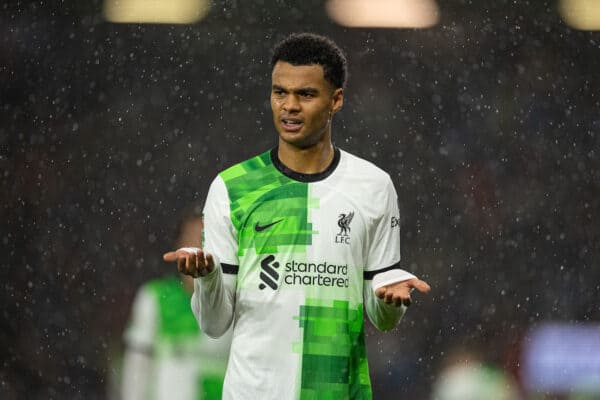 Adam: Harvey Elliott is still knocking on the door but the range of options we have in the middle makes it difficult for him.
He hasn't put a foot wrong when called upon this season and offers us so much going forward when he is on the pitch – he looks completely at home in that midfield.
Paddy: Not necessarily, I think tonight was just about managing minutes and getting the job done.
The only real question is whether Jones comes straight back into the Premier League side after his ban. I don't see that happening based on tonight alone, especially seeing how Ryan Gravenberch and Dominic Szoboszlai have played in his absence.
Sam: It is two from Nunez, Diogo Jota and Cody Gakpo really for Luton, and Gakpo did himself no harm by scoring again.
But then again, neither did Nunez. I think we'll see Gravenberch come back in on Sunday and could even see Szoboszlai rested after passing the 1000-minute mark with Mo Salah on Wednesday.
Will we go all the way and win the League Cup?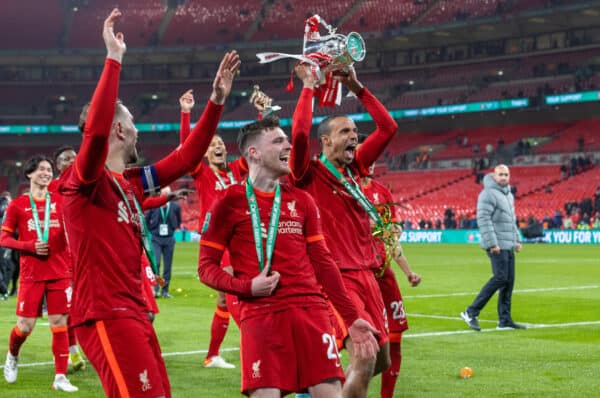 Paddy: Will we? Maybe. Should we? Definitely.
Make no mistake about it, this competition is now ours to lose. The only side left in it that vaguely worries me is Newcastle and we've already beat them this season in pretty sensational circumstances.
Winning it in 2022 provided a platform for us to push all the way in every other competition, hopefully it's the same this campaign.
Sam: You would have to say we're the favourites now. The draw has been kind putting Newcastle and Chelsea together.
Middlesbrough and Port Vale's clash also means one of those will be in the semi-final and, once you're at Wembley, anything can happen! I think we'll do it.
Adam: We can probably field a similar team against West Ham but keep some firepower on the bench in case of emergency.
If we play like we have been doing in this competition and the Europa League, we've got every chance.