Darwin Nunez was substituted at half-time in Uruguay's 2-1 loss to Ecuador, with Marcelo Bielsa explaining he had "muscular difficulties."
Nunez made his second start in as many games under new Uruguay manager Bielsa this break, with a trip to Ecuador to contest a World Cup qualifier.
It came after hints in training that he would not be part of the starting lineup, but after a dominant display in a 3-1 victory over Chile on Saturday, he was retained.
Unfortunately, Nunez was only given 45 minutes before being replaced by Cristian Oliveira, with Ecuador having equalised for 1-1 in first-half stoppage time.
Speaking to reporters after the game, Bielsa claimed Nunez had been brought off due to "muscular difficulties."
However there was no indication of a genuine injury for the striker, with his withdrawal in Quito suggested to be more due to fatigue.
Bielsa explained that Nunez was unable to fulfil his high-intensity duties up front due to the exertions of three days previous.
"It seemed convenient to me to substitute him because he couldn't keep up with the game when we had to press," the 68-year-old said.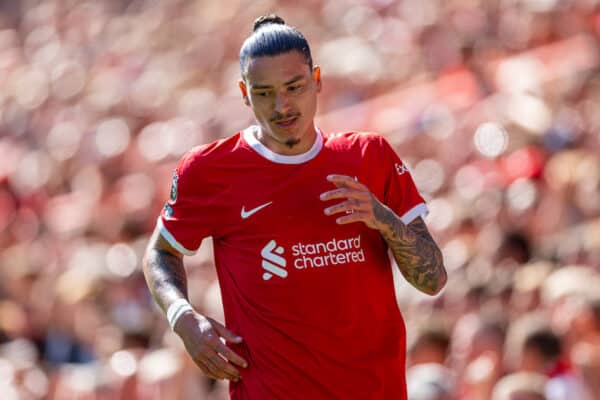 It comes after limited exposure for Liverpool in the first three games of the season, coming off the bench for a total of 41 minutes against Chelsea, Bournemouth and Newcastle.
His workload increased with a start against Aston Villa and resulted in an outstanding display of pressing from the front.
But even then, Nunez was brought off with 65 minutes on the clock, with medical staff clearly wary of overworking the 24-year-old – which, fortunately, Bielsa is on board with.
The situation should be viewed as a positive, then, with Liverpool and Uruguay both taking caution with such an explosive player.
Nunez should return to Merseyside on Wednesday, though there is a tight turnaround ahead of the Reds' visit Wolves for a 12.30pm kickoff on Saturday.
It seems unlikely that Jurgen Klopp will opt to start his No. 9 given his efforts during the international break, with Cody Gakpo and Diogo Jota his other options.