Andy Robertson's injury means Liverpool are without their first choice left-back and that requires a solution from Jurgen Klopp for the foreseeable.
There is a deputy on hand in Kostas Tsimikas, who just signed a new contract. But this time it may not be a simple case of bringing in the backup.
For the past six months, Liverpool have faced different challenges on the left. Without Robertson, they may now need to explore different solutions.
Pressing concerns
At its peak, the first Jurgen Klopp Liverpool team set up in a 4-3-3. With a narrow front three, the full backs pushed high up the pitch to provide width.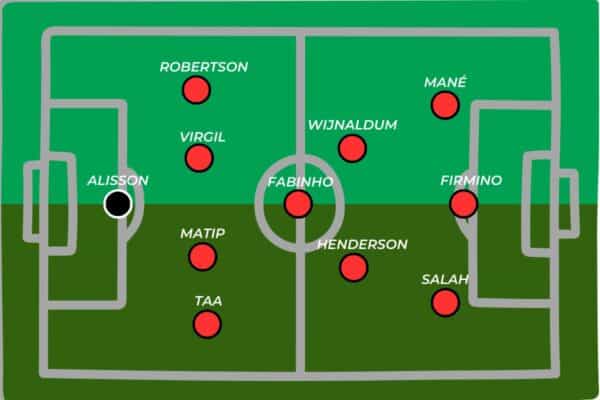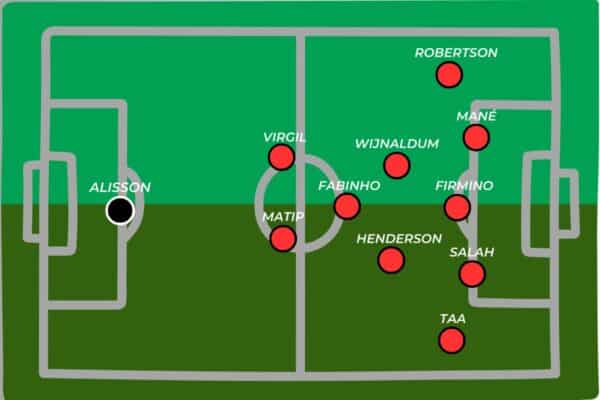 This allowed Sadio Mane and Mo Salah to get into dangerous central positions, as well as unlocking the creativity of Robertson and Trent Alexander-Arnold.
But it also meant that the midfield could stay narrow and compact. If the ball was lost, they could counter-press quickly and effectively to stop the opponent transitioning forwards.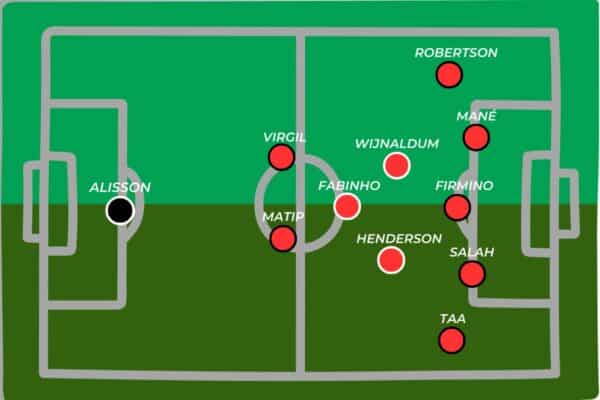 Last season, the midfield of Fabinho, Jordan Henderson and Thiago were unable to sustain this counter-press. Opponents could, therefore, expose the space left behind the full backs with direct counter attacks.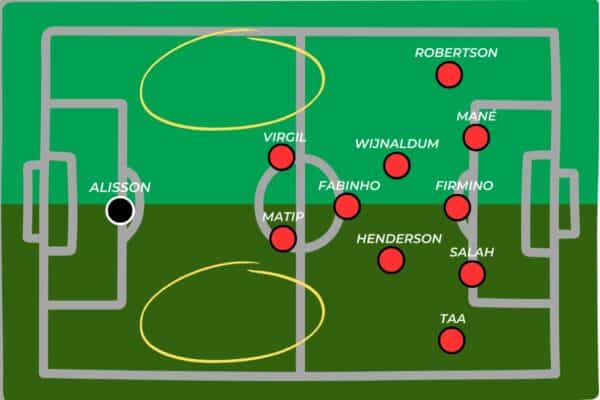 Liverpool did try to solve this by splitting the centre backs, making it easier to cover the wide spaces. But this left acres of space through the centre that Fabinho struggled to defend.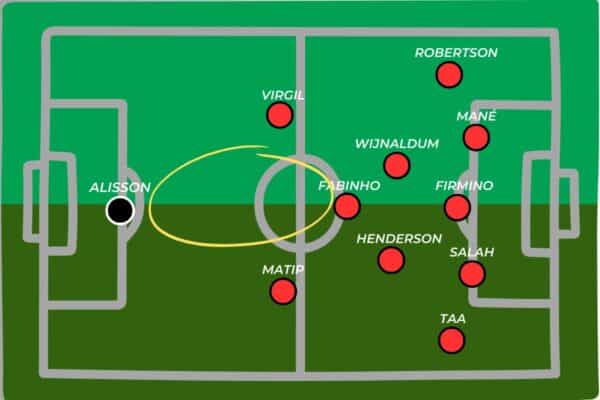 The obvious solution was to bring in new midfielders who could carry out the counter press. But with 11 games still to play, Klopp addressed the tactical weakness with a tactical change: the 3-box-3 system.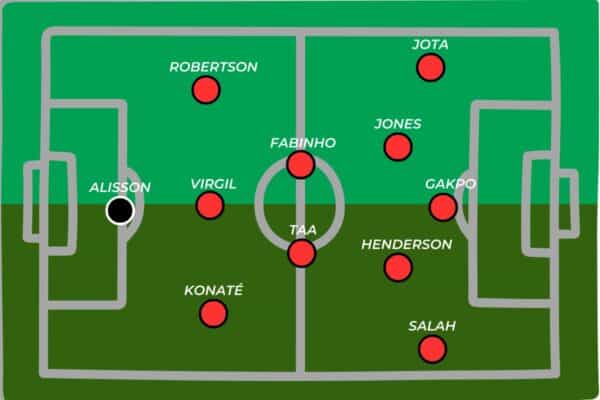 By adding a fourth player into midfield, the counter press became more compact again. But there were also now three defenders in the last line, meaning that the defence was more secure when the press was beaten.
There was always an outside centre-back to go out wide, and always a presence in the centre.
In possession, Alexander-Arnold's new position opened up the whole pitch for him to play progressive passes. While his assist numbers were reduced, his impact on the attack grew with his freedom to play forward passes.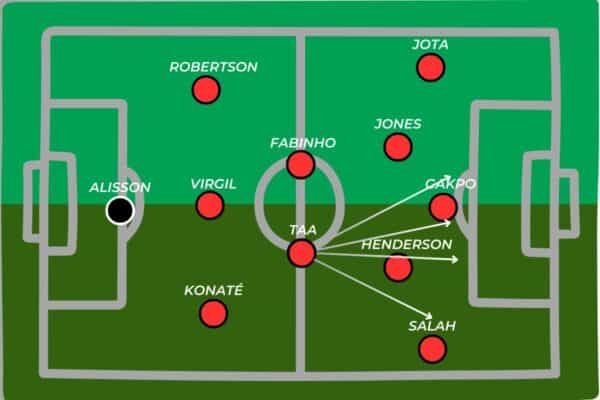 Once the summer window opened, Klopp did overhaul his personnel in midfield. But he also persisted with the tactical setup, relying on the improved counter press to mask the lack of a destructive No. 6.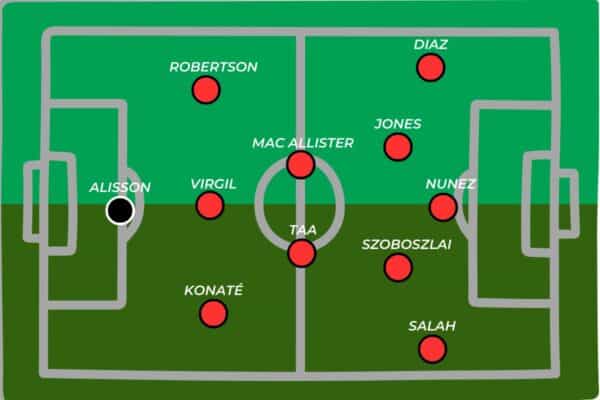 This has allowed Alexander-Arnold to continue affecting the attack. But on the opposite side, Robertson has had his creativity shackled.
His best game involves getting into the final third and swinging in crosses. But it's harder to do that when playing effectively as a left sided centre back.
The team's defensive security has come at the cost of Robertson's best assets.
Timing beats speed
Liverpool have tried to get the left back involved higher up the pitch at times. But the manner and timing of how that happens is crucial.
With Curtis Jones nailing down a place on the left of the midfield three, he has regularly pulled out to the left wing. This allows Luis Diaz to get into more lucrative central regions. But it also creates space for Robertson to push forwards.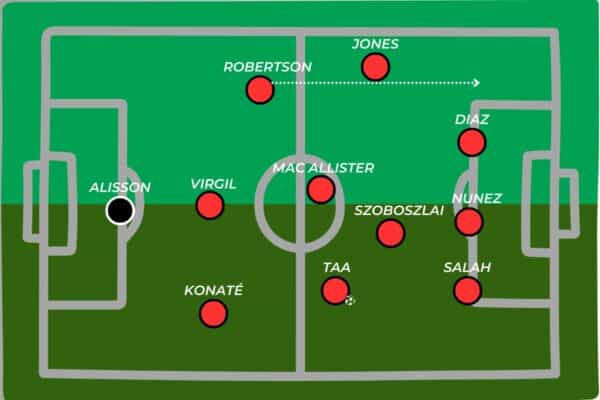 If Liverpool can find him, great. But if the ball is lost, there's a massive gap on the left flank that teams can exploit.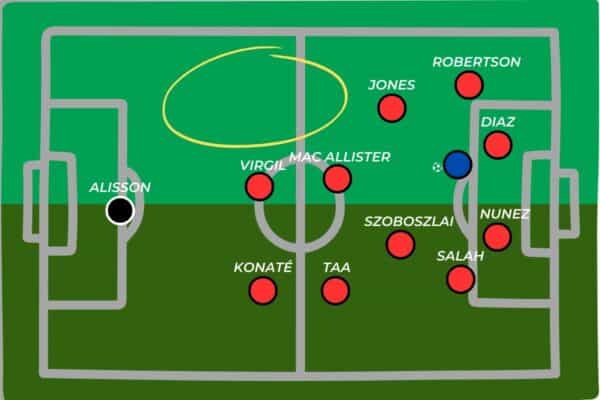 With slower, more patient buildup, Liverpool's centre-backs have time to split wide, covering Robertson's flank behind him.
But if the ball is lost, the opponent can effectively get one-on-one with Alexis Mac Allister in the No. 6 position, and exploit the space behind him.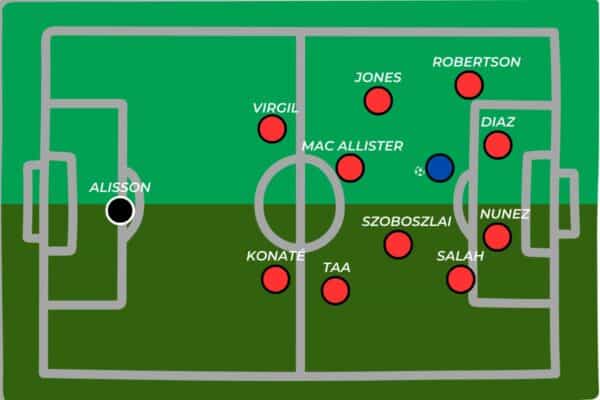 Brighton's Carlos Baleba did this several times during the Reds' draw at the Amex, and on another day, it could have proved costly.
The risk and reward of getting Robertson forwards hasn't quite been balanced properly yet.
Careful it doesn't Kostas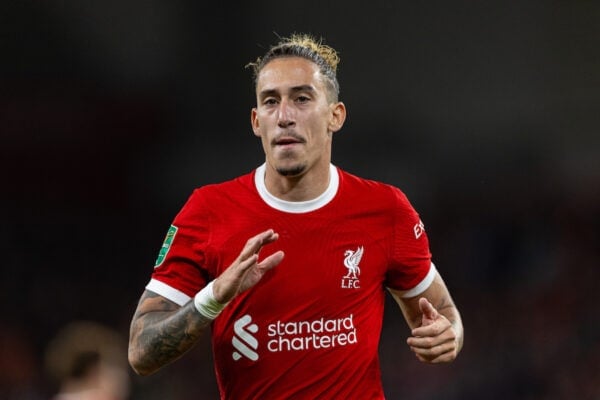 This is how Tsimikas would be expected to play if he comes straight in. He's even less comfortable playing centre-back, and has been caught out on the ball during build-up – notably giving up a goal to Leicester in the Carabao Cup.
Klopp might decide the reward of Tsimikas' attacking play is worth the risk. Limiting the change to just one new player would also keep the upheaval to a minimum.
However, with Mac Allister's mixed results as the deepest midfielder, it may be necessary to bring in Wataru Endo as the No. 6.
He would provide more defensive cover for Tsimikas' forays forwards. But Klopp has handed Endo just one league start so far – relying on him to make the system tick seems risky.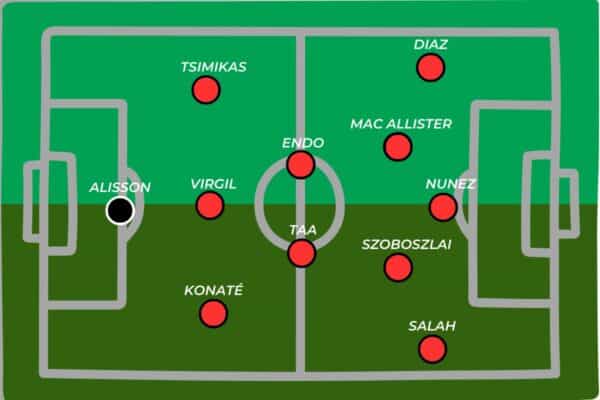 One alternative could be a return to the 'classic' 4-3-3. Fielding an all new midfield three could improve the counter-press from last season, solving the tactical weakness of this setup.
With Endo, Mac Allister and Dominik Szoboszlai snuffing out counter attacks at source, Tsimikas would be free to push high and wide.
He has earned his manager's trust in this role previously, and a return to a more advanced role could also benefit Alexander-Arnold on the opposite side.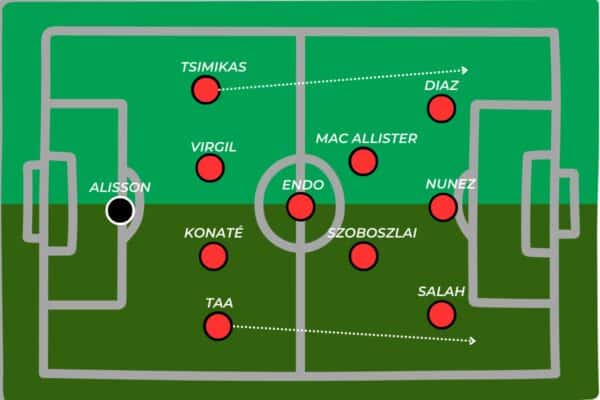 But perhaps the most straightforward solution doesn't involve Tsimikas at all. With the left sided defender effectively a centre-back, Joe Gomez could be the outstanding candidate.
He did debut as a left-back (albeit in 2015) and has already played both centre-back and full-back this season. He's also one of the few senior options not to play any international football during the latest gruelling double round of fixtures.
Being right footed would encourage him to play more passes inside, meaning the pivot player would need to be alert to any pressing traps. But otherwise, it's a solid defensive switch to preserve Liverpool's situational back three.
It's not the sexiest solution, but it's probably the safest.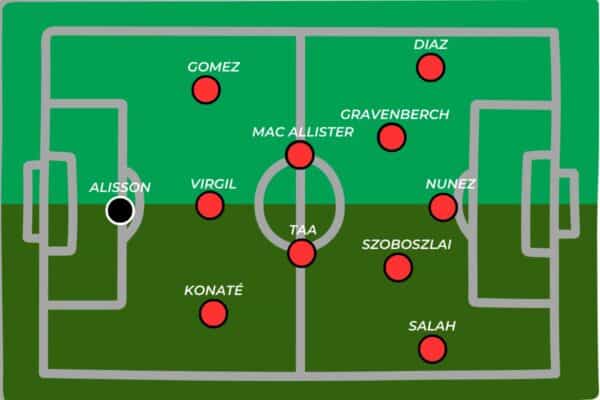 When the action resumes with the derby this weekend, all eyes will be on Liverpool's left side. Hopefully Jurgen Klopp gets it right.