Liverpool picked up another home win as they comfortably beat Nottingham Forest 3-0, though there were off-pitch concerns pre-game surrounding Luis Diaz.
Liverpool 3-0 Nottingham Forest
Premier League (10), Anfield
October 26, 2023
Goals: Jota 31′, Nunez 35′, Salah 77′
---
Luis Diaz in thoughts as Anfield shows support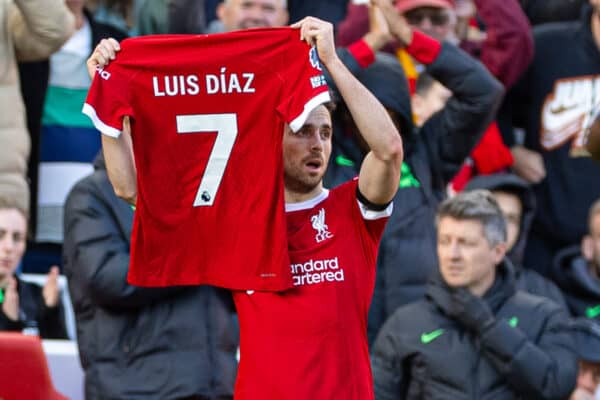 Pre-game would have been a real mix of emotions for a large contingent inside Anfield and watching from afar, even for those not necessarily of a Liverpool persuasion.
An early morning statement from the Reds noted Diaz facing a desperate worry, with his parents kidnapped in Colombia.
Subsequent reports saw his mother rescued, but it is scarcely conceivable how his mindset must be even so.
Diaz's shirt was duly held up by Diogo Jota after the Reds' opening goal of the game, with the players naturally thinking of their team-mate at an incredibly difficult time.
Prior to kickoff, there was a moment of applause and memory for two greats from two rival clubs: Bill Kenwright, Everton's chairman who passed away at the start of the week, and Sir Bobby Charlton, a Man United hero and World Cup winner who died last weekend.
Anfield showed respect to both.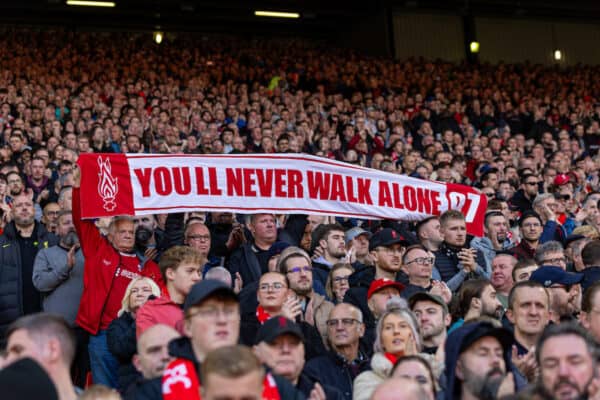 Following that, there was applause also and a flag held aloft around the ground for Reds fan Paul McHugh on the 37th minute, who passed away after the recent Merseyside derby.
And ahead of the match there were also Palestine flags handed out by a group of supporters around Anfield to those who wanted to display solidarity, despite a Premier League ban on showing flags from either that nation or Israel amid the ongoing Israeli-Hamas war.
Despite that, fans were repeatedly asked not to display those flags by directive from Liverpool and the Premier League.
At Anfield, football should never only be about the football.
Darwin through the middle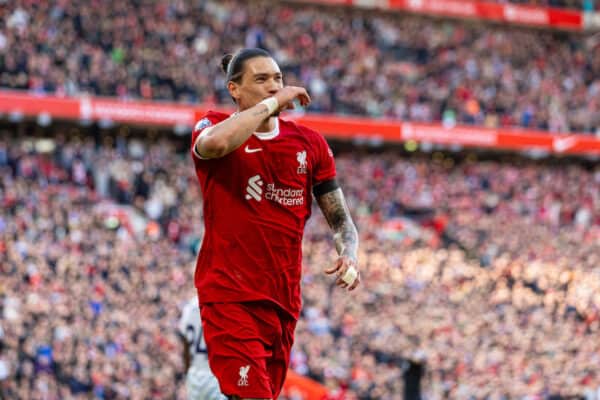 Before the situation with Diaz's parents arose, it likely would have been him on the left and one of Darwin Nunez or Diogo Jota starting centre-forward.
Since they both started, we can perhaps read into the Uruguayan getting the nod in the middle as him having been Jurgen Klopp's pre-game choice in any case.
It was certainly the Uruguayan who had the best openings of the first half; one rocket from a narrow angle saved following a defensive slip, then a header powered over the bar.
And it was certainly the Uruguayan who made the difference: first his run down the channel and drilled shot was parried by Matt Turner, straight to Jota who tapped in, then it was Nunez again who attacked the near post to score the second soon after.
He's in great form right now and received another ovation when subbed late on.
All-out attack!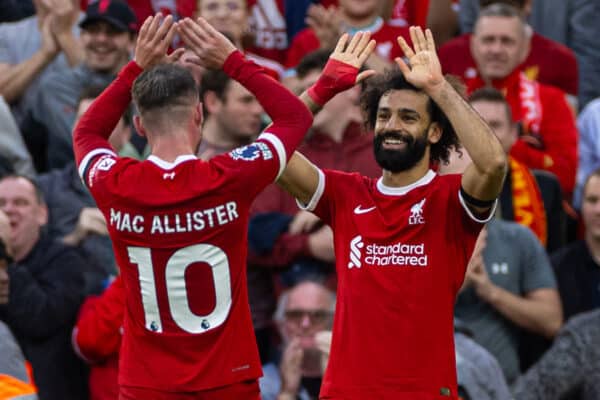 From 1-0 through to half-time, we pretty much saw what this team, with this type of lineup, is: possession-dominant, plenty of attacking energy, goal threat from every angle and very hungry to win games – again.
While Liverpool remain a distance from perfect, this type of performance should be enjoyed immensely right now, in stark contrast to the predictable, slow-paced dross served up for much of last season.
The two attacking midfielders, in addition to a forward-thinking No. 6, simply meant we were constantly pressing high to win back the ball, always had passing options with a creative edge and everybody happy to take on a shot when in a decent area.
Turner was facing an onslaught at times as Dominik Szoboszlai, Nunez, Trent Alexander-Arnold and Jota all went for goal in a non-stop period of intent to destroy.
Seventy-four percent possession and 12 first-half shots summed up as much.
It's not a lineup, or an approach, which is perhaps valid against every type of opponent or kind of game.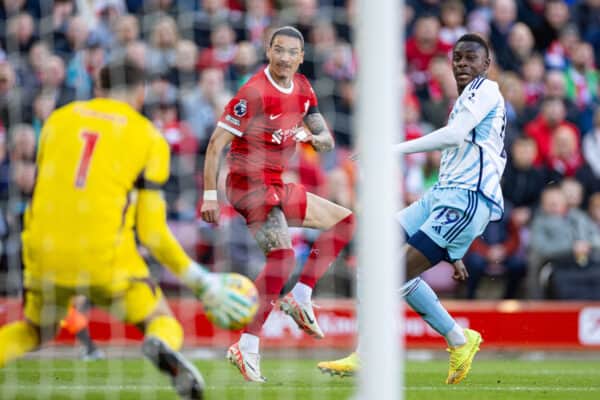 But home against a majority of Premier League teams? Liverpool are just much better, more powerful, more technically gifted and impressively set up than most.
Problems of deep blocks and breaking them down may be a thing of the past when we can simply overwhelm teams with such offensive options – as long as the defence remains concentrated and quick to spot recoveries, of course.
The next steps will include making that mentality a 90-minute one, with the second half a much more passive state of affairs.
The Szobo show continues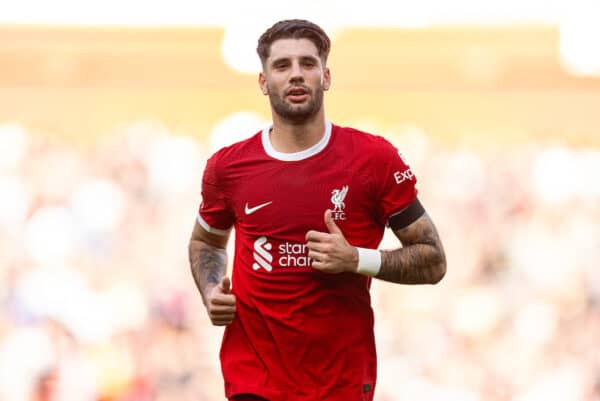 He's been the best player on the park in a red shirt more often than not this season, it seems, and Dominik Szoboszlai was again a cut above the rest against Forest.
The No. 8 registered a couple of assists – for Nunez, then the late Mohamed Salah goal thanks to defensive weirdness from the visitors – but it was just his all-round play, his ability to turn from danger and power into space, which made him the standout on show.
Szoboszlai's linkup with Salah is regularly an impressive facet of the Reds' game early this season, while his switching of play, his dribbling and ability to draw defenders before shifting into space for a team-mate is a huge weapon after transitions.
He might have had a hat-trick of assists had Harvey Elliott's first touch after coming on been more accurate.
Midweek matters and three off the top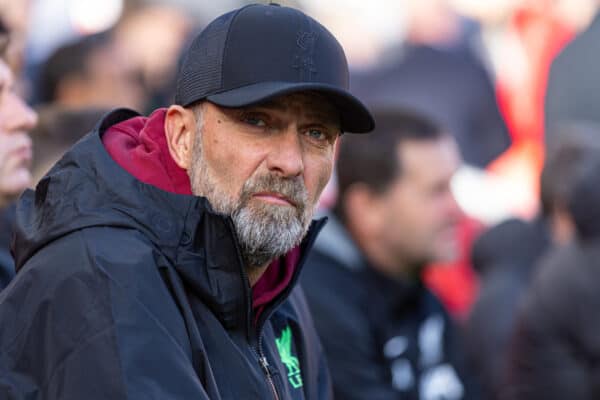 Another game, another win. In truth, we'd not have expected anything different here, but the Reds still had to do the job and did so effectively.
That's now four wins and a draw since that last-minute defeat at Spurs, a very good return and with plenty of expectation that it'll continue given the upcoming run until the international break – which continues with Bournemouth in the cup in midweek.
There's a decent chance we'll see plenty of these individuals in the game once more, be it as starters or subs.
But there's also the chance to give needed minutes to Curtis Jones – domestic suspension now served at last – as well as Cody Gakpo back from injury and the centre-backs we have available to rotate.
So far this term, Klopp and the coaches have done a decent job between mixing up cup teams and keeping them really competitive with first-team-capable players.
Attack and perhaps left-back are the areas which might currently look a little thin for different reasons, but there's still plenty on show to win games.
And in the meantime, we quietly, consistently remain in touch with the top, three points off the league leaders and looking very capable of being in the mix.