With Ibrahima Konate pulled out of the France squad due to a hamstring injury, manager Didier Deschamps has responded to Jurgen Klopp's recent criticism.
Konate will not take part in France's upcoming Euro 2024 qualifiers against Gibraltar (Nov 18) and Greece (Nov 21) this month, after an injury picked up last week.
The French Football Federation confirmed in a statement on Sunday evening that Chelsea's Axel Disasi would replace the 24-year-old due to a "small muscle injury to his left hamstring."
A recovery timeline of "approximately two weeks" has already been set, suggesting Konate will be available for Liverpool's trip to Man City on November 25.
It comes after tongue-in-cheek criticism of Deschamps' use of Konate during the October break, with Klopp telling the France manager, after resting the centre-back for the Reds' 5-1 win at home to Toulouse, that "that's how you rest a player."
In a press conference on Monday, Deschamps was asked about Klopp's comments and replied: "It probably happened in the past, and it will happen again at other moments.
"Because the situation and interests vary between club managers and national team managers.
"I try and manage them like any manager. When they have weeks with three games, they can manage them a bit more. Us, we have a gathering, two games."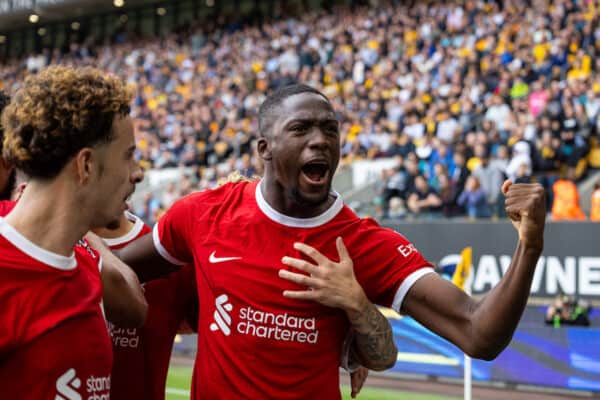 Deschamps' measured quotes were carried by French outlet RMC Sport, with the 55-year-old also elaborating further on Konate's injury.
The former Marseille, Juventus and Chelsea midfielder explained that the decision was made not to risk Liverpool's No. 5 so "there is no problem for the rest of season in this calendar year."
"Ibou, as we told you, did not play the match [for Liverpool] in Toulouse, but he warmed up for a possible role during the match," Deschamps said.
"He felt a problem with his hamstring. He had tests, but it's not serious.
"He needs a bit of time to not take any risks. It's an area where he already had an injury.
"It wasn't in the player's interest nor in my interest. In the best-case scenario, he could only have been available for training on Friday or Saturday."
If Deschamps is correct, Konate should almost certainly be fit for Man City vs. Liverpool, though Joel Matip could still keep his place.