Dirk Kuyt has revealed the "little part" he had to play in Liverpool bringing Luis Suarez to Anfield during his time at the club.
Kuyt scored 71 goals in 285 games across his six seasons on Merseyside and developed a workmanlike reputation for being willing to give everything for the greater good of the team.
Before he called time on his Reds career, Suarez arrived at the club in 2011 and quickly proved himself to be one of the most talented players to ever put on a Liverpool shirt.
Speaking on the latest episode of the We Are Liverpool podcast, Kuyt explained the small role he played in bringing the Uruguayan to the club, and how he used his Dutch connections to get the ball rolling.
"A little part," said Kuyt when asked about his involvement in the road that brought Suarez to the club midway through the 2010/11 campaign.
"From the moment I heard that Liverpool was interested in Luis, of course I was very curious if the club was getting him.
"I know they were struggling in the fee they wanted to get for him, so somehow the negotiations weren't going very well and I said 'Do you need any help?' because I know a lot of people in Holland, especially I know the club [Ajax]."
Suarez signed from Ajax on deadline day in 2011 and was joined by Andy Carroll from Newcastle following the £50 million departure of Fernando Torres to Chelsea.
The Uruguayan was an almost instant success at Anfield, netting 82 goals in his 133 appearances for the club during the three and a half years he spent on Merseyside.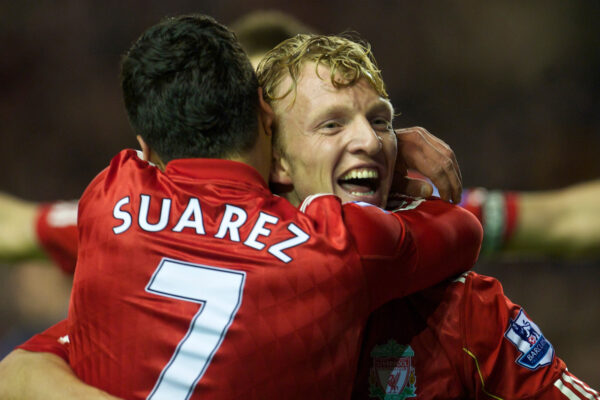 Kuyt helped to facilitate the initial negotiations that led to getting the deal over the line, and Suarez has since gone on to become one of the greatest centre-forwards of his generation.
"I said 'Okay, you know my agent is a good friend, let's get him involved' because he knows the board of Ajax, he knows the people very well there," Kuyt continued.
"So he did the intermediate without getting any money, to be honest, because it was not about the money, just a favour for Liverpool.
"He brought the two clubs together and also the agent of Luis together and it was sorted out very quickly!"
Another great assist from Dirk!