Dominik Szoboszlai was one of four midfield signings in the summer, and his early motivation came from a desire to show even if there was not an overhaul, he'd still be the pick of the bunch.
Liverpool's No. 8 has commanded attention in his first few months of the campaign, with his fresh energy immediately noticeable in the engine room.
He has played the second-most minutes of any Liverpool player (1,242) so far, and his thirst to prove the club was right to sign him has been emphatic, having featured in 17 of the first 18 games.
The highly-motivated midfielder watched on as the likes of Jordan Henderson and Fabinho departed, plus James Milner, Naby Keita and Alex Oxlade-Chamberlain before them.
Klopp knew such widespread changes could prove difficult for new signings to settle, but Szoboszlai's goal from the start was clear.
"I, on the other hand, wanted to show him [Klopp] that the club [agreed with] him not by chance," Szoboszlai told InStyle Men.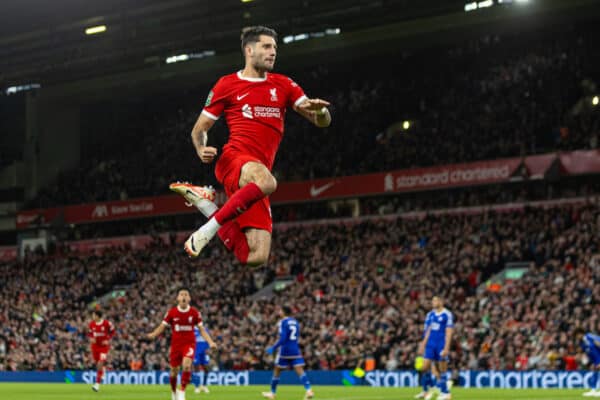 "I want to give back in some way, and if I can with my game, I will.
"I didn't want them to think that a Hungarian player came who was bought because the entire midfield was changed compared to previous seasons.
"I wanted to show that if it was still that midfield, I would still play."
He has certainly done just that. Szoboszlai has not only injected more defensive resilience to the midfield, but he is also a chance creator.
In the 12 Premier League games so far, he has created 28 chances. For comparison, in the entirety of last season, Jordan Henderson created 31 as the leading creator in the middle of the park, as per FotMob.
It will be Liverpool's job to protect the 23-year-old against himself, though, considering he enjoys running himself into the ground each and every game.