The verdict over Everton's breaches of FFP rules has now been confirmed, with the club immediately deducted 10 points and dropping down to 19th.
Everton were charged with breaching of spending rules after losses of £305.5 million between 2019/20 and 2021/22.
Premier League rules stipulate that no club can oversee losses of more than £105 million over three seasons, with charges brought against Everton in March.
An independent commission was instructed to assess the case against the Merseyside club, with a disciplinary hearing held last month.
The Premier League have now confirmed that Everton have been hit with a 10-point deduction, effectively immediately.
Sean Dyche's side were 14th in the table with 14 points from their opening 12 games, but are now 19th with four – sitting above bottom-placed Burnley but level on points.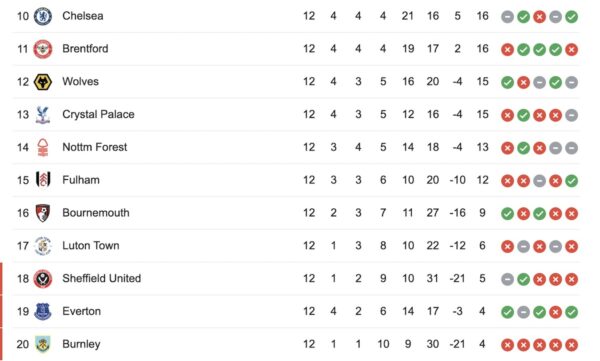 Everton have already confirmed their intention to appeal the decision, with the Times' Paul Joyce explaining that "such an appeal must be heard, and concluded, before the end of the season."
The club's statement reads:
"Everton Football Club is both shocked and disappointed by the ruling of the Premier League's commission.

The club believes that the commission has imposed a wholly disproportionate and unjust sporting sanction.

"The club has already communicated its intention to appeal the decision to the Premier League. The appeal process will now commence and the club's case will be heard by an appeal board appointed pursuant to the Premier League's rules in due course.

"Everton maintains that it has been open and transparent in the information it has provided to the Premier League and that it has always respected the integrity of the process.

"The club does not recognise the finding that it failed to act with the utmost good faith and it does not understand this to have been an allegation made by the Premier League during the course of proceedings.

"Both the harshness and severity of the sanction imposed by the commission are neither a fair nor a reasonable reflection of the evidence submitted.

"The club will also monitor with great interest the decisions made in any other cases concerning the Premier League's Profit and Sustainability Rules.

"Everton cannot comment on this matter any further until the appeal process has concluded."
Man City, who were charged in February with 115 breaches of financial rules, are yet to hear a verdict having disputed their alleged offences.
According to Joyce, there will "now be increasing pressure to proceed with that case," with Everton's punishment setting precedent.