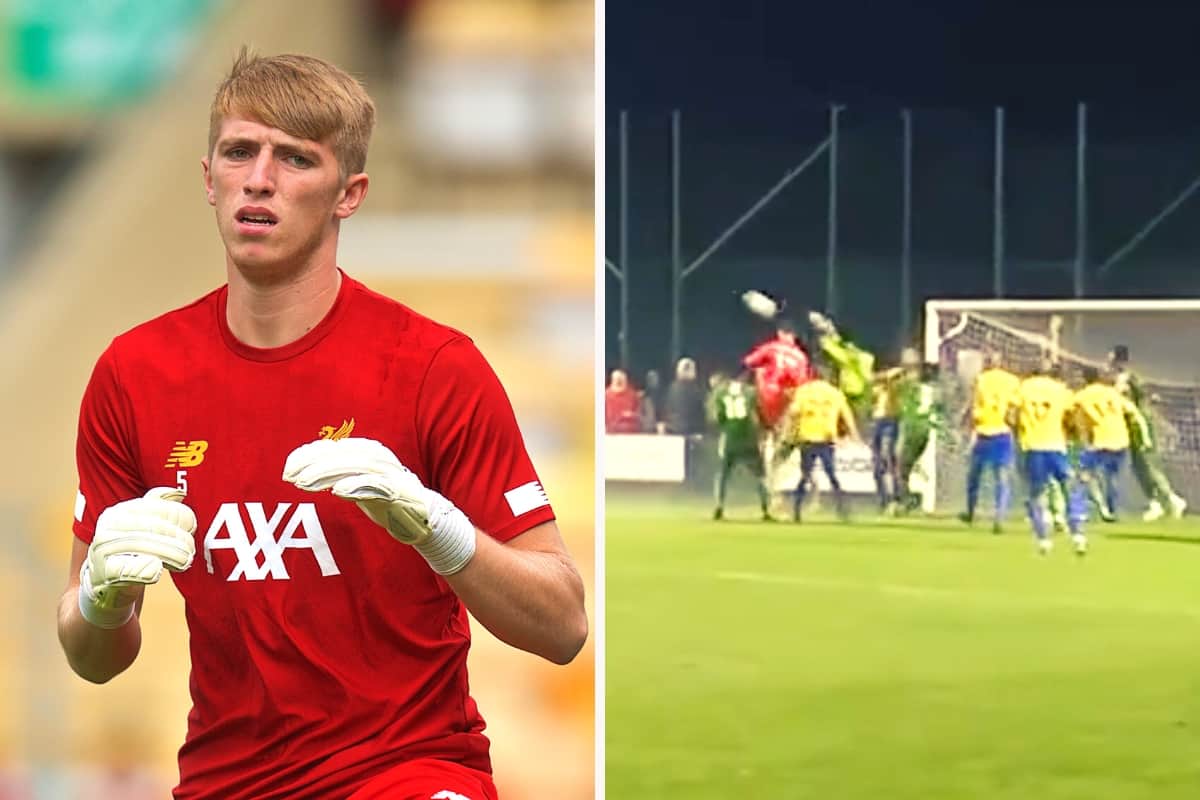 Once utilised by Jurgen Klopp in attack, former youth goalkeeper Dan Atherton put his skills to good use by "channelling his inner Alisson" for a last-gasp equaliser.
You can never grow tired of seeing a goalkeeper race up the pitch and score, unless, of course, it is against your team.
Alisson gave us that special moment in 2021 and former academy 'keeper Atherton has now done the same for Warrington Town, to trigger jubilant celebrations as he snatched a late draw.
The 23-year-old left Anfield in 2020 after nine years at the club, and Liverpool fans may recall seeing him make an appearance as a striker in a pre-season friendly at Tranmere in 2019.
"Milly was sat behind us and went 'Dan, can you play outfield?'. And I turned around and went 'I'll play wherever you want'," Atherton recalled in an interview with the Liverpool Echo.
WE HAVE A GRAPHIC FOR THIS!

90'| GOAL!!!!!

Deep in to injury time, Williams' corner is on the money and Dan Atherton gets up for the header and the ball ricochets in for an equaliser!

1-1 | ? https://t.co/CNs8fireio pic.twitter.com/apvMCQFYf4

— Warrington Town FC (@theyellows) October 24, 2023
"Me and him are laughing and the gaffer looked over and went, 'can you actually play outfield? Where would you be able to play?'."
Well, his ability as an outfield player was duly noted when the Yellows were 1-0 down against Farsley Celtic with only moments left to play, with Atherton sent forward for the corner.
His near-post run paid off as his header hit the back of the net, after a deflection, to see an unlikely hero emerge at the opposite end of the pitch to where he has recently impressed with penalty saves.
Danny Atherton channelling his inner Alisson ??#GOTD | @theyellows pic.twitter.com/SKvLbkI6fO

— The National League (@TheVanaramaNL) October 25, 2023
"Dan is really good in the air – he just wants to attack the ball because that's what he's used to in his own box. We deserved that little bit of luck," manager Mark Beesley told the club's website.
The 95th-minute leveller extends Warrington's unbeaten run to six games, Atherton has started in each and recently has been joined by former Liverpool defender Andre Wisdom.
It is always a good feeling to see the club's former youth players succeed when their time at Liverpool comes to an end, and you know Atherton will not forget this moment in a hurry!