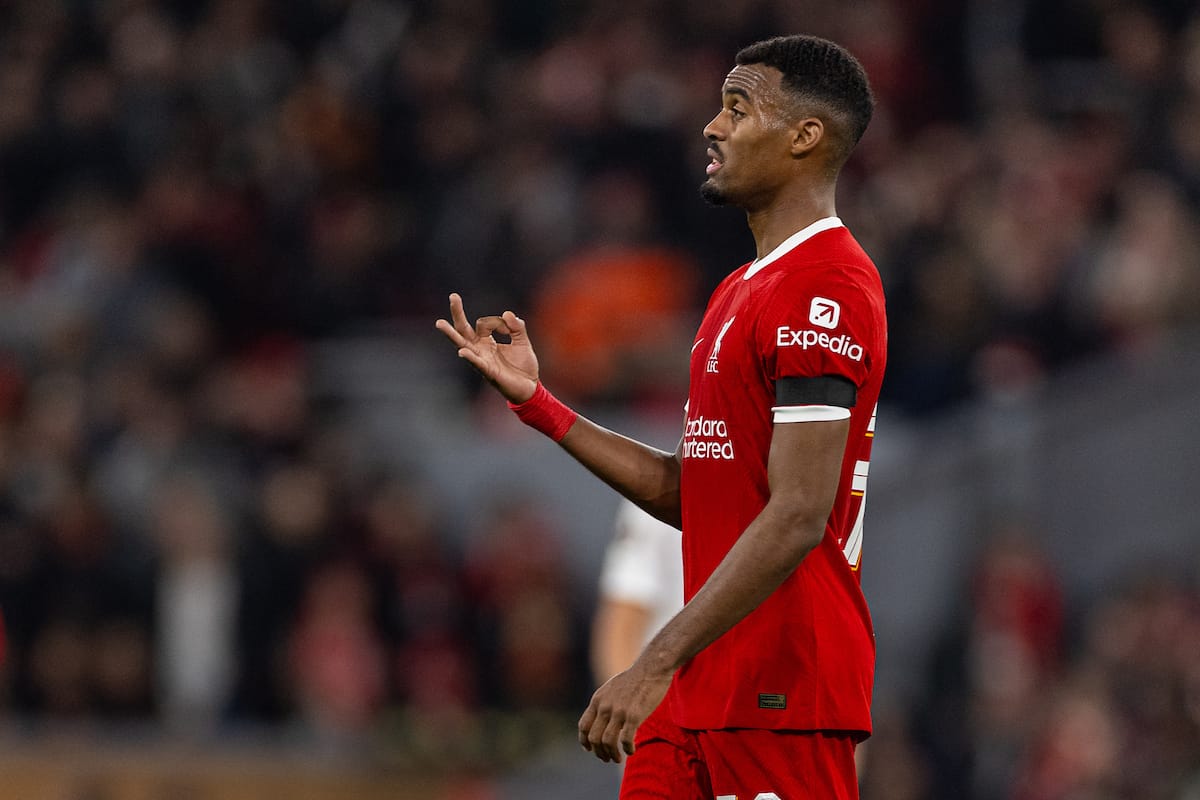 With Ryan Gravenberch producing his best performance yet in Liverpool's 5-1 victory over Toulouse, fans were left asking why Bayern Munich let him go.
It remains early days in Gravenberch's career on Merseyside, but the Dutchman has barely put a foot wrong so far.
Thursday night saw him make a second consecutive start – and his fifth for the club – and he pulled out an outstanding showing against Toulouse.
Gravenberch's night was capped by his first Anfield goal to make it 4-1, with supporters giving him a standing ovation when he was brought off late on.
A £38.5 million signing from Bayern, the 21-year-old is now just one off equalling his tally of starts for the German club in less than two months at Liverpool.
Following the Reds' third win in three in the Europa League, supporters were baffled by how Liverpool were able to sign him for so little.
Ryan Gravenberch. MOTM. Ran the show again. pic.twitter.com/MxsrBGTtlS

— Samuel (@SamueILFC) October 26, 2023
?? Ryan Gravenberch is averaging a goal or assist every 104 minutes since arriving at #LFC.

2 goals and 2 assists in 5 starts so far.

Liverpool seem to have found an absolute gem. Superb player and fantastic tonight once again. pic.twitter.com/p5A1mQfbHK

— Bence Bocsák (@BenBocsak) October 26, 2023
We're seeing the potential that Gravenberch has

£35m? Another steal. ? pic.twitter.com/jUUDSEEiPZ

— Liam ? (@LiamMLFC) October 26, 2023
Gravenberch with one of the best individual performances we've seen from an #LFC player so far this season. Keep this up and it won't be long before he's generating the same hype as Szoboszlai.

— David Comerford (@Dave_Comerford) October 26, 2023
Gravenberch was a joy to watch tonight. Touch, finesse, silky turns — we saw it all. The ease with which he glides through the pitch, seamlessly changing direction, is so natural, What's truly frightening? He's just started — the kid is going to be a star and he's ours. ??#LFC… pic.twitter.com/N883hKyNFz

— AsimLFC (@asim_lfc) October 26, 2023
Gravenberch is absolutely superb – the thought of him and Szoboszlai as the two No.8s in games is frightening (as well as other great options).

What on earth were Bayern playing at with him?

— Henry Jackson (@HenryJackson87) October 26, 2023
The more I see of Ryan Gravenberch the more I like

— Caoimhe O'Neill (@CaoimheSport) October 26, 2023
Ryan Gravenberch is a star. What a first half performance. Another game where the midfield has looked excellent. Done alright with that rebuild.

— Jack Sear (@JackSear) October 26, 2023
Gravenberch (my Man of the Match), Endo and Nunez all played well (and not only because they all scored). Good experience for the young players learning the game. Very happy some seniors like Szoboszlai, Mac and Diaz got a complete rest (in past Europa games they came on as subs)

— Red (@TaintlessRed) October 26, 2023
Really enjoyable game that. Got to take standard of opposition into account but Gravenberch was off the scale, so excited to see his progress over coming seasons. Endo's best game so far and starting to settle at Anfield. Really good to see Toulouse give it a real good go too ?

— Don Johnson (@TTWAR62) October 26, 2023
Gravenberch's a £80m midfielder man how have we managed to get him for £35m from Bayern Munich.

Fleeced them…

— ?????? (@WilcoFtbl) October 26, 2023
Nagelsmann and Tuchel need to take a long look in the mirror because how was this lad not getting minutes under them. Ryan Gravenberch. Unreal.

— barry (@BackseatsmanLFC) October 26, 2023
I just don't understand how both Julian Nagelsmann and Thomas Tuchel, two elite managers, had Ryan Gravenberch on their hands and gave him 3 Bundesliga starts.

— Laurie (@LFCLaurie) October 26, 2023
Liverpool have had Bayern's pants down with Gravenberch. What a player

— Jamie Holme (@JamieHolme) October 26, 2023
---
It was a clear fumble from Bayern in not maximising the potential of Gravenberch, but it is an error that has benefited Jurgen Klopp's Liverpool.
Freed from working under Julian Nagelsmann and Thomas Tuchel, the young midfielder now appears to have the right manager to nurture his talents, and it is already showing.
After an impressive display in the Merseyside derby at the weekend, Gravenberch took another step towards establishing himself against Toulouse.
In doing so, he kept up his record of a goal or assist in every Europa League game so far.