Liverpool made it two wins from two to start their latest European campaign, getting the result against Belgian side Union SG with little fuss.
Liverpool 2-0 Union SG
Europa League (2), Anfield
October 5, 2023
Goals: Gravenberch 44′, Jota 90+2′
---
Midfield balance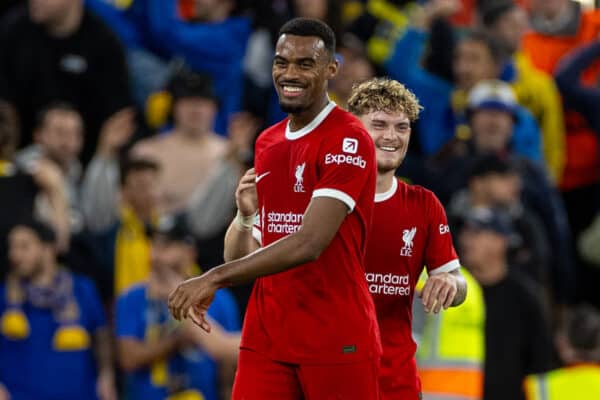 Wataru Endo and Ryan Gravenberch may not have been the first names on many people's lists for new No. 8s and defensive midfielders this summer, but the pair offer good balance when playing together.
This was certainly the case against Union SG as the Dutchman was able to roam forward, safe in the knowledge he had some insurance behind him from his team-mate.
Endo recycles the ball well and also has the ability to make line-breaking passes, as well as breaking things up should the ball be lost.
He can improve, but is more than a useful addition already.
Gravenberch has emerged as a threat in and around the box, troubling the Union goalkeeper with a well-hit long-range effort before being on hand later in the first half to pounce on a loose ball and open the scoring.
There will no doubt be even more to come from these players as they get used to their roles in their new team, but these are encouraging early signs for a pair who add much-needed quality depth and different strengths to Liverpool's midfield ranks.
Pre-planned changes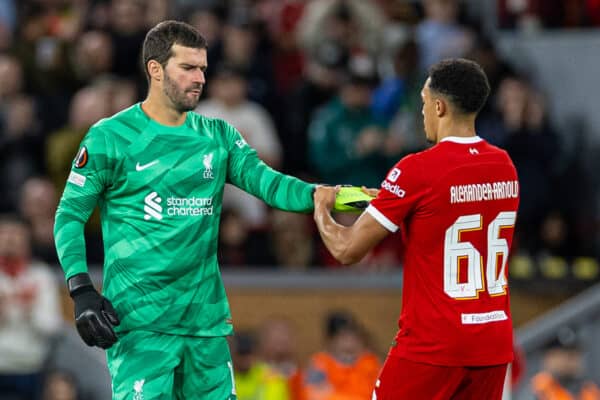 The half-time substitutes were obviously pre-planned as Mohamed Salah, Darwin Nunez and Endo were all withdrawn.
It made sense to give Curtis Jones a good portion of game time, given he is suspended for the next three games following his red card against Spurs, and it was he who replaced Salah.
The same applies to Diogo Jota, who played the whole game, adding a goal at the end, and will serve a one-match ban after being shown two yellows, also at Spurs.
With Cody Gakpo out injured, this means Nunez will likely start the next game against Brighton on Sunday along with Salah, while Endo's exit may also indicate he is in Klopp's plans for the starting XI this weekend.
Neither Salah nor Nunez will likely have been happy to not appear in the second half, having both missed good chances in that opening period.
They will have been disappointed not to get their name on the teamsheet before their night's work was over.
Liverpool are obviously playing a well-planned game of rest and rotation, given there will regularly be two games per week and an international break coming up.
Never out of first gear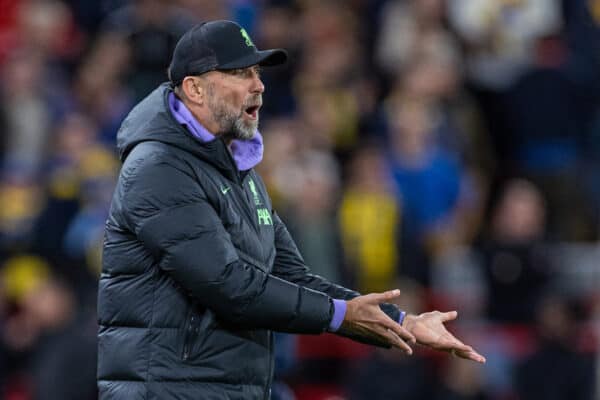 Maybe it was the number of substitutions at half-time that unsettled the game, or maybe it was some kind of comedown after the drama of the weekend, but this game never really seemed to get going.
The atmosphere was fairly quiet, though content and relaxed, and the early-ish goal meant Liverpool just had to pass their way to a 1-0 win if they wanted to.
That's not to say they didn't try to add more, and one eventually came via Jota, but there was always the sense they didn't really need to.
This was reflected in the overall atmosphere of the game as it ended up being a job well done for Liverpool.
Union had a couple of chances, not least a header in the first half, and would think they were still in the game as long as it was 1-0, but in the end, this will go down as three points collected for Liverpool with minimal fuss.
Michael Owen's analysis immediately after TNT Sports went back to the studio after the full-time whistle, was "fine." Which summed it up.
Quansah good on Euro debut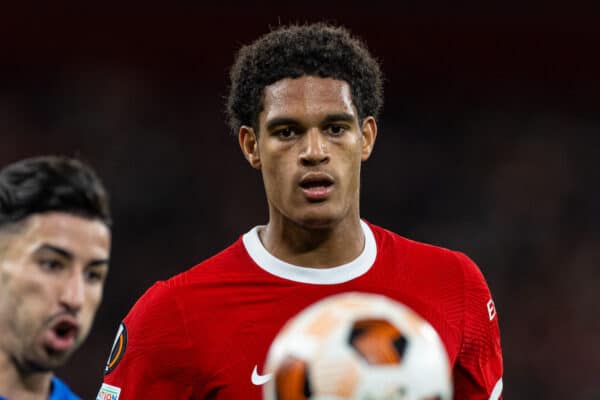 This Quansah looks good. Getting games in the Europa League now to go with appearances in the Premier League and League Cup.
He slotted in alongside the ever-impressive Ibrahima Konate, and though it's early days, the pair give the impression that the future of the centre of Liverpool's defence is in safe hands.
Quansah made good interventions throughout, supported by the imperious Konate who looks impassable at times.
There is a combination of athleticism, reading of the game, and football intelligence both in and out of possession.
That you can say this about Quansah, the academy prospect from Warrington whose first-team introduction came only this season, is a testament to his quality.
The coaching staff also deserves credit for introducing him at the right time, and for making sure there is a place for him in the team even amid calls for new defensive signings.
Credit the Union SG fans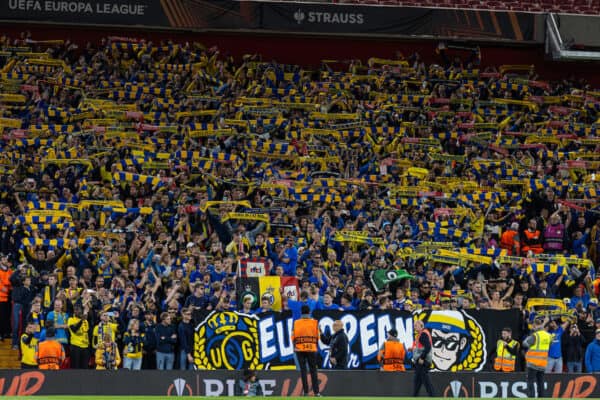 Though this may have felt like a run-of-the-mill home game in a European group stage for Liverpool, you could tell it was something special for the visiting supporters.
The Union fans played their part in creating some kind of atmosphere in an attempt to spur their team on against the odds.
There had been a smattering of striking yellow shirts, Union's home colours, throughout the city for the past couple of days and especially in the hours leading up to the game.
Their away following never stopped singing, led by their capo, who had his back to the game in order to make sure the volume of those he was conducting rarely dropped.
Liverpool expect to be in Europe each season, they belong there and perhaps feel at home there more than they do domestically at times. The Union fans were a reminder of the passion and variety of the support that exists across the continent, to which Liverpool contribute.
Liverpool fans lucky enough to be able to travel to attend the game will no doubt similarly enjoy the return game in Saint-Gilles, Brussels, in December.