If you go to Anfield on a matchday, you will almost certainly hear the words "Red All Over The Land. Get your Liverpool fanzine!"
John Pearman is the founder of Liverpool's longest-running fanzine, Red All Over The Land, and has been running the publication since 1995. Since then, elements of RAOTL have changed, but others stay the same.
The sights, sounds and smells fill your senses as you walk towards Anfield in anticipation and the RAOTL sellers have become a staple of the environment.
The title is ingrained in the heads of match-goers thanks to Pearman, who founded the publication in 1995. It is now the sole surviving print fanzine for Liverpool supporters, and there are no signs of it stopping.
Pearman had wanted to become a journalist in his younger years, but life got in the way. However, his resultant role in the printing industry meant he could use his position to get RAOTL off the ground.
"It took about six months to put everything together," Pearman told This Is Anfield.
"It was done out of hours at work using a computer for the first time. I had access to all the little bits and pieces there, rightly or wrongly, but I'd use my position there to find time to do it."
"It was all put together with the usual things back then: Sellotape, Tipp-Ex, SprayMount, photocopying paper."
The internet's emergence has meant that RAOTL is the last of its kind at Anfield, but this hasn't changed how it is sold.
A digital version is available, but Pearman said this barely reaches double figures for sales most months.
He explained: "We still sell it outside the ground on a matchday, there's four of us that sell it," all of whom have been helping since at least 2002.
This isn't to say the internet hasn't had an effect on sales, though – there used to be 10-12 people selling on a matchday at its height.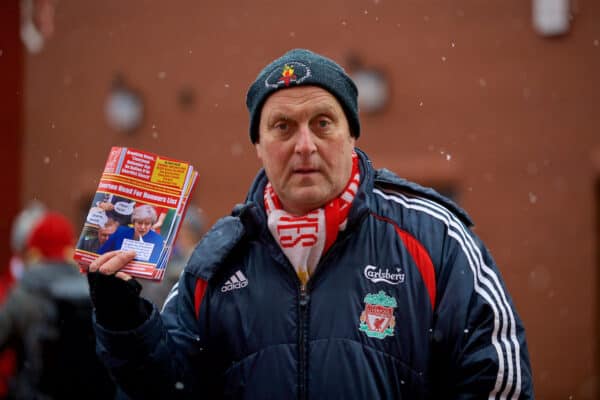 In the 1980s, football fanzines were intertwined with music and politics among football supporters and it led to their growth across the UK.
Certain clubs were deeper into the culture than others. North of the border, Celtic and Rangers supporters are among those to retain a big interest.
Despite the decline, Pearman insists that fanzines still have their place, adding: "People say it's going out of fashion but I tend to disagree, because you can't sell something digital to somebody who's walking past – they want something in their hand.
"People want something in their hand, that's how I see it."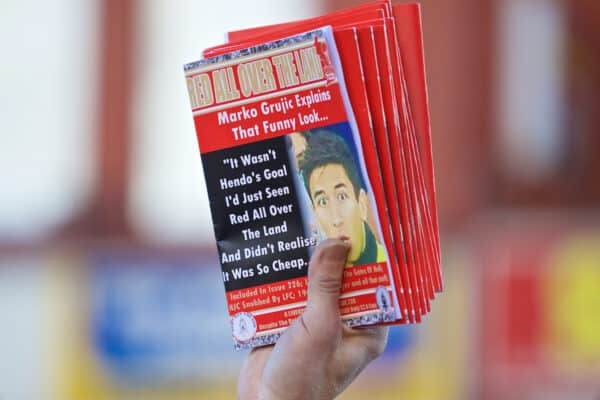 The commercialisation of football has also been an obstacle to fanzines, with clubs often not allowing them to be sold on their property.
"In the old days, we could go to an away game anywhere, with the possible exception of Old Trafford, and sell the fanzine," Pearman said.
"That's stopped now because clubs have become very protective of their own businesses and they don't want people buying something that's unofficial outside the ground or which they're not making any money from.
"But, at Liverpool, apart from one or two occasions when there were hiccups, we've had no problems with the football club. We have a very, very good relationship."
RAOTL's reach goes further than just the fanzine.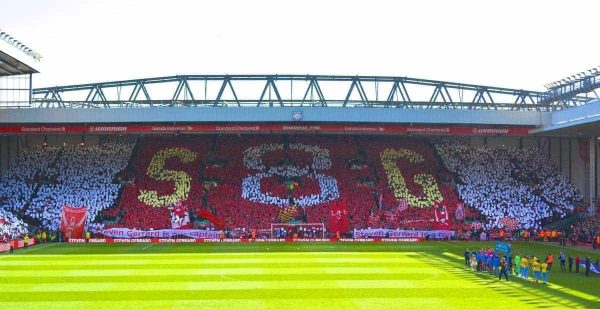 Fan-made mosaics have become a popular way of paying tribute to legends and remembering those who have passed, and it was RAOTL who started this at Anfield.
Pearman recalled how he worked with former Liverpool CEO Rick Parry to get these off the ground.
"It was through him (Parry) that we got mosaics in the ground. That was RAOTL and Rick Parry, we instigated them and Andy Knott (RAOTL seller) still does them," he continued.
One such mosaic was for the club's most successful manager, Bob Paisley, after his death.
Pearman said: "His widow came to the game and actually rang me up the following day. She got my number from the club and asked if she could buy copies of the fanzine because of the Bob Paisley tribute."
It is this kind of recognition and support that keeps Red All Over The Land alive.
So, next time you're at the match and hear John's voice echoing out, have a read, you might just like it.
---
You can subscribe to Red All Over The Land online by clicking here.