After five days of intense VAR-fueled rancour and the further inflation of our nicely percolating siege mentality, it was quite nice to get back to kicking a ball around our own rectangular patch of grass.
Home is where the heart and soul are, and sanity is soothed by a game being in motion there.
Say what you want about being cut adrift in the Europa League, Liverpool's second group game of the campaign brought not only three more points, but it has also managed to at least temporarily shrink the Simon Hooper and Darren England-shaped elephants in the room.
Admittedly, not what you would call a masterclass of a performance, it was football nonetheless, and it came laced with a smattering of positives.
Unfamiliar territory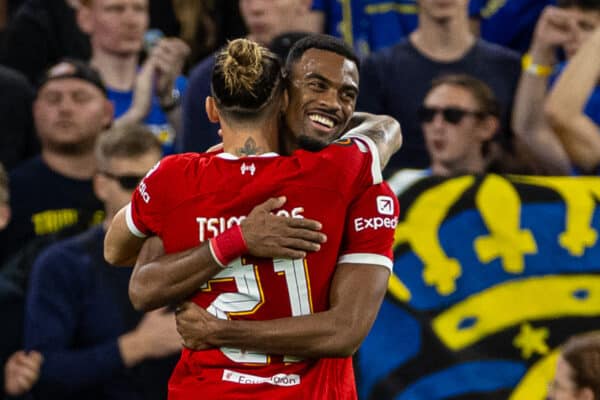 The return of Trent Alexander-Arnold, the assured nature of Jarrell Quansah, the dominance of Ibrahima Konate, plus the all-round good vibes permeated by Ryan Gravenberch.
Union Saint-Gilloise predictably arrived all bright-tailed and bushy-eyed, their wonderful supporters a credit to their club; players, officials, and fans alike clearly with minds set to blow.
After a rocket ride that has taken them from third-tier water-treading in the Belgian league pyramid to a European date with one of football's most alluring supermodels, they are a club that offers all modest dreamers a blueprint to plot a journey to the stars.
This was a defined departure from the Champions League trappings, with its crass repetition of opponents, forced listening to Zadok the Priest, and virulent insistence upon which tyres we should be buying, what beer to drink, crisps to eat and whose credit card we should be racking the bill up on.
Of course, the Europa League still has its chosen commercial partners, but they haven't invaded the consciousness yet, in the unwelcome manner of its more vaunted sibling.
A tool of UEFA it might well be, but walking into a Europa League fixture feels a bit like being compelled to go into a pub you've long avoided for a family event.
We can find it to be much more likeable than initially expected, blessed as it is with a charm that Wetherspoons can only dream of.
While we can't afford to be out of the Champions League for long, if wider dysfunction is to be avoided – try Manchester United as an example – as long as it is restricted to a one-season flirtation, then the Europa League can provide us with a lot of fun between now and May.
It may even culminate in a casual little trip across to Dublin for the final if we take it seriously enough during the knockout stages.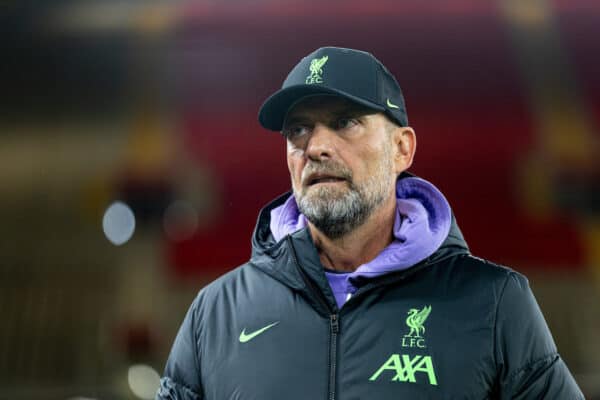 Added to this, it's almost as if the Europa League feels like a detached side project to the main body of work that is Liverpool's 2023/24 season, making it sort of the Arcadia, to the rest of our Duran Duran.
While Virgil van Dijk and Andy Robertson were busy nodding away on the sidelines to The Power Station's heady concoction of hard/dance/funk rock, up stepped Alisson Becker, Mo Salah, and Diogo Jota with a bit of new wave/art rock, with an all-too-familiar underscoring of synth.
For those of you who were born beyond the Generation X era, for further information on mid-1980s new-wave musical demographics, side projects, and hairstyles, consult your parents/grandparents.
At Anfield on Thursday night, it felt like we took matters in a semi-serious manner.
Contrasting battle wounds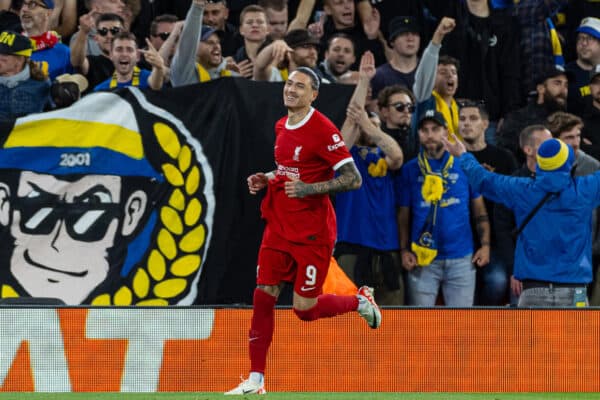 A bright first half, a shocker of a miss from Darwin Nunez, a belated opening goal, a trio of half-time changes and a disjointed second half that gave Union a slither of hope.
The visitors stole something more tangible than simple admiration from the evening before Jota brought the curtain down.
On Sunday it will be back to the main business of straightening our Premier League handlebars and bouncing back from the abomination that was our unwarranted defeat at Tottenham.
This in itself falls into the category of 'easier said than done', given Brighton can play a bit, and it's hard to gauge which version of them we will be confronted by, down in East Sussex.
On one hand, Brighton will be fresh off the back of a stirring fight back in the Europa League away in Marseille, but on the other they will still have the bitter aftertaste of shipping six goals to Aston Villa last weekend.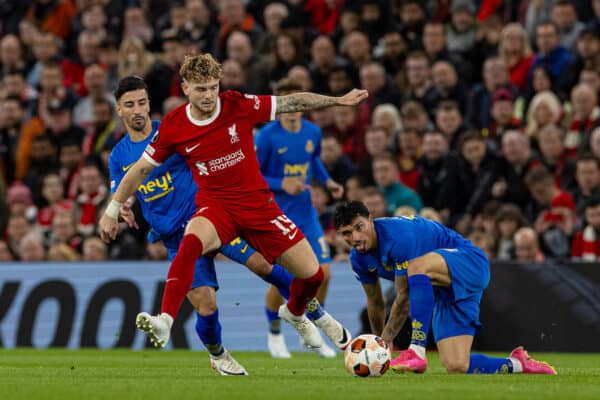 A double-sided coin, Roberto De Zerbi's team have won at Old Trafford, and humbled Newcastle United at the Am-Ex, yet been tipped out of the League Cup, and were beaten at home by David Moyes' West Ham.
They score goals for fun yet concede them with a rare abandon.
Dr Jekyll or Mr Hyde, whichever version of Brighton decide to tip up on Sunday afternoon, Jurgen Klopp and his players will need to get their retaliation in first, rather than opting to sit back in order to assess the situation for too long.
We don't want to be heading into the second international break of the season with another bloodied nose.