Liverpool ended a below-par season in excellent form after Jurgen Klopp's switch to a new system. But how does the 3-5-2 actually work?
When Liverpool are at their best, their football is so complete that the attack leads the defence and then defence starts the attack.
It therefore makes sense that, in 2022/23, Klopp switched up his attacking structure to address Liverpool's defensive issues.
We called the result Liverpool's 'new shape'.
But what exactly was it? How effective was it? And will we be seeing it again?
Compact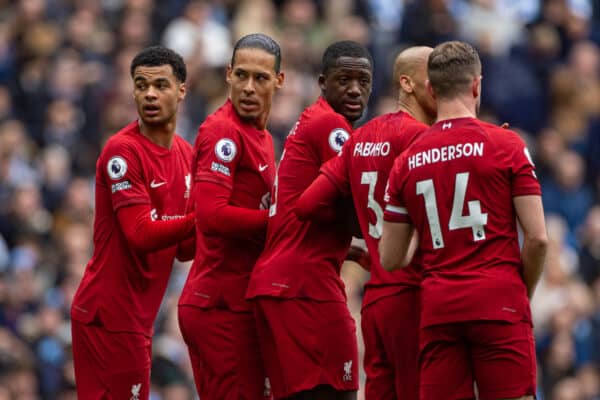 Compactness is a crucial aspect of effective defending.
Regardless of whether a team employs a high press or a low block, the distance between each unit when out of possession should be as short as possible.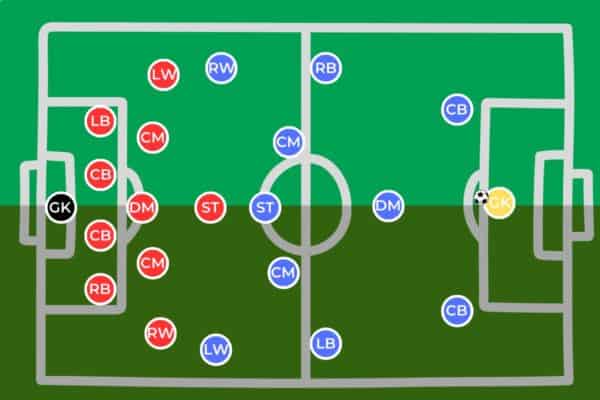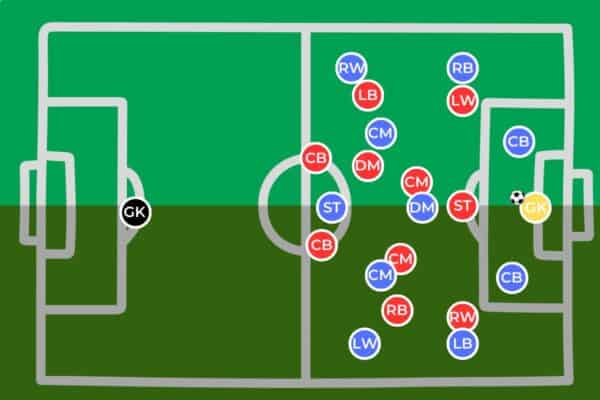 Klopp emphasised this following Liverpool's 4-1 defeat against Napoli, describing it as their "least compact performance in a long, long time."
For their famous 'hunting in packs' approach, Liverpool's front three covered six opponents, with the wingers positioned between the centre-back and full-back on their respective sides.
Roberto Firmino guarded against passes into midfield, forcing the ball into situations where Liverpool could trap their opponents.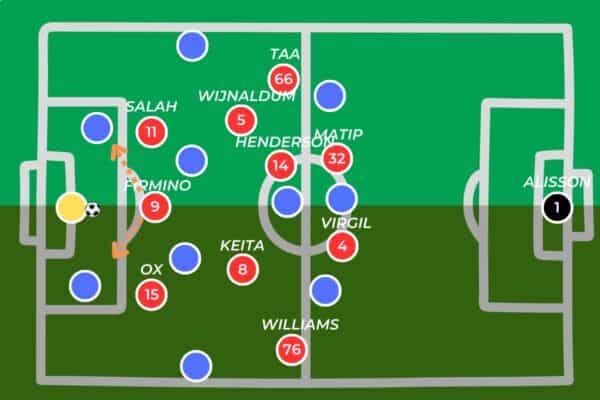 One example came against Brighton in 2020. Firmino slyly drifts to one side, seemingly opening a pass into midfield…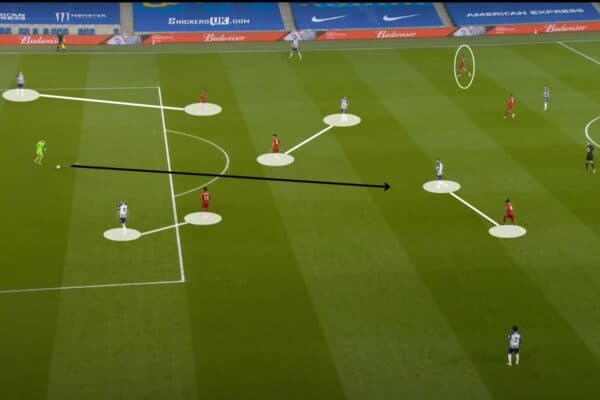 …where Naby Keita can then pounce before setting up his nearby team-mates to score.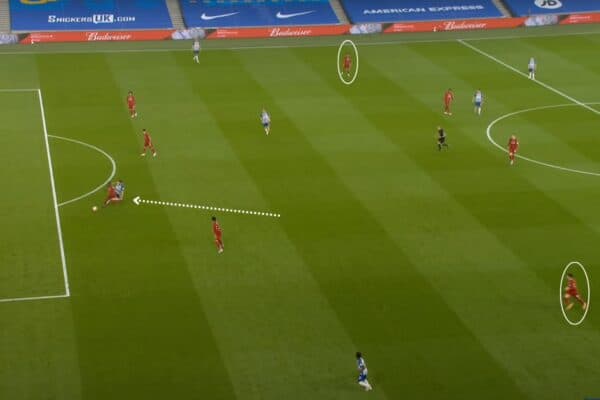 Crucial to this approach was the aggressive pressing of the full backs (circled), who pushed up to ensure the opposition had no out-ball once the trap was sprung.
Trent Alexander-Arnold and Andy Robertson for years impressed with their energy in filling this role.
In possession, the full-backs joined the narrow front three in the forward line, pushing high to provide width and crosses.
In buildup a midfielder might drop deep to progress the ball, but otherwise the midfield three screened the central defenders to form Liverpool's block of five in rest defence.
The result looked like a 2-3-5 shape.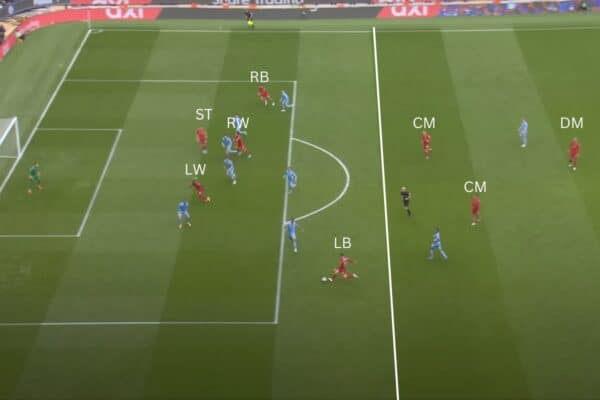 Usually teams get either physically burnt out, mentally checked out or tactically found out by opponents.
In 2022/23, Liverpool managed to achieve all three, and it led to them being pulled apart.
Creative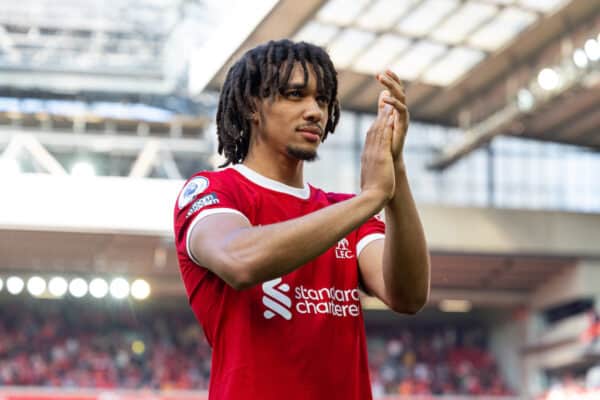 To solve this, Klopp altered how Liverpool played in possession.
Instead of relying on width from the full-backs, the wingers stretched opposition back lines, while the two central midfielders acted as No. 10s by pushing into the half-spaces.
Alexander-Arnold inverted into midfield, giving the defensive midfielder a partner in the centre.
We called the result a 3-2-5 shape.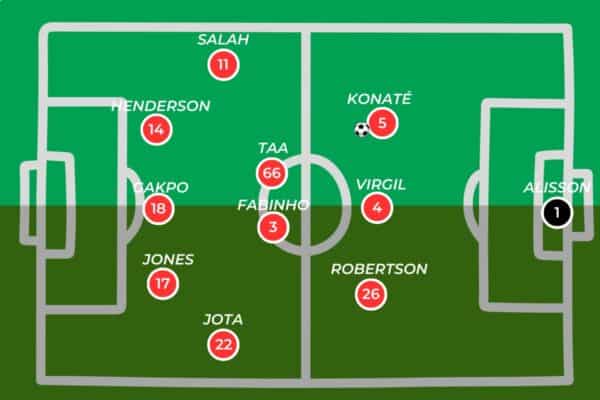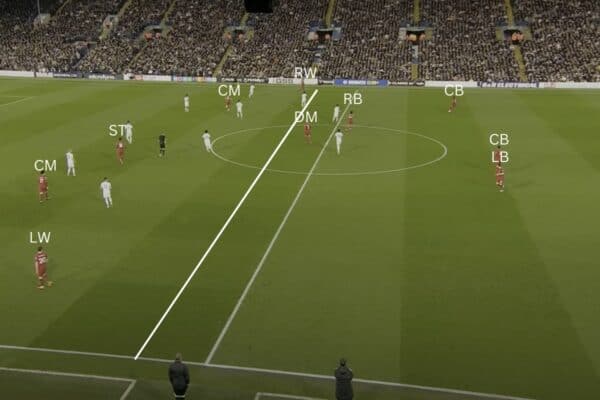 When it debuted in the 2-2 draw with Arsenal, the previously isolated Mo Salah made the highest number of touches in an opponent's box for any player in a Premier League game (20).
Rather than playing inside where Arsenal could crowd the ball, Liverpool would repeatedly look for Salah on the wing when building up, bypassing Arsenal's high press to construct attacks.
But how did this attacking change improve Liverpool's defence?
Whenever forming their two blocks of five – the attacking block and the rest defence – most teams try to cover all five lateral quadrants of the pitch (the two wings, the two half-spaces and the centre).
Liverpool instead used an aggressive front three to block off passing lanes, with the ball-side player jumping up to support.
As a result, Liverpool would be outnumbered if you looked at the whole pitch, but relative to the ball they dominated the space.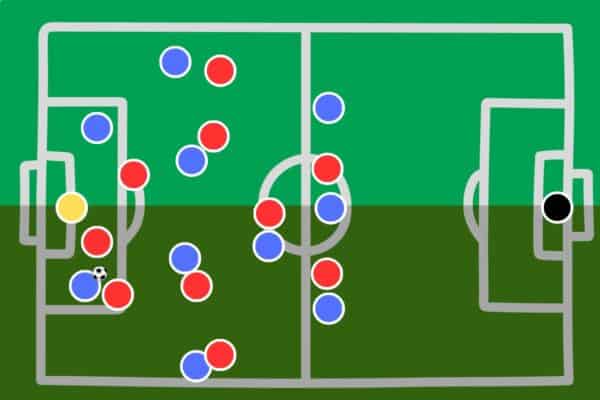 As teams have become more proficient at playing through pressure, opponents have been free to exploit the gaps that naturally form in Liverpool's block.
In the new shape, Liverpool now have the width of the pitch covered.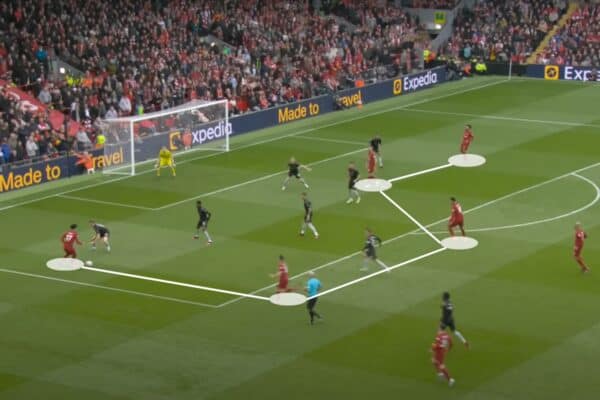 Against settled possession, Liverpool drop into a 4-4-2 shape. But defending transition, Ibrahima Konate widens to cover the right-back position, while Alexander-Arnold drops back to centre-back.
Though this setup has its advantages, such as Konate's proficiency in one-on-one defending, mistimed actions can leave Liverpool exposed.
What does this mean for recruitment?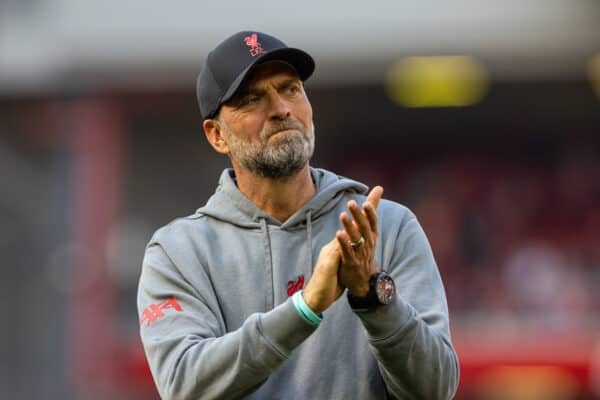 While no system is flawless, Liverpool's main issues with the new shape pertained to a lack of specialists for certain roles.
One of the world's best attacking left-backs is currently being asked to play as a centre-half. An ageing Jordan Henderson is an unlikely No. 10. Before Luis Diaz returned, Diogo Jota looked an awkward fit on the left wing.
Should Liverpool revert to their old shape, they'll be recruiting dynamic midfielders with energy and thrust. Players like Jude Bellingham, Declan Rice and Manuel Ugarte.
Questions will also be asked about the pressing prowess of Darwin Nunez, perhaps leading to another pressing forward coming in.
However, if Liverpool stick with this new approach, recruitment changes considerably.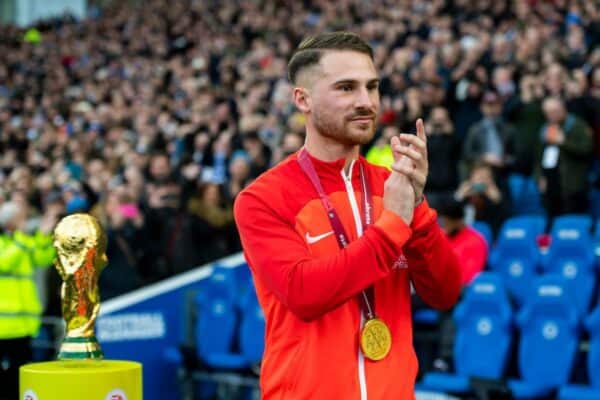 Targets for the double No. 10 roles still need legs to press high, but they now must also be technically excellent players who can create and finish chances.
Curtis Jones did this beautifully during the run-in, scoring three times and turning heads in the final 10 games of the season. Alexis Mac Allister is perfect for this role.
A left-footed centre back comfortable defending wide areas will be under consideration, while some expect Liverpool to reinforce the right-back position.
Alexander-Arnold's inverted role provides an outlet for Salah that opponents can easily shut down if the No. 66's starting position is too central.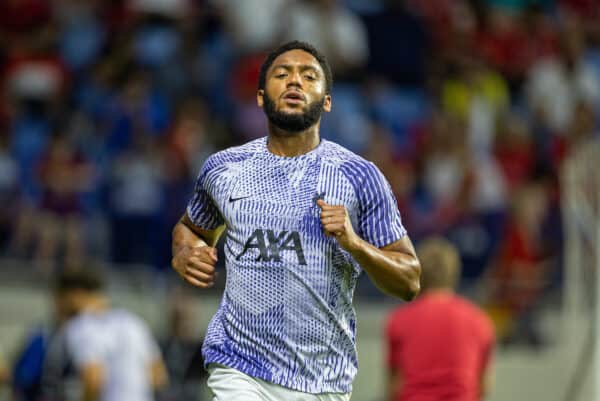 Joe Gomez's skill set makes him suitable for the hybrid right-back/centre-back role if required, but rumoured target Jules Kounde also makes sense.
In summary, the 3-2-5 shape switched up the team's patterns of play in attack, whilst improving their compactness out of possession.
Having already powered a spirited finish to the season, it may prove to be the driver behind a summer of recruitment and a season of revival.