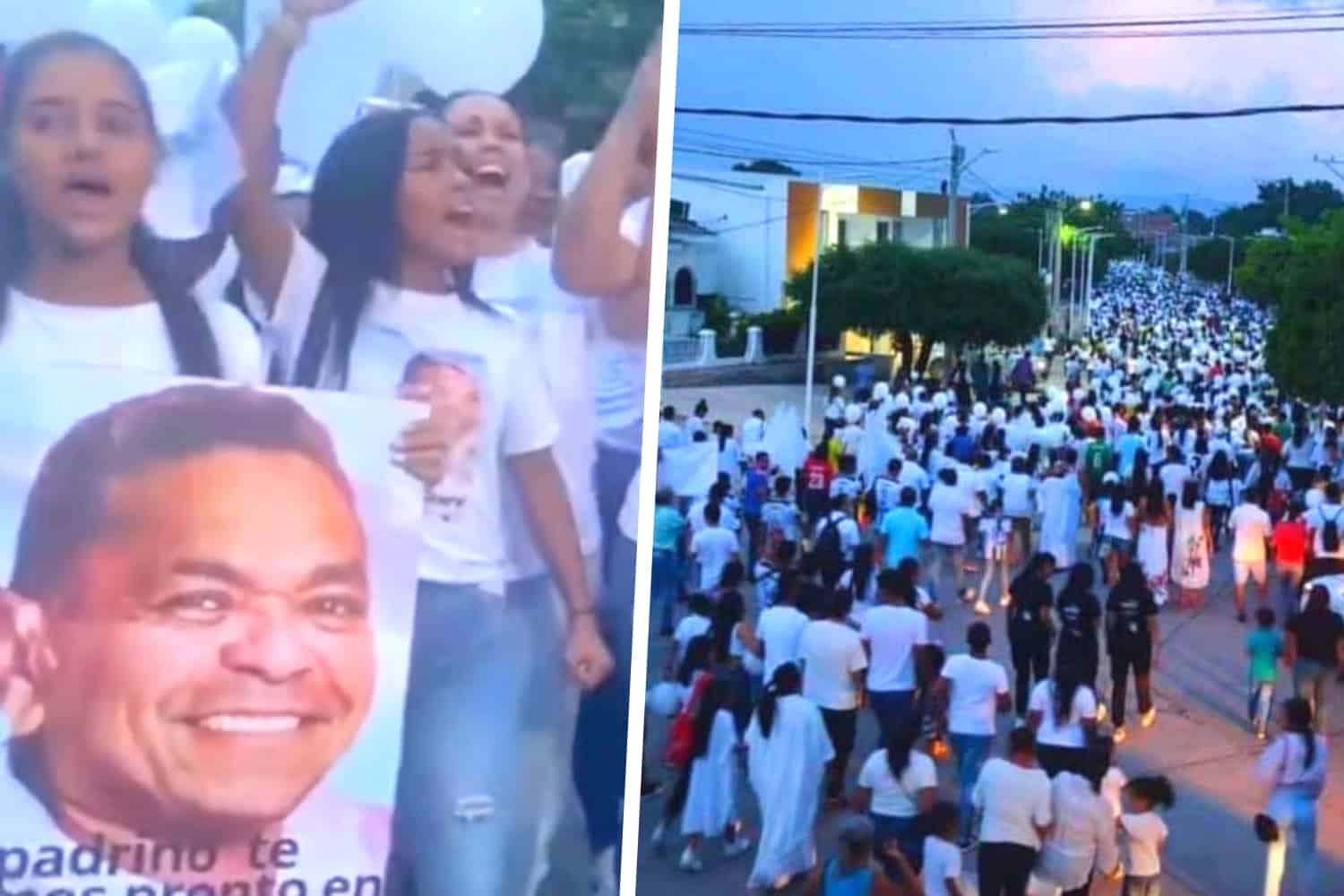 With authorities yet to locate Luis Diaz's father following his kidnapping on Saturday, locals have marched the streets to protest for his release.
Luis Manuel Diaz was kidnapped in the late hours of Saturday, with local reports indicating that the family van was hijacked by a group on motorcycles.
His wife, Cilenis Marulanda, was also in the vehicle but was rescued soon after, while police and military forces continue the search for Diaz Sr.
Mountain ranges and forests are being scoured amid concerns Diaz Sr. has been transported to Venezuela, with authorities offering a 200 million peso reward for information.
Liverpool have granted Diaz compassionate leave in the wake of the kidnapping, and until Tuesday the winger had not commented on the situation publicly.
?? Hundreds of locals marched along the streets of Barrancas this evening wearing white, to demand the release of Luis Diaz's father, Luis Manuel Diaz.#LFC winger advertised the march on his Instagram in his first public activity since the kidnapping of his parents on Saturday. pic.twitter.com/SDXCMY28Ee

— Jack Lusby (@LusbyJack) November 1, 2023
Tuesday saw the 26-year-old share details of a march in Barrancas, the town in which Diaz's parents were kidnapped, to demand his father's release.
Multitudinaria marcha a esta hora en Barrancas (La Guajira) para exigir la liberación de don Luis Manuel 'Mane' Díaz, padre de nuestro querido @LuisFDiaz19 secuestrado el pasado 28 de octubre.
Vía: @lafm @rcnradio
?: @NailethBruges pic.twitter.com/Rd3iJXNjs3

— Aldair Rodríguez Suárez (@AldairJ_R) October 31, 2023
Led by Marulanda, hundreds of locals lined the streets for the event, wearing white and carrying balloons as they marched, ending at the Diaz family house where candles were lit and prayers made.
According to Colombian outlet Semana, schools are currently closed in the town, while a sit-in was also held in solidarity with the Diaz's.
Locals in Luis Díaz's hometown of Barrancas have gathered opposite the Díaz family home to demand the release of the Liverpool player's father.

Díaz's parents were kidnapped on Saturday evening in Barrancas, northern Colombia. His mother was rescued yet his dad remains missing. pic.twitter.com/Wlx8IbVYRc

— Iñigo Alexander López (@Inigo_Alexander) October 31, 2023
It is claimed that authorities believe Diaz Sr. is being held in the Serrania del Perija jungle, with police canines deployed to help detect the player's father and his kidnappers.
Estas son las palabras de los niños de Barrancas, La Guajira, quienes a una sola voz dicen: "Queremos al profe de vuelta pronto".

La marcha por la liberación del padre de Luis Díaz, en su tierra natal. pic.twitter.com/prYeHvYwRV

— Naileth Brugés Altamar (@NailethBruges) October 31, 2023
Another report from Semana claims that "the kidnappers are fully identified," with the hope being that authorities are now closing in on them.
Diaz has remained in the UK throughout upon advice from his family, but he is not expected to be involved with Liverpool in the near future.