Dominik Szoboszlai has made a fairly damning claim on the attitude of unnamed former Liverpool players, having "heard about" those being happy on the bench.
Szoboszlai has arrived at Anfield and immediately established himself as one of the most important players in Jurgen Klopp's squad.
The Hungarian has started 12 of the Reds' 15 games this season and has clocked more minutes than any of his team-mates (1,041), with only Mo Salah also breaking the 1,000 mark so far.
His mentality is to "play in every game, even if I'm a bit tired."
But in an interview with Hungarian podcast Fodball, Szoboszlai explained that he "heard about" players who have since left Liverpool who would be "satisfied with sitting on the bench."
"Everyone wants to get into the starting XI, that's normal and that's how it should be, the goal in every team," he explained.
"Who is satisfied with sitting on the bench? I'm going to be honest, there are a few.
"Actually before I came here there were some [at Liverpool] as well. I won't name names, but I heard about it."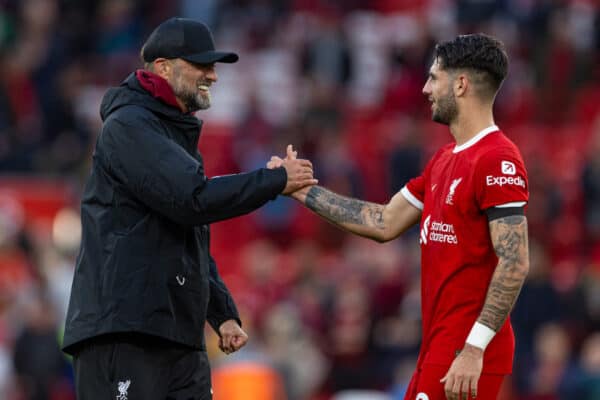 It would be wrong to speculate on which players Szoboszlai may have been referring to, though it is maintained that they are no longer at the club.
There is a chance that the No. 8 was not even indicating that they were in the squad immediately before he joined.
Either way, it is positive that those unnamed players are not in Klopp's squad now, with the manager arguably boasting the most competitive group of his entire reign.
"Personally, I want to play in every game, even if I'm a bit tired," Szoboszlai continued.
"Anything, whether it's the FA Cup, League Cup, Europa League, Premier League, national team, anything.
"I'm in a good condition when I'm constantly needed, I'm in the best condition when I can play on Thursday and Sunday.
"Because then there's no training, recovery, concentration, match, recovery, match, and this goes on and on, and this is perfect for me."