Despite numerous warnings across Jurgen Klopp's tenure, Liverpool's start to the 2023/24 season still appears to be going somewhat under the radar.
The Reds have taken 17 points out of a possible 24 from what has been a tricky opening set of fixtures that have featured plenty of tough away trips.
A controversial defeat at Tottenham and a frustrating draw at Brighton sent fans into the international break with a sour taste, but Klopp's side are still very much within striking distance of the summit.
Gareth Roberts and Paul Cope discussed the start and how it should be viewed on the latest 'Live at 5' show earlier this week, with Roberts questioning why the Reds aren't being spoken about more highly given the circumstances.
"I heard on the radio today, they were going through all the clubs so far, their results so far their results at the weekend, and whether they thought it was above par below par or par. They gave Liverpool par," said Roberts.
"All at once we have had this huge overhaul and we're right up there, and we should be higher. We should have had something from Spurs.
"When you think about the overhaul and the turnover in the summer, it's brilliant. I'd say it's above par."
Liverpool saw Alex Oxlade-Chamberlain, Naby Keita, James Milner and Roberto Firmino leave for free at the end of their deals, while Jordan Henderson and Fabinho joined the Saudi Pro League exodus in the transfer window.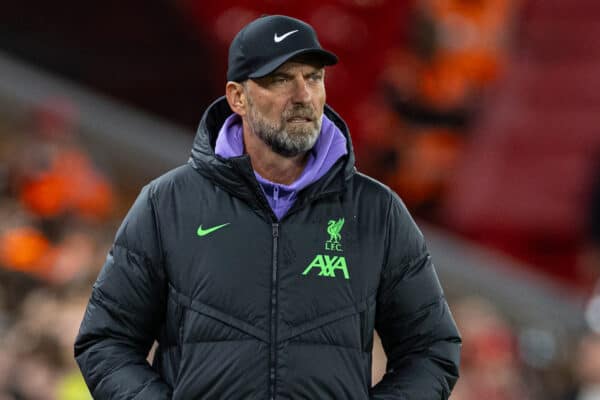 Four midfielders arrived at Anfield in their place, with many believing that the transition would be too comprehensive for the Reds to compete.
Cope added: "I think this is an example of something we've mentioned in the past about Klopp suffering from the standards he's set himself.
"It's been unbelievable what we've done and it's like everyone's forgotten it because Klopp's brilliant and we can just do this and create this new side."
We put it to our followers on Twitter to give their reflections on the season so far, with 49.3% of you agreeing with Roberts and Cope that Liverpool's 2023/24 has been above par to this point.
? Through in the League Cup

? Good progress in Europa
League

? 1 point behind Man City

? We want to know how ??? rate Liverpool's season so far?#LFC

— This Is Anfield (@thisisanfield) October 12, 2023
A further 38.8% deemed it the start they were expecting so far, while 7.7% described it as below par. Tough crowd!
The Reds currently sit three points behind Tottenham on the top of the pile and will hope to keep in touch when club football returns next weekend.
Visits to Chelsea, Newcastle, Tottenham and Brighton are already out of the way for Klopp's side and they will be keen to build momentum and look to make a serious title tilt once again this season.