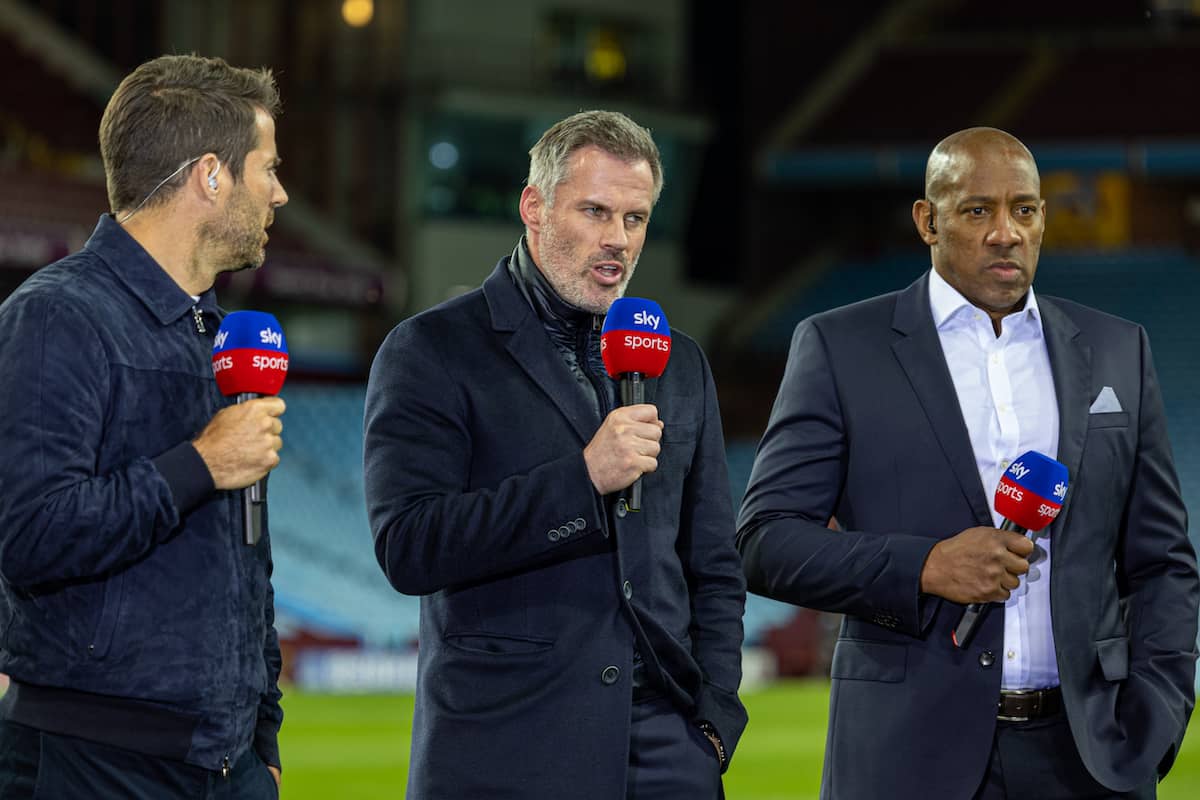 It is often ignored by commentators and broadcasters, but Jamie Carragher made a point of condemning tragedy chanting from Luton fans live on air during Sunday's 1-1 draw.
Liverpool fans are often subjected to tasteless songs from opposition supporters with connotations about the Hillsborough disaster during games in this country, and that was, sadly, the case once again on Sunday.
Luton supporters could be heard referring to Liverpool fans as "victims" at multiple stages of the clash, despite being made fully aware of the distress and anguish it causes the Hillsborough families and survivors.
Unfortunately, it is rarely pointed out on television and largely goes unnoticed during live coverage of Premier League matches.
Former Reds defender Carragher called out those Luton fans during his role as co-commentator with Sky Sports, rightly saying that those involved should be "better than that" at football stadiums.
"At the start of the season, I was involved in something about tragedy chanting and supporters coming together," said Carragher during the game.
Good to hear Carragher call out the tragedy chanting today. Too often the agenda on this issue has had to be set by supporters, not by the media personnel who can hear the chants loud and clear in the stadium.

— David Comerford (@Dave_Comerford) November 5, 2023
"I have just heard something a couple of times in this game. Supporters have got to have rivalry but we are better than that.
"A lot of clubs have been guilty of that over the years but football fans are better than that."
It is refreshing to hear a commentator raise the issue to the millions watching around the UK, with the problem still clearly showing no signs of going away.
Carragher mentioning the tragedy chanting there. About time a commentator did. Clear "always the victim, it's never your fault" chant from the Luton fans audible on Sky Sports.

— James Nalton (@JDNalton) November 5, 2023
The chanting was also called out by national media, including the Times' Henry Winter and the Guardian's David Conn:
Luton Town fans create an intense, old-school atmosphere at Kenilworth Road. But the tragedy chanting, namely the "always the victims" chant directed at Liverpool fans, was distasteful and embarrasses their club. #LUTLIV

— Henry Winter (@henrywinter) November 5, 2023
Clearly heard on the TV coverage the disgusting Hillsborough-related taunt of Liverpool by Luton fans; a disgrace that shames football itself.

Good to hear @Carra23 taking a moment on commentary to call it out.#LUTLIV

— David Conn (@david_conn) November 5, 2023
Speaking in his post-match press conference, Jurgen Klopp said: "Shame on everybody who sang it, but I didn't hear it."
The Premier League and FA announced tougher measures to tackle the issue earlier this year, including stadium bans and criminal sanctions for those who take part in it.
Hopefully, we will see Luton address the matter in the coming days, particularly given that more than just a vocal minority could be heard engaging in the abhorrent chanting.
It is something we have become used to at football matches, but it is never something that should simply be accepted as part of off-pitch rivalries within the sport.
Carragher speaking out is exactly what was needed. Hopefully, others follow suit.