Jurgen Klopp has hinted that he is not planning on making sweeping changes for Liverpool's Europa League clash with Toulouse on Thursday.
The Reds' first two outings in Europe this season – wins over LASK and Union SG – have seen the German make 11 and nine changes to his starting XI respectively.
However, victories in those games have put Klopp's team in a position to secure qualification for the knockout stages early, seemingly increasing the importance of this week's fixture.
And Klopp has suggested that could affect his approach to naming a line-up, with fewer alterations a possibility.
He said: "We have to play to our best; we will make a few changes, not too many maybe, we will see.
"We have to make sure that we are really ready for the competition. The boys showed so far that they are really ready for the competition and that's what I want to see.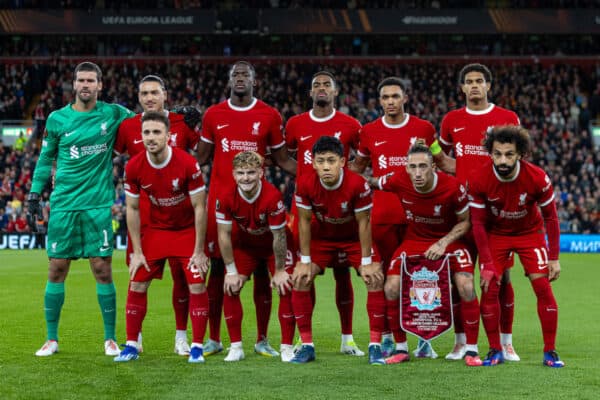 "Obviously we hope we will go long, long, long in the competition and, for that, we have to make all the decisive steps. Tomorrow [Thursday] night is a very big one."
One change Klopp is likely to make is bringing in centre-forward Darwin Nunez back into the fold after he was used off the bench against Everton.
Of the Uruguayan, who provided yet another assist in the dying moments of Sunday's win, he said: "He's in a really good moment, Darwin.
"It's sometimes necessary to adapt to everything, new country, new language, new team – that's long gone.
"He's in the middle of the team, everybody is happy with him, I'm happy with him.
"We had to make a decision before the [Everton] game who of the two will start, was it Lucho or Darwin. Darwin had a little bit of cramps at the end of the international game so we thought maybe we start Lucho.
"I spoke to both, both took it, Lucho's job was to create, prepare, do what he could to cause as much trouble as possible, and Darwin comes on kills the game off. That was the idea and it worked out really well.
"You could see it was really intense for him so it was the right decision to do it how we did.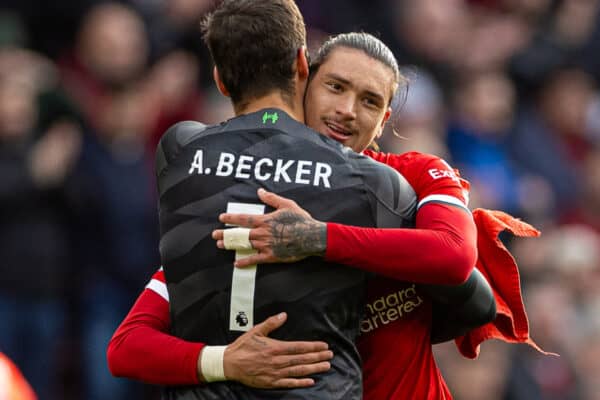 "It's always tough for the boys to have these kinds of travel before the games but now he's fine for this game and for the next game, so that's good.
"I think he's really happy and we are really happy with him, that's what I can see at least on the training ground and that's really important. Really good moment for him."