Jurgen Klopp has insisted Alexis Mac Allister can play as a holding midfielder for Liverpool amid scrutiny of his performances in that role.
But the Reds boss says his main selection concern ahead of Saturday's meeting with Everton is simply being able to name a team that can provide the intensity required to win a Merseyside derby.
Mac Allister has emerged as a surprise mainstay in the No. 6 position so far this season, confining specialist holder Wataru Endo to the bench despite having spent pre-season mainly operating further up the pitch.
The Argentine has, at times, looked an imperfect fit, his ambitious use of the ball and lack of pace occasionally leaving his teammates exposed.
However, Klopp believes a general lack of compactness is more to blame for any issues Liverpool have had this term – and he has other issues to deal with when it comes to his team for the weekend anyway.
Asked if he is still working out his best midfield, the German replied: "I don't think we are in a finding phase, really.
"But it's early in the season, so who knows who will play from next week on in which position because it depends on availability and stuff like this.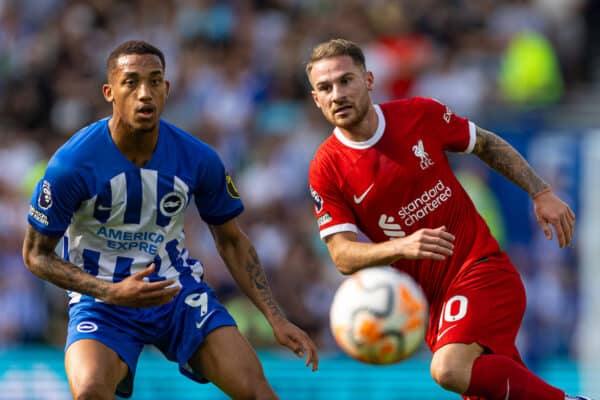 "The way we play, it's definitely possible. You only talk about a player in a position that he is not this or that when, as a team, you are not compact enough defending.
"Of course Macca can play the position, there's no doubt about it. We can play a different system, with a double pivot if you want. There really are plenty of things.
"That's not my problem at all at the moment, that I think about it when I wake up at night, who we can play there.
"Endo played, again, two really good games for Japan, but it's a tricky selection because they came yesterday [Thursday] for an easy session.
"They came in, warm up, rondo, then you send them in again. You have to wait on how they feel, talk to them, it's always different.
"We try to organise the travelling slightly better this time, that hopefully helped. It's not a problem who can play where, we just have to make sure we can find the right players who are able for the intensity of that game.
"Obviously, Everton trained nearly the full squad there, not all of them, but they had the majority of the players there.
"We have to really make sure we can really keep that intensity level that's needed in a derby."