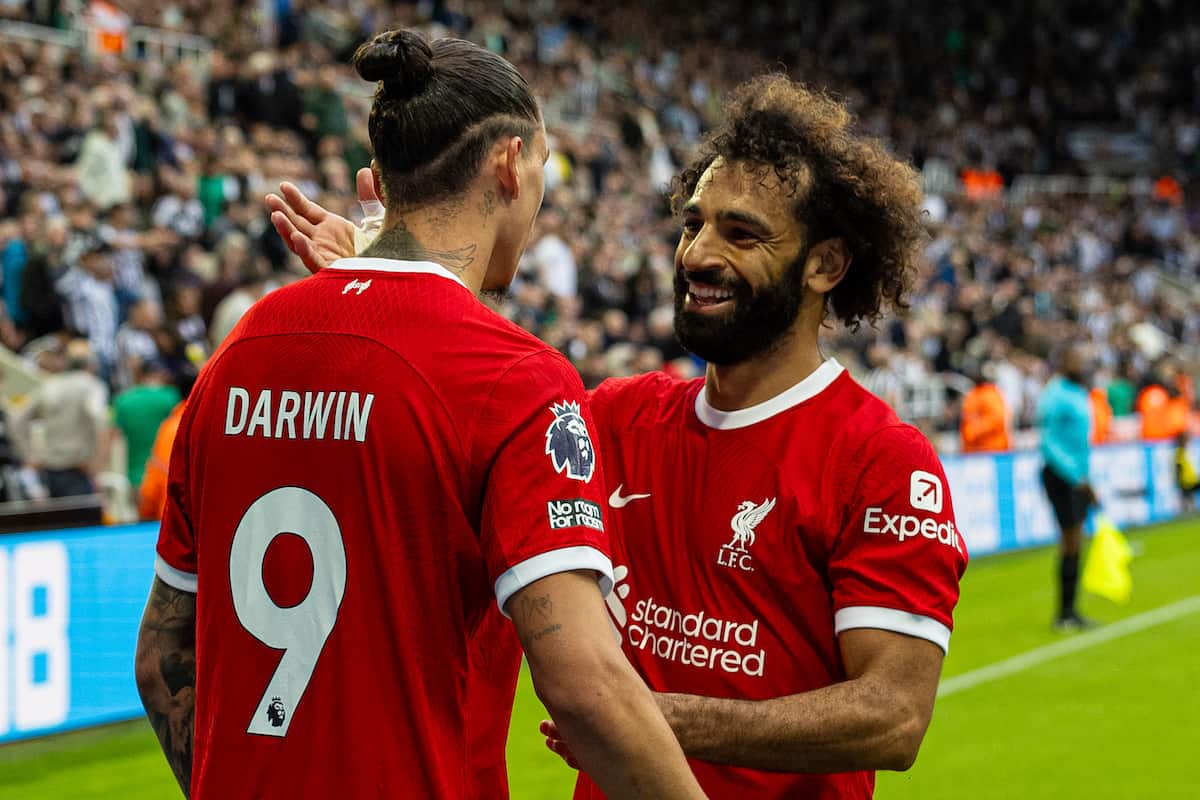 Jurgen Klopp has lavished praise upon "world class" Mohamed Salah for adapting to a change in role he revealed has been partly driven by the signing of Darwin Nunez.
Despite keeping up his typically prolific goalscoring numbers in netting nine times in 12 outings so far this season, the Egyptian has also started to emerge as a new creative force for the Reds.
That is evidenced by the four assists he has clocked up in the Premier League, as well as a team-leading tally of 3.3 expected assists in all competitions, according to FBref.
The ease with which Salah has taken on this new responsibility had Klopp eulogising about him in his press conference ahead of Sunday's meeting with Nottingham Forest.
He said: "The young Mo was a super fast player who could go in behind and play that role together with [Edin] Dzeko; Dzeko controlled the ball or deflected it and Mo was there.
"Here, from the first day he had to do different things, he adapted extremely well but the playmaker in that front role was probably more Bobby setting things up.
"You don't then need two players who are deeper, it's not that good because you need players in the box to bring the ball over the line.
"So now it's slightly different, especially with Darwin when he's playing, we have another speed player up there so that changed Mo's position definitely.
"He's smart enough to adapt to all these different things. It's a massive development since he arrived but he was, in all phases, world class. That's probably the best you can say about a player."
Klopp went on to reject suggestions that Salah's changing role has anything to do with him passing the age of 30, insisting the winger still has the body of a much younger player.
He continued: "Off the pitch he behaves like a grown man, besides that he's still a young player!
"He's top fit, I think if we would scan him, the majority of the bones are probably 19 or 20 because he just keeps himself in such top shape.
"It's game understanding, that's what we try to give young players. They all know an awful lot about football when they finish their career at 35 but, the earlier you can get this information, the more useful it is.
"With Mo that's clear, he understands the spaces, he knows how players react on him, and then if he cannot score he can still be a threat for us. That's super important.
"The Everton game will not go down in history performance-wise but then scoring two goals is massive. In other games, playing much better but not scoring but being constantly a threat is for us as important because that really opens up spaces for all the other boys.
"I cannot compare Mo to other 30-odd-year-old players because I don't think, biologically, he is."