Luis Diaz and Harvey Elliott were the only senior outfielders on Liverpool's bench against Brentford, with Jurgen Klopp explaining why he left them out.
With Alexis Mac Allister suspended and seven others injured, Klopp named a youthful substitutes' bench at Anfield on Sunday.
Only two outfielders, Diaz and Elliott, could be considered first-team regulars, with 16-year-old Trey Nyoni involved for the first time at senior level.
It was no surprise, then, that Klopp turned to those two players first from the bench, though speaking in his post-match press conference, he explained why he was reluctant to do so.
"It was our problem today obviously, we had a very young bench," the manager began.
"And in a set-piece game, with Harvey and Lucho not being set-piece specialists – let me say it like that – to bring on, was a bit tricky.
"A lot of them had to play really, really long. Because Brentford never changed, they changed details, but not the general plan.
"[If they go] 1-0 down, no problem; 2-0 down, then you hope [for] one set-piece [goal], then game on.
"So we came through that period with six set-pieces I think, six corners, I'm not sure that ever happened, that they had six corners and didn't score.
"It was just good. Focus, work rate, and then on top of that, playing football."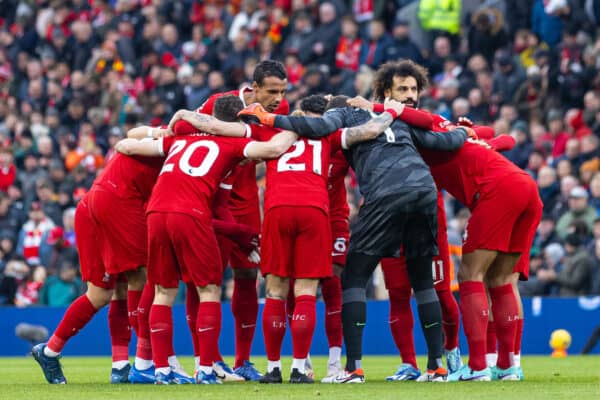 Klopp has spoken previously about preferring taller players when facing physical sides, with Divock Origi often involved over Takumi Minamino due to his height advantage.
Along with both Diaz and Elliott starting against Toulouse in midweek, that would certainly have informed Klopp's decision to start Cody Gakpo in midfield and Diogo Jota, who is excellent in the air, in attack.
"The problem is not the lineup, the lineup was a really good lineup," he explained in an interview with BBC Sport.
"The problem was the changes were, against a set-piece team, slightly smaller. So it's not great.
"You take off players who are good in the air and bring on players who are good on the ground, that's not fantastic.
"But that was the situation today. Besides that, the squad is a really good squad.
"The kids who were on the bench today enjoyed it a lot; James McConnell came on and he obviously enjoyed it as well. A good day."