Jurgen Klopp's latest comments on new signing Ryan Gravenberch have seen the boss say that the new signing CAN play the No.6 position at Liverpool – eventually.
The arrival of the 21-year-old Dutchman came amidst calls for a premium replacement for Fabinho in the holding midfield position, with 30-year-old Endo Wataru seen by many as a somewhat short-term solution.
Initial comments from both Klopp and Gravenberch himself saw the Reds' new No.38 described as a "box-to-box" midfielder and Klopp even saying: "He can be really a box-to-box threat, he is going there."
However, Klopp has now said the former Ajax and Bayern Munich man can actually play the No.6 role when asked directly about it on Friday.
"I didn't mention [the position], [Bayern Munich boss] Thomas Tuchel said that," explained Klopp to reporters.
Tuchel had said: "He's a box-to-box midfielder for me, an attacking player. He [Gravenberch] sees the chance in Liverpool to fight for a place at No. 8 in a 4-3-3."
Klopp continued: "I think definitely in the future he has the potential to play as a No.6.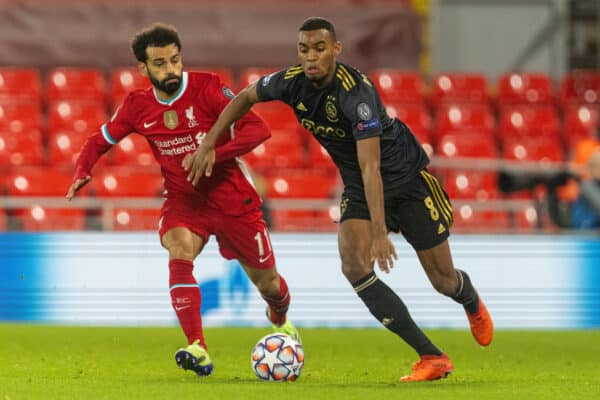 "The only thing about Alexis Mac Allister – he can play the position – is; is he a classical 6 how you would draw it? Probably not. But the position in football has changed over the years.
"He's so skilled, I don't like to talk about the things he is not good at yet. They all have skills and yes they have to improve and he knows that, and he tries but the natural stuff is there and all the other stuff takes time and that is how it is."
Liverpool reportedly see similarities in Gravenberch with Gini Wijnaldum, who played the No.8 role predominantly but also deputised as a No.6 at times, and Klopp's comments certainly suggested that's correct.
"He is an 8, he can play as a 10, definitely and yes, in time, he can play as a 6," said Klopp.
"Like Curtis [Jones] could play as a 6, they just have to get used to the different spaces and responsibilities.
"That's not the most difficult position in the world, it's just one where from time to time you have to hold yourself back a little bit.
"Hendo struggled with that until the end and played some sensational games on the 6. [He would say] 'But I cannot be involved in this or that going forward?' That was the situation.
"But besides that [Gravenberch] is a real talent. So now we have to see. We obviously have good players and we don't need to push him in because he is new, it's a mid and long-term project and he will be with us definitely and will have enough opportunities to play."
Gravenberch is in line for his Liverpool debut away to Wolves on Saturday, although likely to be from the bench.