Jurgen Klopp has admitted Ibrahima Konate "could have gone" for a second yellow card against Everton, with Sean Dyche unsure how he avoided a dismissal.
Everton were a man down before half-time at Anfield, after Ashley Young was sent off for two bookable offences.
In doing so, the veteran full-back became the first opposition player to be shown a second yellow card at Anfield in the Premier League since Sadio Mane in 2015.
It was a big call from referee Craig Pawson, only magnified further by his decision not to dismiss Konate for a yellow-card challenge later on when he had already been booked.
Klopp acknowledged the situation immediately by substituting Konate for Joel Matip, and speaking to BBC Sport after the game, he admitted a red card would have been deserved.
"Ibrahima, could have gone, yes," the manager said.
"It could have happened obviously and then we took him off and from that moment we were solid and compact."
In an interview with beIN SPORTS, Klopp added: "We took him off because of that, of course.
"I didn't see it back, I saw it in the situation and I saw so many football games and saw yellow cards in moments like this.
"We got lucky probably. We took him off and what is even more important is Joel played a sensational game."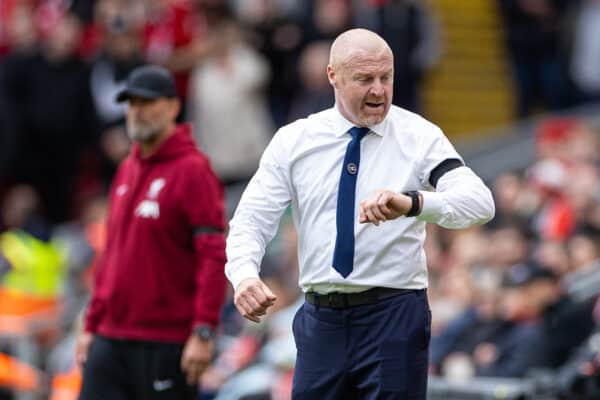 In his post-match press conference, Everton manager Dyche was understandably frustrated with the officiating, claiming Pawson told him he didn't believe it was a booking.
"I have no clue. I've asked the referee, he said he didn't feel it was a bookable offence and he felt that straight away," he told reporters.
"I don't know what is then.
"I'd like to think there's a lot of fair-minded people in football, and I think people who were here today would be stunned that that wasn't a second yellow.
"Their manager, fair play to him, he took him off as quick as he could! He's realised, he saw, 'I got away with one there' – I imagine he thought that, I don't know.
"He couldn't wait to get him off. He knows and we know."
Later, Dyche added: "Some of the decisions that were bookings and then Konate's is not, that's baffling."