Jurgen Klopp has questioned how far back VAR went to rule out Liverpool's equaliser at Toulouse, but the manager had bigger concerns than a bandaid equaliser.
The Reds put in one of their worst performances at Toulouse, going 2-0 and subsequently 3-1 down before almost mustering an unlikely draw before bemusing VAR intervention.
Jarell Quansah had scored a perfectly legitimate equaliser at the death, only for VAR to go back more than 15 seconds, various phases of play and a Toulouse possession to rule it out.
A handball against Alexis Mac Allister was the verdict, despite UEFA rules stating that "no handball offence should be called on a player if the ball is previously deflected from his own body."
It did just that, and Klopp noticed and also questioned how far they went back to re-referee the game.
"I only saw the video back and for me, it's not a handball, but how can I decide that?" Klopp said during his post-match press conference.
"Yes, the ball goes to the chest and I don't see contact with the arm, to be honest.
"Maybe they had a different picture than I had. It's pretty long ago before we score the goal, [I was thinking] 'where's the free-kick?'
"That's interesting, we could talk about that. I heard, I didn't see it, that there could have been a penalty for us in another situation, I don't know."
But like the majority of fans, Klopp knows that the VAR farce is not the biggest talking point or concern to emerge from the match, as that is reserved for his side's poor showing.
"I'm actually a bit more concerned [that] I would have loved for us to play better," Klopp stressed. "That's my main issue tonight. In a football way, [we needed to be] more aggressive.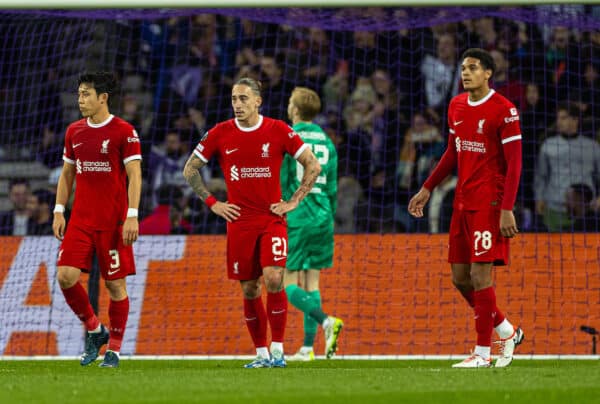 "That nearly happened that we got a point here, that wouldn't have made the game better but it would've felt better and the table."
With LASK beating Union SG, Liverpool forewent the opportunity to secure their place in the last 16 of the Europa League with two games to spare and must now wait until November 30 for another chance.
Luton and now Toulouse should prove to be wake-up calls, one would hope.