As ever, the Merseyside Derby threw up plenty of talking points, that we discussed while reliving Liverpool's 2-0 win against Everton.
In workplaces and schools, Liverpool supporters will be the people happiest across Merseyside this week.
Once again, Mo Salah took the headlines as his brace took Liverpool briefly to the top of the Premier League table.
Everton fans won't go down quietly this week, though, and will feel aggrieved by one of the officiating decisions from Saturday's match. The
Here, Sam Millne (@sam_millne) and Adam Beattie (@beatts94) discuss the Reds' performance, Ibrahima Konate's tackle and Kostas Tsimikas's short-term future after Liverpool's derby win over Everton.
How was the atmosphere at Anfield for the early kick-off?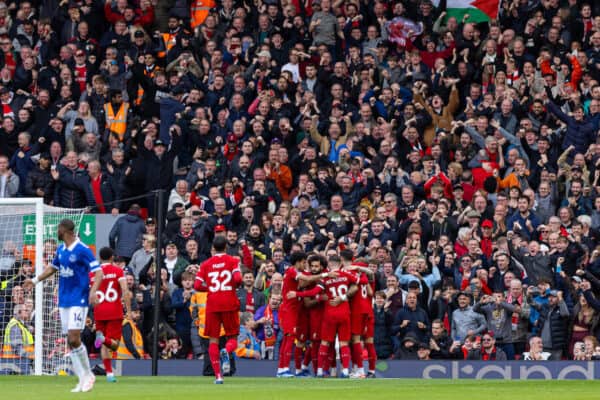 ADAM: It is never going to be the level you'd expect from Champions League nights at midday, but personally I thought it was pretty lively early on.
As the game wore on, nerves began to creep in and I think you could sense that in the crowd but, all things considered, it was probably the best Anfield has been so far this season.
Did the game play out as expected, for you?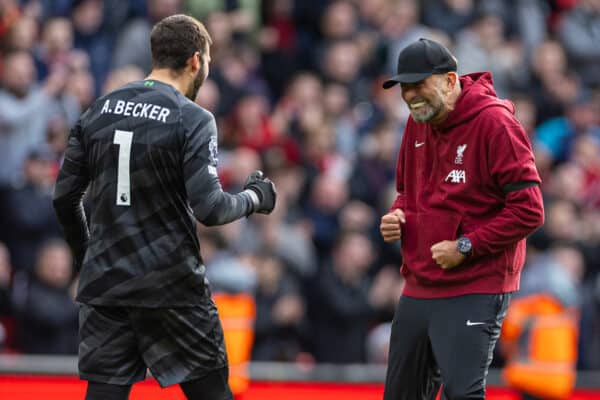 SAM: From the minute Ashley Young was sent off, I could tell it was going to be a game won from a set-piece or moment of magic.
Everton had no option after that but to sit off. Surprisingly, Liverpool did have chances on the counter-attack but the final ball, combined with some great last-ditch tackles, meant we couldn't take advantage.
There was a time in the second half when a winner seemed unlikely, but that meant the derby day relief was so much greater when it did come!
Thanks be to Salah for scoring against the Blues whenever he's needed most – his greatness is inevitable.
ADAM: Very much so, it was an archetypal derby and once the red card had been given, it had all of the ingredients.
Like Sam said, I was starting to question whether we could find a way through and, had the penalty not been awarded, I'm not completely sure where the breakthrough would have come from.
Young's dismissal simplified the task for Everton and the fact it came just before half-time gave them a chance to organise during the break and, in fairness, that is exactly what they did.
Did Liverpool 'deserve' to win the game?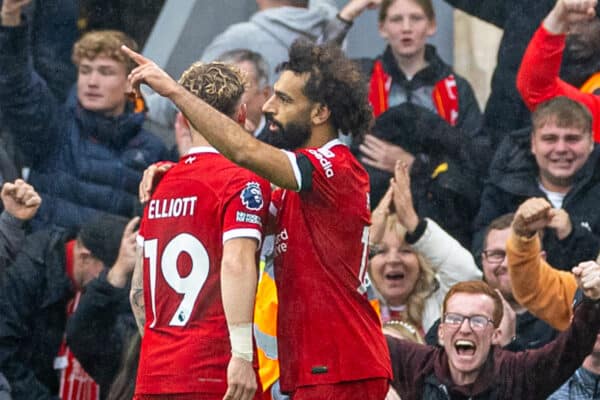 ADAM: On balance I'd say definitely. We weren't at our best by any means but it was never going to be the sort of occasion when we could showcase all of our strengths going forward.
On another day it could easily have been one that got away from us, but I'd say we were just about good value for the three points.
SAM: I'd say absolutely, yes. That isn't to say that the Reds were on their game, but Everton barely made it past the halfway line for much of the match and their best chance came in the first minute.
With six shots on target to the Blues' one, I think it's fair to say Liverpool had the better of this one, despite Everton's brave defending.
Should Konate have been sent off?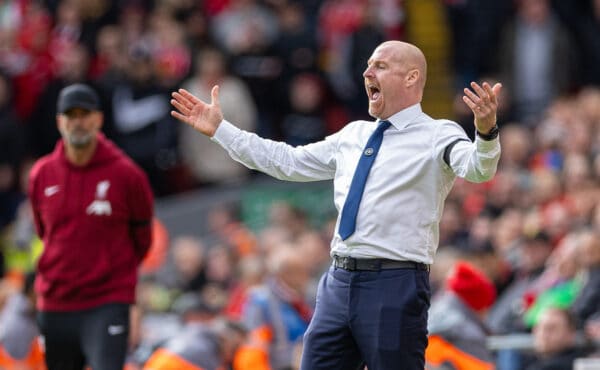 SAM: Given the context of the match, that saw Young dismissed in the first half, I would say yes.
While the tackle in question was very light, Konate did bring down Beto as he tried to break. With Young sent off for two yellows, the second of which was hardly a dangerous challenge, it's fair to say the Frenchman got lucky.
That's not to say Everton would have got anything from the game with 11 men, though.
ADAM: It's certainly given them something to cling to and if that keeps them happy, then good luck to them!
I'm not convinced it is as stonewall as some are making out having watched it back, but at the time it looked like he'd really gotten away with one.
Klopp's decision to take him off almost immediately after was telling but, given the horror shows we have been on the wrong end of this season, I'm happy to take this one and run.
How would you deal with the issue at left-back until 2024?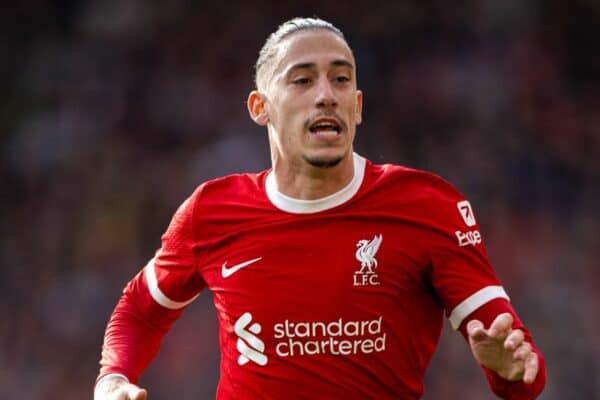 SAM: Personally, I think we just need to stick with Kostas Tsimikas now. The more he plays, the better he will link up with those around him.
It's a shame that Luke Chambers has picked up an injury, as he has a great left foot – perhaps we could still see him or Calum Scanlon in a Europa League fixture before Christmas.
ADAM: Tsimikas feels like the obvious answer but I imagine there will be a fair bit of rotation over the coming weeks.
The manager admitted himself that Kostas won't be able to play all of these games in the run-up to Christmas, and I think it will give some of the youngsters a good chance to assert themselves as Sam mentioned.
Hopefully we can just get Andy Robertson back sooner rather than later!