With Andy Robertson expected to be out for nearly three months, Liverpool supporters have been debating who should play at left-back instead.
Robertson dislocated his shoulder on international duty for Scotland, and has undergone surgery to rectify the problem.
This leaves Liverpool without their stalwart left-back of the last five years.
Kostas Tsimikas is the obvious replacement, and started in the Merseyside derby on Saturday, but hasn't won over everyone yet.
Speaking on Monday's Live at 5 show, available on This Is Anfield's YouTube and podcast platforms, Gareth Roberts said he thought Tsimikas was "bad" against Everton.
Gareth added that he would be "erring towards playing Joe Gomez," instead of the Greek international.
Liverpool's No. 21 was replaced by Darwin Nunez after 62 minutes in the derby, and Luis Diaz filled in for him out of position.
While Tsimikas fits the bill as a left-back by trade, his performances haven't excited, though it would be hard to describe them as poor.
Meanwhile, youngsters Luke Chambers and Calum Scanlon have been training with the first team, and could also stake a claim to the position.
Paul Cope, too, was not completely confident in Tsimikas, saying: "When his new contract got announced, I was shocked."
The Liverpool supporter then went on to recall how he would "have sold Tsimikas in the summer," for a couple of reasons.
"Even if we'd continued playing the style we used to play, where Robertson was a flying full-back getting forward, Tsimikas was still not getting a look-in to give Robertson a rest," Cope explained.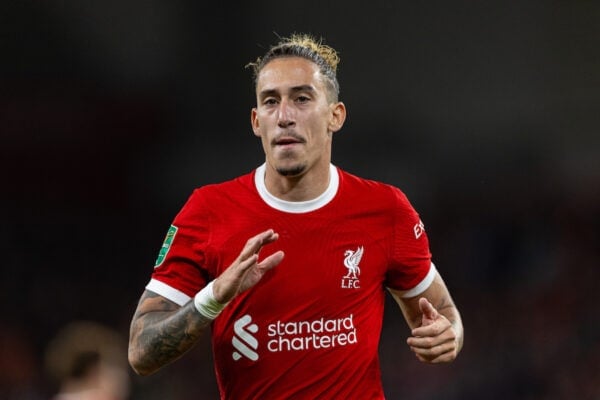 "So they clearly don't rate him high enough to give Robertson the rest you think he'd be in the squad for.
"Then, this season and at the end of last season, we changed our system so Robertson has become almost a hybrid left-sided centre-half at times; he's not the flying full-back he was in the past.
"Which means Tsimikas is now the fill-in for that, and surely you don't want that."
Cope went on to reinforce his opinion that the Reds should have signed a defender in the summer transfer window.
"If you're struggling for money, sell him and buy another Joe Gomez-type player," Cope added.
"This is my issue with not buying another defender in the summer.
"Imagine if you'd bought another Joe Gomez who can play right the way across the defence, the difference that makes to your squad."
Gomez does have prior experience at left-back, having played the position when first signed by Brendan Rodgers, but his presence there would perhaps take away some of the Reds' attacking threat.
---
* Paul Cope and Gareth Roberts are speaking on a new show from This Is Anfield and The Late Challenge Podcast.
There is a live show that airs each Monday at 5pm (UK) on This Is Anfield's YouTube, with our second show each Wednesday.
You can also listen as an audio show, here.