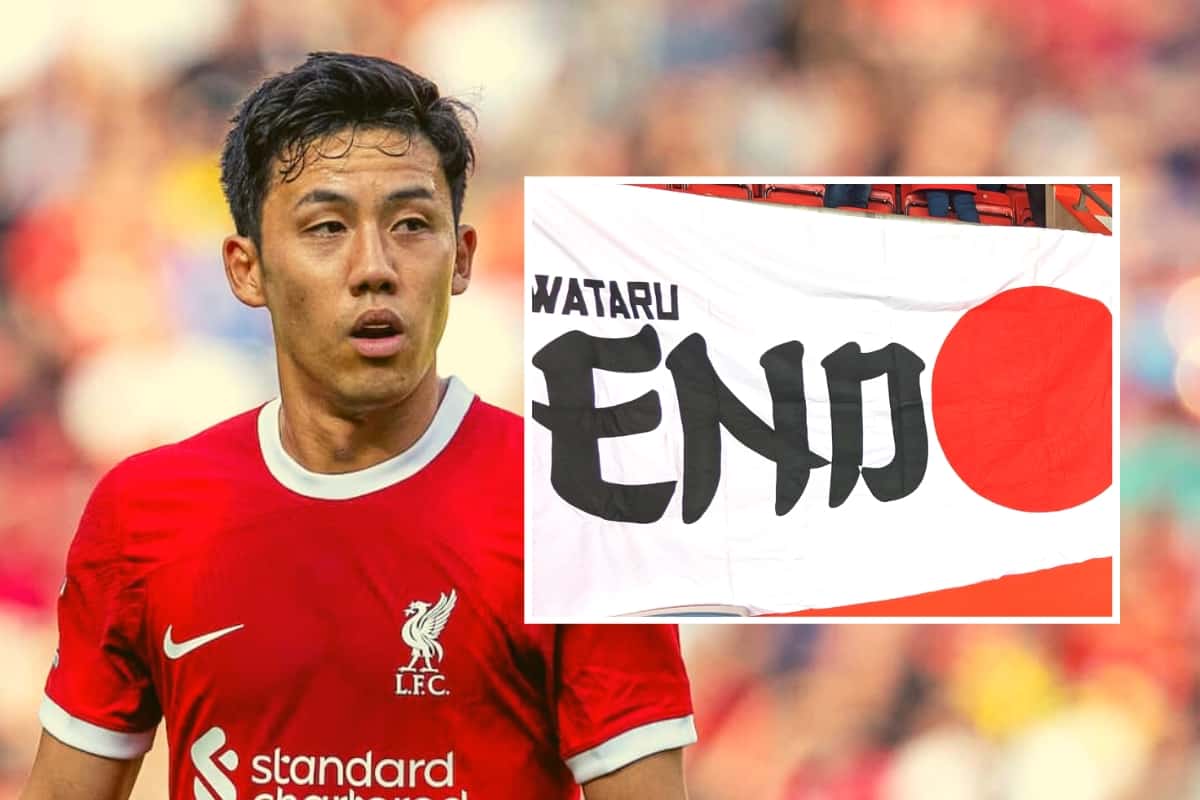 Liverpool have contacted a supporter to acknowledge their error in confiscating a flag dedicated to Wataru Endo during Sunday's win over Nottingham Forest.
The banner, which combined the flag of Japan with the word Endo, was taken by stewards ahead of kick-off at Anfield.
However, This Is Anfield has been told the incident resulted from a misunderstanding, with the club's flag and banner policy having not been contravened in this instance.
As such, the Endo flag should be allowed to return for the Reds' next Anfield fixture, a meeting with Brentford on November 12.
My @wataru0209 banner has been confiscated on the way into Turnstile S today by a Mr Paul Hudson & an @LFC steward named Terry #37. The grounds stated were that the FA has issued a blanket ban on "nationalistic flags" at all stadia. 1) A national flag is not "nationalistic" 2)… pic.twitter.com/YPUf4XEtko

— Handmade Banners (@KopCraftsman) October 29, 2023
Sensitivities around displays have been heightened amid recent shows of support relating to the ongoing conflict in Gaza.
As per Premier League recommendations, supporters have been asked not to show either Israeli or Palestinian flags when visiting Anfield.
The club's current guidance reads: "In addition to Anfield's long-standing flag policy, and following consultation with safety and security experts, it has been determined that Israeli and Palestinian flags should not be permitted to be displayed at football matches for the foreseeable future and the same approach can be applied to other displays, banners, clothing or scarves identified as pro-Israeli or pro-Palestinian or related to the current crisis."
Bizarre situation, having to argue with @LFChelp @LFC stewards on my way in to be able to display a banner in support of our 2nd goalscorer @wataru0209 #Endo in the same spot where I have hung my flags every game for the last 7 years. @LFC pic.twitter.com/AukjC5K74W

— Handmade Banners (@KopCraftsman) October 26, 2023
That directive was ignored by a number of fans over the weekend, with several Palestine flags held up on the Kop.
But, going forward, it is understood that other national flags can be displayed should they clearly be related to a player, football, or Liverpool.