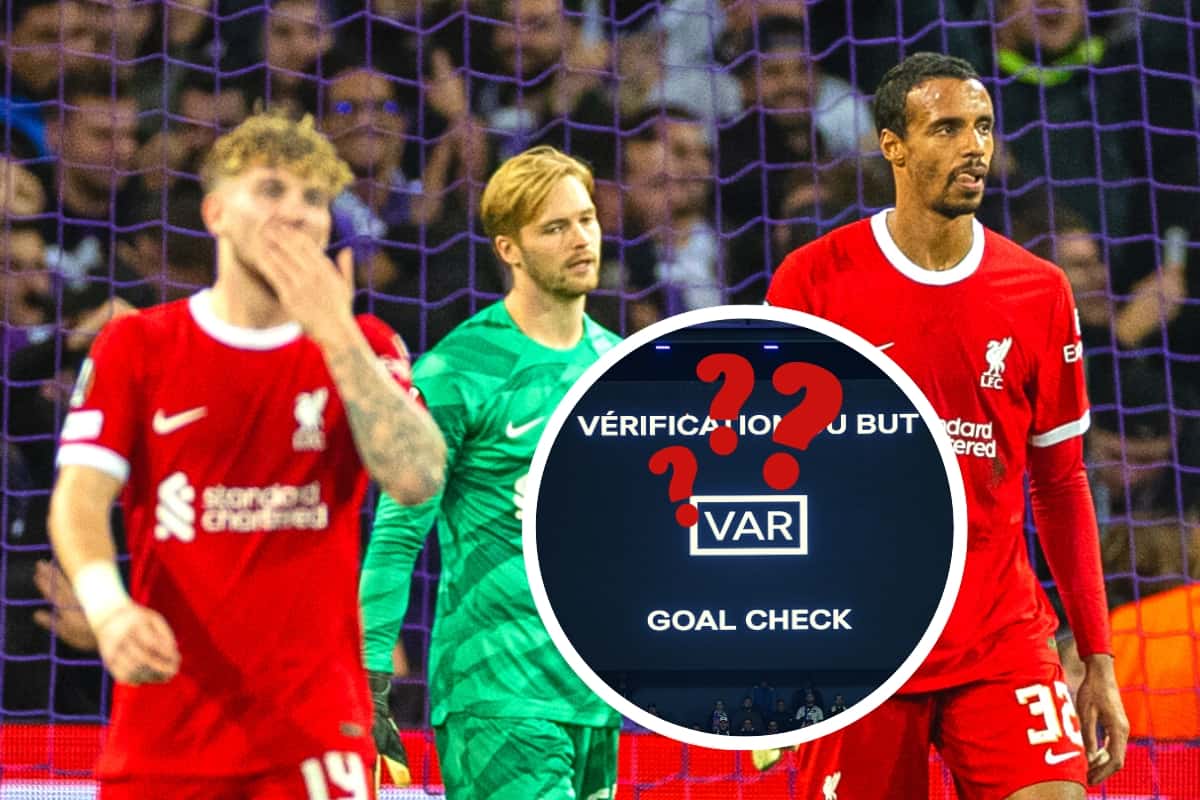 Liverpool put in one of, if not their worst performance of the season at Toulouse and the need to show improvements is not lost on fans with what we all know to be on the horizon.
Positives were hard to find from the 3-2 defeat, with the Reds well below their best against a team battling relegation in their own domestic league.
That Jurgen Klopp had to turn to some of the players he ought to be resting spoke volumes, let's not forget the Reds beat this same team 5-1 at Anfield merely two weeks ago.
Incredibly, Liverpool did manage to score an equaliser through Jarell Quansah but it was brought back by VAR after what they deemed a handball by Alexis Mac Allister about a year before it went in the back of the net.
The Reds did not deserve to take anything away from the match, and that was lost on no one, but few could quite believe the third goal being ruled out – thought we weren't to re-referee games?
What was worse, VAR or Liverpool's performance…
I mean that's not the handball law unless it's the goal scorer. hilarious.

— nate (@natefc) November 9, 2023
https://x.com/__karl__/status/1722701120978502058?s=20
https://x.com/LFC92/status/1722703829622231040?s=20
https://x.com/LFCOffside/status/1722702159236551162?s=20
https://x.com/SamMcGuire90/status/1722701810631086100?s=20
https://x.com/4hundredblows/status/1722702720178545040?s=20
https://x.com/redkenneth77/status/1722703985381912737?s=20
https://x.com/_K_e_v__/status/1722704734925017183?s=20
https://x.com/Jhiggins3/status/1722703207393038766?s=20
But there were no excuses for what was on show…
https://x.com/dmlynchlfc/status/1722702281504641516?s=20
https://x.com/KeithCostigan/status/1722701761553785178?s=20
https://x.com/BigTosh10/status/1722703897150534047?s=20
https://x.com/Mick_Moran_/status/1722702463860449537?s=20
https://x.com/mattladson/status/1722688001011027983?s=20
https://x.com/bayliss4/status/1722703720859742431?s=20
"Wow, that was bad. Not sure if there was just no desire to put effort into that game, but that was one of the worst performances I've seen from this team. I actually would've felt bad for Toulouse if they didn't win that game. They definitely deserved it more than us today." – Yasmin in TIA comments.
"Hope they take it like a wake-up call, even if it should have been so after the Luton game." – skizofreniktamer in TIA comments.
https://x.com/JamesPearceLFC/status/1722703999005032518?s=20
---
Well, the Reds were far from worthy of walking away from the match with any points but the VAR situation is highly bemusing and surely not in the spirit VAR is meant to be for – but I suppose that boat has long sailed.
This is another performance the Reds have to learn from and shake off before meeting Brentford, they need a good result there as their return after the international break takes them straight to Man City.