There is no comparing Dominik Szobozlai and Lionel Messi, but Liverpool fans have noticed a clever way that the midfielder plays like the Argentine.
Szoboszlai has helped turn Liverpool's fortunes around since arriving in the summer, taking little time to settle in, and the wider public are starting to see his quality.
It goes without saying that Szoboszlai isn't the same player as Messi, who is arguably the greatest ever, but a clever comparison has been drawn between the two.
Speaking on Monday's Live at 5 show, available on This Is Anfield's YouTube and podcast platforms, Paul Cope explained how the pair share the trait of walking often in the match.
The Liverpool supporter said: "Messi was giving advice to kids. They were asking for tips and the thing he said to them was 'walk more'.
"If you watch Messi's game, it's incredible how often he's just walking around the pitch. And he said: 'It's only when walking can you properly see what's going on'.
"So you walk and see what's going on, then you explode into the space because you know where everybody is."
Cope thinks Szoboszlai also plays with this in mind, explaining:
"If you think of how he contributed to the game [vs. Nottingham Forest], the difference between his contribution for the last goal, which was the 60-yard cross-field pass from the edge of our own box, to the Nunez goal where he's busting through in the advanced right midfield position to square it, it's a completely different side to the game.

"But that's him standing back and watching and seeing where the opportunity is."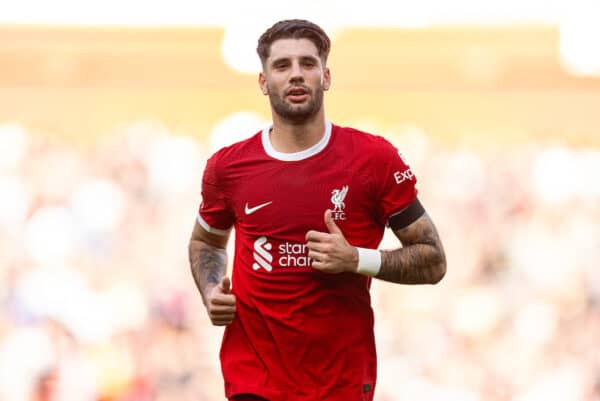 Gareth Roberts commented that Szoboszlai is good at the defensive side of the game too, saying: "He doesn't mind the dirty work either, does he? You see him mopping up a lot as well."
The Hungarian clearly has everything to become one of the best in the world, and if he continues on the same trajectory, it won't be long until he's talked about in that way.
---
* Paul Cope and Gareth Roberts were speaking on a new show from This Is Anfield and The Late Challenge Podcast.
There is a live show that airs each Monday at 5pm (UK) on This Is Anfield's YouTube, with our second show each Wednesday.
You can also listen as an audio show here.