Liverpool had to settle for a point after a 1-1 draw at Chelsea, a result that fans could accept but it is clear what needs to happen next in the transfer window.
Forget transfer talk and the boardroom battles, football is back and Liverpool got the season underway at Stamford Bridge.
Luis Diaz was the first Red on the scoresheet, opening our account with a sumptuous team move, with Alexis Mac Allister and Mo Salah combining to devastating effect.
The Reds' domination, though, could not stop Chelsea's Axel Disasi pegging a goal back and momentum then swung the way of the hosts.
And you could see why both need a defensive midfielder!
A seemingly clear-as-day penalty was denied for the Reds, who struggled to find their footing in the second half and with no further breakthroughs, it finished all square.
If it wasn't clear already that Liverpool need a defensive midfielder…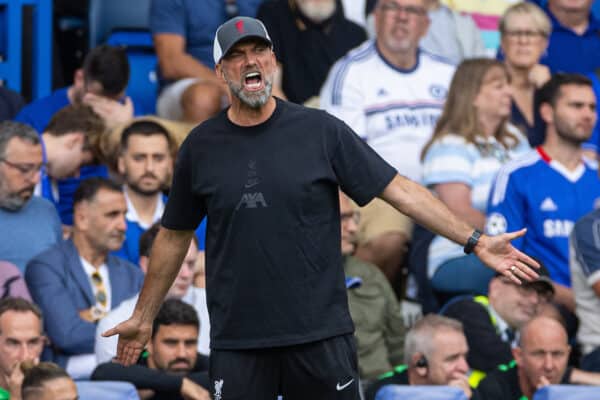 A British record bid shows Liverpool know what is needed and it is no secret, but a temporary solution cannot be allowed to last much longer…
We're going to continue seeing chaotic games like this until Liverpool have a proper DM in place. As expected, they're capable of doing brilliant things going forward but always prone to being opened up with ease. Feels like a total lottery in terms of the final outcome.

— Joel Rabinowitz (@joel_archie) August 13, 2023
#CHELIV was a decent watch. Liked all 11 players who started but not a great starting 11 – Mac Allister, Trent, Gakpo all seemed to lose every 50/50 they contested in midfield. Better teams will take full advantage.

Need a signing who will dominate those duels #LFC

— Harry McMullen (@mcmulhar) August 13, 2023
No control at all in that second half. Sign a 6, sign a left sided centre back, and think there's a lot of work to do on this system as well.

— Jack Sear (@JackSear) August 13, 2023
Crazy Liverpool didn't go into the first game of the season with players in two of the most important positions in this 3-4-3.

DM and LCB are paramount. Should really be in before Bournemouth.

— Jack Lusby (@LusbyJack) August 13, 2023
This side remains a LB and DM away from being very special.

It's high risk and high reward football, which is problematic with one or two weak links.

— Rory Greenfield (@RoryGreenfield) August 13, 2023
This game is doing a great job of showcasing why Liverpool and Chelsea are willing to pay British record money for Moises Caicedo. All offensive vibes, no proper midfield protection

— Melissa Reddy (@MelissaReddy_) August 13, 2023
"We need some steel in that midfield. Apparent for all to see. An enjoyable game though. A point away to Chelsea is not the worse day." – MrDiini in TIA comments.
Salah wasn't happy, but what about Reds?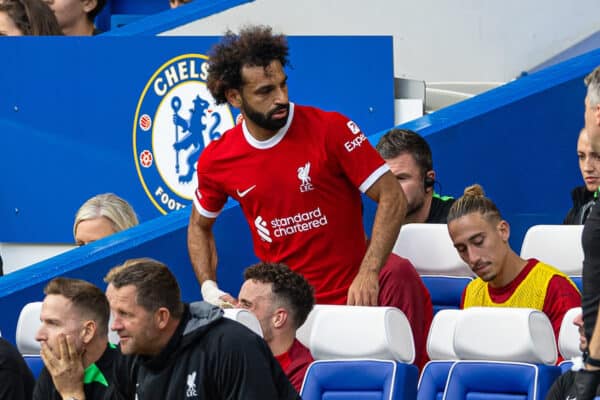 Salah played an instrumental role in Liverpool's goal and had chances to get one of his own, but his response to his withdrawal after 77 minutes caused quite the reaction. There were mixed views…
Piss poor that from Salah.

— Nick Collins (@Nick___Collins) August 13, 2023
Not something you see very often from Salah.

Looking forward to all the made up stories that moment of (understandable) frustration leads to.

— Jim Boardman (@JimBoardman) August 13, 2023
I get it, Mo. But what we needed here was fresh legs.

— Erin Mc Asterisk (@ErinNYC75) August 13, 2023
If you want to get Doak on the solution should be to play 4231 with Salah central. I understand why Salah was pissed tbh. He's still our best goal threat and he wasn't tired.

— Red (@TaintlessRed) August 13, 2023
Incremental ripping off of your hand strapping to ironic crowd cheering each time you throw a white piece to the ground is the new benchmark for substitution displeasure (Mo Salah).

— Paul Hayward (@_PaulHayward) August 13, 2023
I don't give a fuck who you are, Mo Salah.

You don't react like that to being subbed.

— Carl (@Carl_M79) August 13, 2023
Not being funny, and I understand the reaction, but if Mo Salah doesn't want to be substituted, he shouldn't be doing his best Casper tribute act for the last 60 minutes.

We have attacking options on the bench, we use them.

— ? (@Shannxo) August 13, 2023
Salah was taken off after 72' at City and 75' at Arsenal last season.

A big away game trend from Jürgen…

— Andrew Beasley (@BassTunedToRed) August 13, 2023
No opening day victory, but there was plenty of perspective from Reds…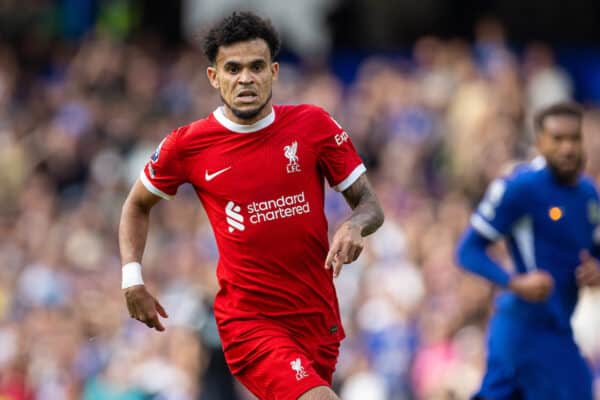 A point away from home on the first day, not ideal but not the end of the world either…
Given it's a really tough opening fixture and that Chelsea had the best of large parts of that game, that's a good point for Liverpool. But they have two really obvious problems in defensive midfield and the left side of their defence that simply have to be addressed immediately.

— David Lynch (@dmlynchlfc) August 13, 2023
Good point that. We will see that as a good point when we are lifting that fucker at the end of the season and Scottish Ben Doak has won young player of the year.

— benjani (@Benjanijohnson) August 13, 2023
Could've won, could've lost and the handball rule is still a mess & a guess. Lots of good bits from #LFC and also lots of room for improvement – only guarantee is they'll be putting us all through the wringer again for another 9 months #CHELIV #PremieLeague

— Chris Mac (@chrismackop) August 13, 2023
Take the point and move on. Decent result, mixed performance.

SIGN A DEFENSIVE MIDFIELDER (and a left-sided CB/LB).

— Henry Jackson (@HenryJackson87) August 13, 2023
"Draw against Chelsea in the opener. Not an amazing game, but an acceptable result. However, if we do not sign a high quality defensive midfielder we will struggle getting top 4 this year." – William Dalio in TIA comments.
Take that point. Ragged second half and no need to mention what we need. Good impact by Jones Elliott and Doak

— Jeff Goulding (@ShanklysBoys1) August 13, 2023
A point isn't a bad thing. Seemed better defensively second half. For most the second we offered nothing up front so no problem with the subs. Salah needs to calma.

— forzathereds (@forzathereds) August 13, 2023
A decent point, particularly given our attacking threat was non-existent between 55 and 85. The need for a DM is obvious but then it has been since September last year…

— Aaron Cutler (@aaron_cutler) August 13, 2023
Another season, another ever-changing threshold from referees…
From seemingly obvious handballs and inconsistent thresholds, welcome back to the Premier League. Oh, how we've missed you…
Watch the Brighton handball for Luton's penalty yesterday. Then tell me how that was given but this wasn't.

— Matt Ladson (@mattladson) August 13, 2023
Klopp entirely right to be incensed, as Szoboszlai fairly wins the ball on a dangerous break. The decision-making has been embarrassingly bad for any time of the campaign, let alone a season opener.

— Danny Gallagher (@Danny7Gallagher) August 13, 2023
The refs in this league have to be a social experiment

— Ben Kelly (@bkelly776) August 13, 2023
Madness that's not a pen. Already refs making mistakes.

— Karl (@KarlThyer) August 13, 2023
Oh, so you can block a goal bound shot with your hand as an outfield player now?

— Joel Rabinowitz (@joel_archie) August 13, 2023
The NBA has become really popular in London ? pic.twitter.com/C6jJINdzCK

— Amit (@LFC_Amit) August 13, 2023
Every August we get told a load of refereeing PR rubbish about how they're improving things but nothing ever changes. I'm so tired. Get rid of them all.

— Ben Kelly (@bkelly776) August 13, 2023