It is still early days for Liverpool in the 2023/24 season, but how has each player rated during the campaign to date?
Jurgen Klopp's side went into the last international break of the year with an impressive 3-0 win over Brentford, leaving them second in the Premier League table.
The summer transfer business has paid off handsomely, allowing Liverpool to look refreshed after midfield additions, while other key figures have returned to top form.
Here's how we rate each Reds player out of 10 so far this season, from worst to best.
(NB. minimum five appearances, in all competitions)
20. Kostas Tsimikas – 6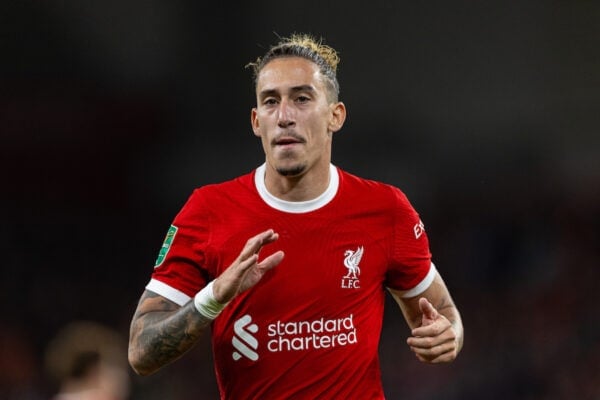 Appearances: 10
Starts: 8
Goals: 0
Assists: 2
---
The gap in quality between Andy Robertson and Kostas Tsimikas remains great, and the latter has struggled to convince in the former's absence this season.
His defensive work has always been unpredictable while his attacking output has shone, but there hasn't been enough consistency and all-round quality on show at both ends.
That being said, he has still performed well at times and assisted twice against Brentford – interestingly, he has the second-most frequent assist rate in the Klopp era, behind Philippe Coutinho!
19. Cody Gakpo – 6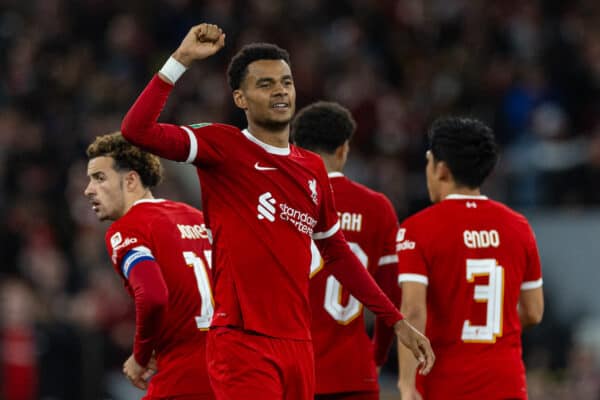 Appearances: 14
Starts: 9
Goals: 4
Assists: 1
---
Cody Gakpo felt like a key starter going into campaign, but while the likes of Darwin Nunez and Diogo Jota have shone, he has struggled to get going.
The Dutchman hasn't impacted games as a striker, with chunks of matches passing him by, and he has been too quiet rather than his usual subtly impressive self.
Four goals in nine starts is still a solid enough return, though, and he remains an excellent option when on top form, as well as a versatile player who can play well out wide and as a No. 8.
18. Wataru Endo – 6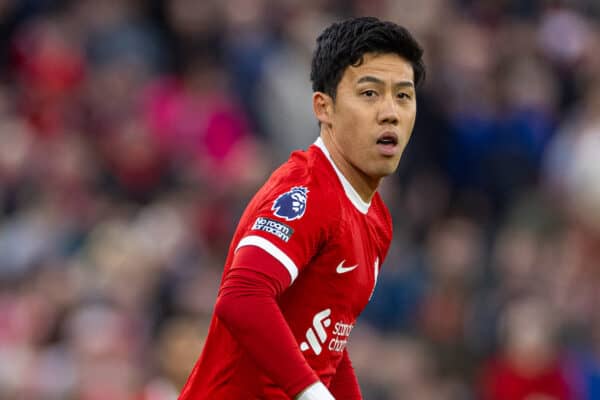 Appearances: 13
Starts: 8
Goals: 1
Assists: 1
---
Eyebrows were raised when Wataru Endo joined Liverpool – it's fair to say that the jury is still out with a chunk of Liverpool's fanbase.
The Japanese has shown plenty of willing when on the pitch, biting into tackles and trying to use the ball with purpose, but the pace of the Premier League has been an issue and he has found it tough.
It may be what he was brought in to be, but Endo feels like nothing more than an experienced squad player who shouldn't be starting games of real note.
17. Alexis Mac Allister – 6.5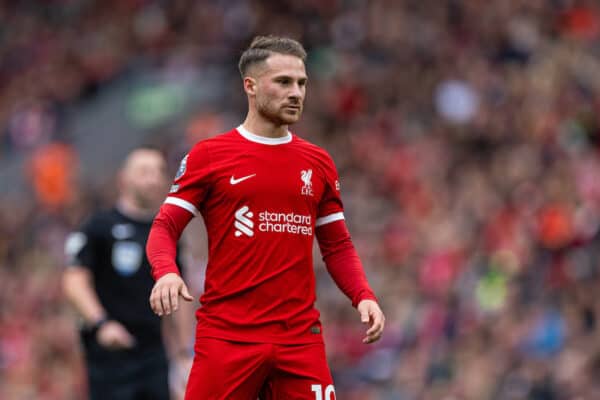 Appearances: 15
Starts: 2
Goals: 0
Assists: 2
---
The performances of Alexis Mac Allister have been so difficult to gauge because he is clearly being played in an unnatural role by Klopp.
The 24-year-old's lack of pace and natural positional sense as a No. 6 have been problematic at times, but he has also played well in plenty of games, not least when providing a lovely assist for Nunez at home to West Ham.
Ideally, Mac Allister would be moved up to his preferred No. 8 position eventually, but if Klopp sees him as his best defensive midfield option, the hope is that he grows into the role.
16. Ryan Gravenberch – 7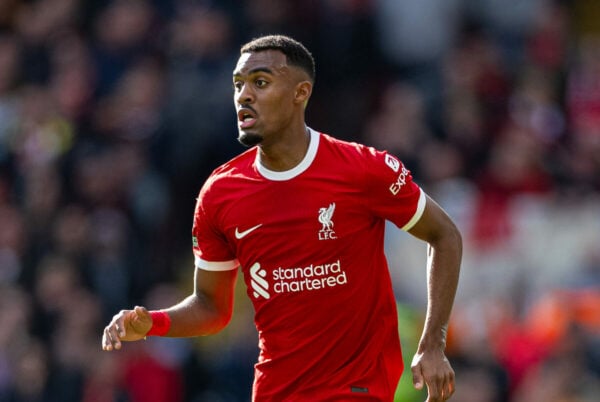 Appearances: 12
Starts: 7
Goals: 2
Assists: 2
---
Some may not have been overly keen on the idea of Ryan Gravenberch joining Liverpool, following a flat season at Bayern Munich, but he looks like he could be a sensational signing.
The 21-year-old has caught the eye with his technical quality and athleticism in midfield, breaking the lines and registering two goals and assists apiece, and he should only get better with time.
There is still work to do defensively, as he adjusts to Klopp's style of play off the ball, but Gravenberch could become a wonderful player for the Reds – and a bargain.
15. Luis Diaz – 7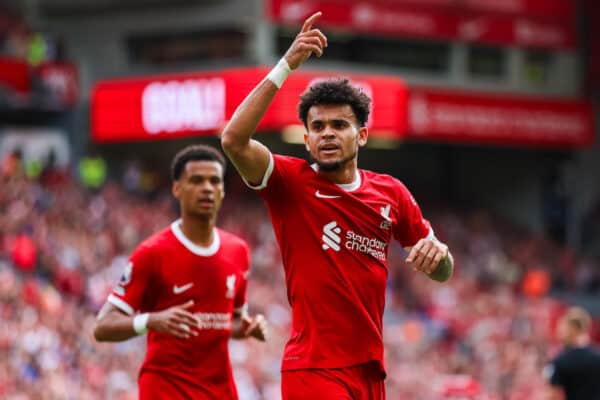 Appearances: 14
Starts: 10
Goals: 4
Assists: 0
---
In what has been an unbearable period in Luis Diaz's life off the pitch, the Colombian has largely done well on it, which shows the strength of character he possesses.
With each passing game, the more dangerous he looks as he overcomes last season's knee injury, and he has four goals to his name so far.
A bugbear for some has been a lack of killer end product from Diaz, though – certainly compared to Sadio Mane before him – and that needs to go up another level for him to be considered genuinely world class.
14. Ibrahima Konate – 7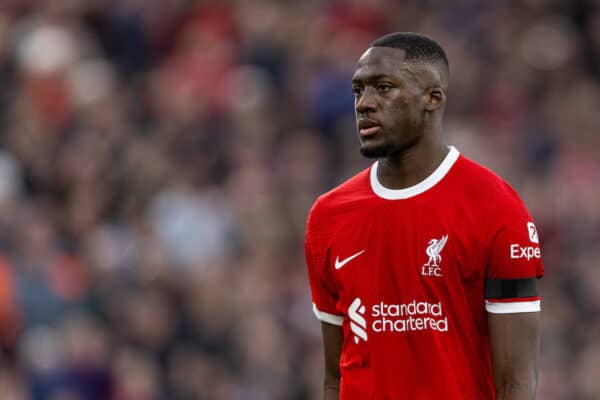 Appearances: 11
Starts: 8
Goals: 0
Assists: 0
---
Overall, Ibrahima Konate has again impressed at the heart of Liverpool's defence, but injuries are becoming increasingly concerning.
The Frenchman cannot seem to stay fit for prolonged spells, and it is raising doubts over whether he can be the long-term leader of the back line at Anfield.
When Konate has played, it has been hard to criticise him, as he combines pace, power and a great understanding with Virgil van Dijk.
13. Joe Gomez – 7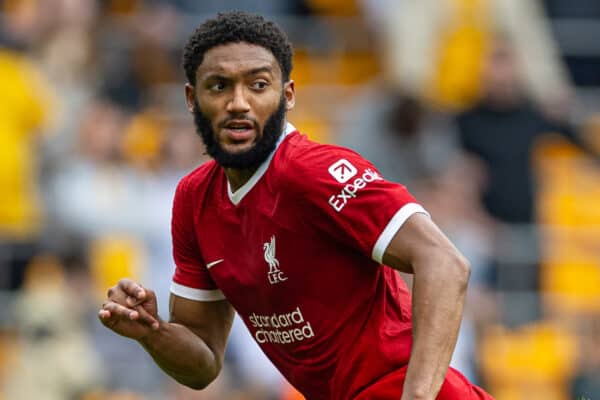 Appearances: 15
Starts: 8
Goals: 0
Assists: 1
---
Joe Gomez was in horrible form last season, even looking like a summer exit was needed, but he has bounced back admirably in 2023/24.
While still not a first-choice starter, the Englishman has done well at both right-back and centre-back – less so at left-back against Luton – cutting a calmer, fitter and more confident figure.
That first-ever career goal continues to evade him, though!
12. Jarell Quansah – 7.5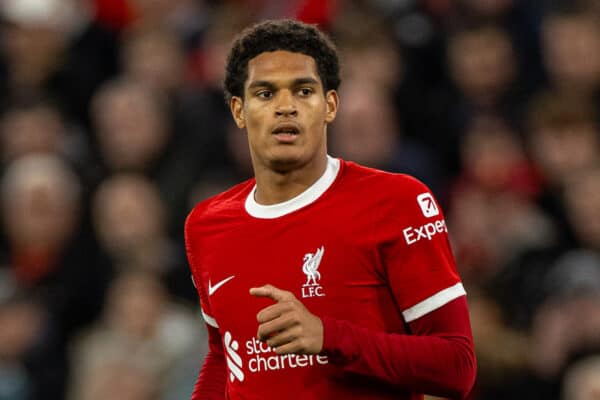 Appearances: 9
Starts: 5
Goals: 0
Assists: 1
---
Who expected Jarell Quansah to have made nine appearances by the middle of November?
The rise of the 20-year-old has been as impressive as it has been pleasing, and he looks like a genuine squad option.
An assist against Leicester in the League Cup highlighted Quansah's dynamism, and he is averaging the second-most accurate passes per 90 than any other player in the Europa League (95.3), behind only Brighton's Lewis Dunk (112.4).
11. Harvey Elliott – 7.5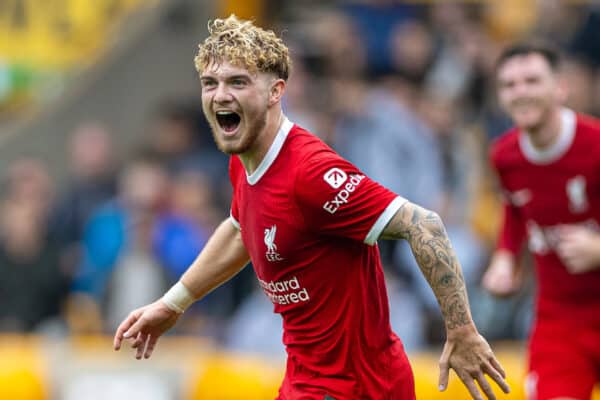 Appearances: 16
Starts: 7
Goals: 0
Assists: 1
---
David Fairclough coined the nickname 'Supersub' during his time at Liverpool, and Harvey Elliott has been that figure this season.
Granted, the youngster hasn't necessarily impacted matches with goals and assists from the bench, but he has brought control and quality at key times – including away to Wolves, when he changed the game.
From the start of matches, Elliott remains a risk who is lacking in physical prowess, but he is an excellent squad option who is a difference-maker in the second half of games.
10. Joel Matip – 7.5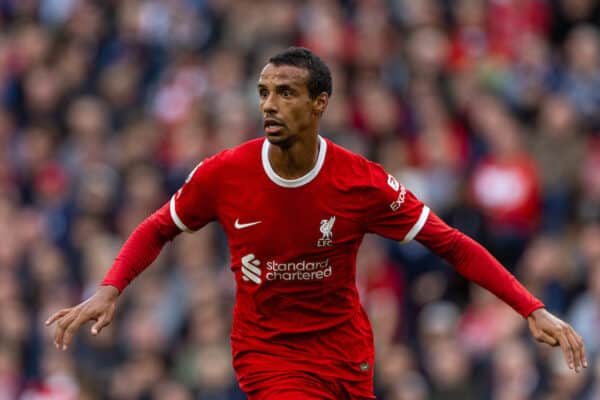 Appearances: 12
Starts: 10
Goals: 0
Assists: 0
---
Much like Gomez, Matip was completely out of sorts too often last season, but he has returned to somewhere near his best since August.
In Konate's absence, the veteran has been excellent overall, bringing the ball out in trademark fashion and cutting out the sloppy errors from last time around.
Matip is out of contract in the summer, and though an extension felt unlikely, there is now a question to be answered on whether he should stay beyond that or bow out in style.
9. Trent Alexander-Arnold – 7.5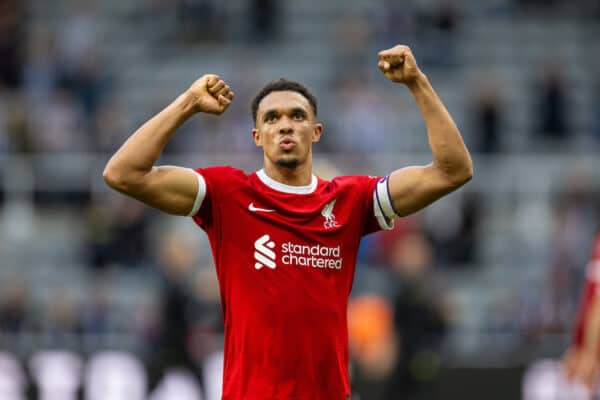 Appearances: 14
Starts: 11
Goals: 0
Assists: 3
---
Trent Alexander-Arnold has continued in his new hybrid role in 2023/24, and while his performances haven't been perfect, he has shone overall.
Liverpool's new vice-captain has produced passes that few in world football are capable of – only Mo Salah (11) has created more big chances in the league than his four – and he also been stepped up defensively overall.
That being said, improvements are still needed there, with Alexander-Arnold's level of dedication and focus in that area sometimes looking suspect.
8. Andy Robertson – 8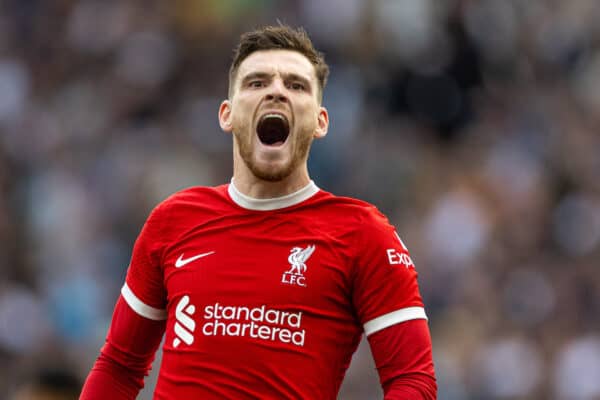 Appearances: 8
Starts: 8
Goals: 1
Assists: 0
---
An injury to Robertson has arguably made us forget how well he was playing before his shoulder setback.
The Scot was one of many who failed to hit top gear last season, but he looked reinvigorated from the off in 2023/24, not least when scoring a crucial and rampaging late strike at Wolves.
Robertson has been much-improved in the more disciplined left-back role he is now being asked to play, and his return in the New Year will be huge.
7. Curtis Jones – 8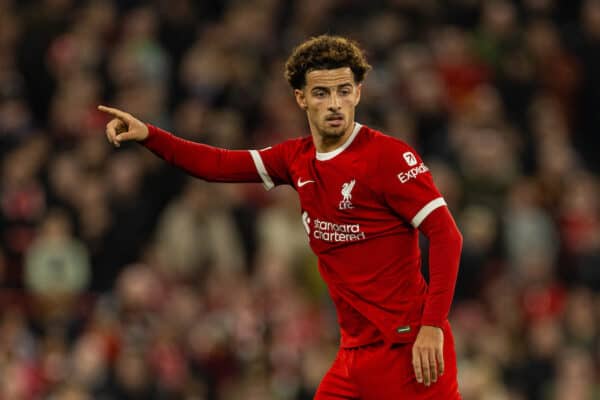 Appearances: 9
Starts: 7
Goals: 0
Assists: 1
---
The injury niggles aren't going away for Curtis Jones, which is proving to be so frustrating, but he was an undisputed key man before the unlucky red card at Tottenham.
Klopp has moulded the 22-year-old into something close to Gini Wijnaldum, with his style now more understated than than the creative wizard we saw at youth level, and he is getting better all the time.
Press resistant, hard-working and underrated in a physical sense, Jones has been missed when injured – not least away to Brighton and Luton, with his level of control lacking.
6. Diogo Jota – 8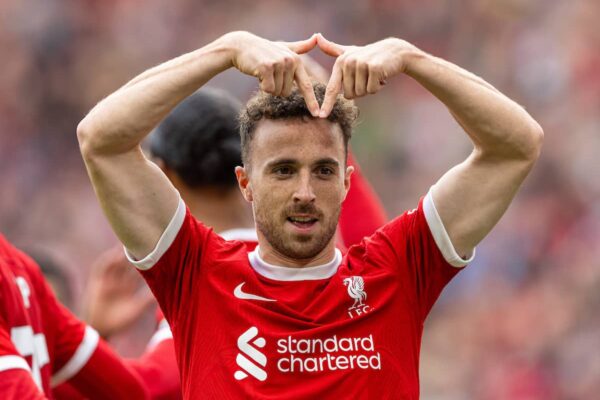 Appearances: 16
Starts: 10
Goals: 8
Assists: 0
---
Diogo Jota has become one of Liverpool's most underrated players, and he has been a really strong performer in 2023/24 to date.
Eight goals in 10 starts speak volumes about his quality in the final third, and there is a strong argument to say that is the Reds' most reliable finisher.
Jota is also great off the ball, carries a snide edge to his game and, while not always the easiest on the eye, he has been someone who consistently makes things happen.
5. Darwin Nunez – 8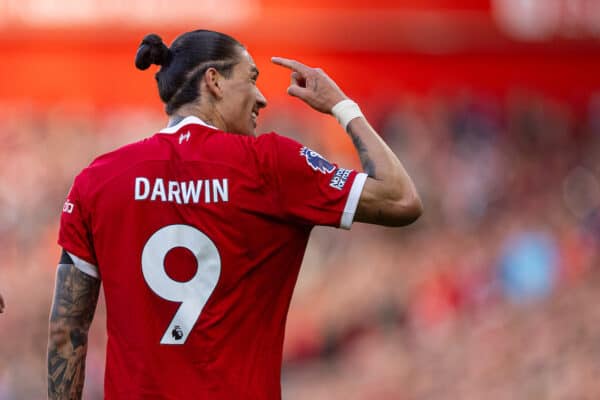 Appearances: 17
Starts: 9
Goals: 7
Assists: 5
---
Darwin Nunez will forever be criticised by some, regardless of what he does, but the positives have comfortably outweighed the negatives this season.
A one-man wrecking ball who was once perfectly described as being like an out-of-control horse let loose in a town, the Uruguayan has always been at the centre of the action and is a nightmare to play against.
There has been consistent quality in the final third, as shown by seven goals and five assists, and he has linked beautifully with Salah.
When Nunez cuts out the inexplicable misses and becomes more polished in his decision-making, Liverpool have something special on their hands.
4. Dominik Szoboszlai – 8.5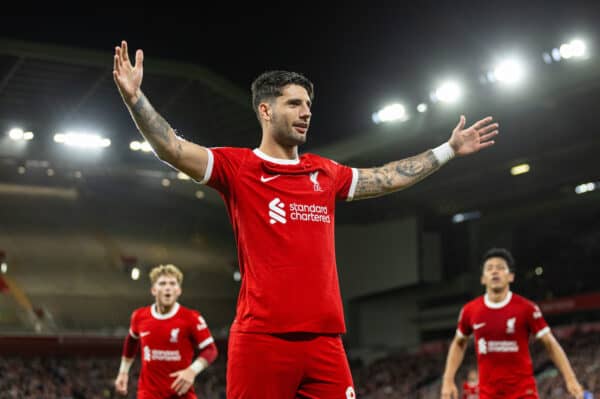 Appearances: 17
Starts: 13
Goals: 2
Assists: 2
---
There is no question who Liverpool's star signing of the summer has been, with Dominik Szoboszlai immediately becoming a new hero at Anfield.
The Hungary international has been majestic to watch in the middle of the park, with his ability, work ethic and leadership all standing out.
A couple of goals and assists each have been handy – his strike at home to Aston Villa displayed glorious tecnhique – but the less-heralded aspects of his game have been just as eye-catching.
The manner in which Szoboszlai has started suggests he could be to Liverpool's midfield what Alisson and Van Dijk were to their positions when they came in.
3. Mohamed Salah – 8.5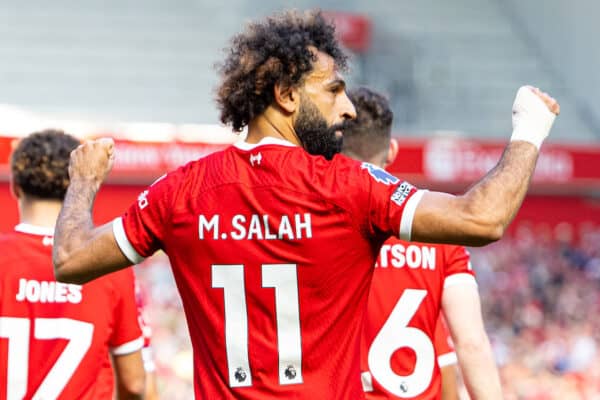 Appearances: 17
Starts: 14
Goals: 12
Assists: 4
---
Another season, another Salah masterclass.
In truth, some of the Egyptian King's overall performances have been erratic on occasions, but you cannot argue with the relentless end product.
Fourteen goal involvements in 12 Premier League outings would be lauded to the rooftops if it was any other player – with Salah, it is just par for the course and few from the outside say anything.
Now closing in on 200 Liverpool goals, he is still easily the Reds' best attacker, and one of the finest footballers in Anfield history.
2. Virgil van Dijk – 9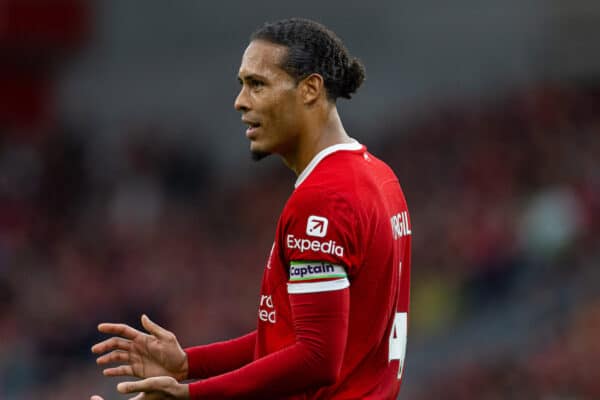 Appearances: 11
Starts: 11
Goals: 0
Assists: 2
---
Those dissenting voices who claimed that Van Dijk's best days behind him are awfully quiet all of a sudden.
Liverpool's new skipper has been back to somewhere near his very best this term, thriving with the captaincy and looking a fitter, more focused individual.
No player has dribbled past Van Dijk in the league, and he has been immaculate both aerially and with the ball at his feet.
The best centre-back in the world.
1. Alisson – 9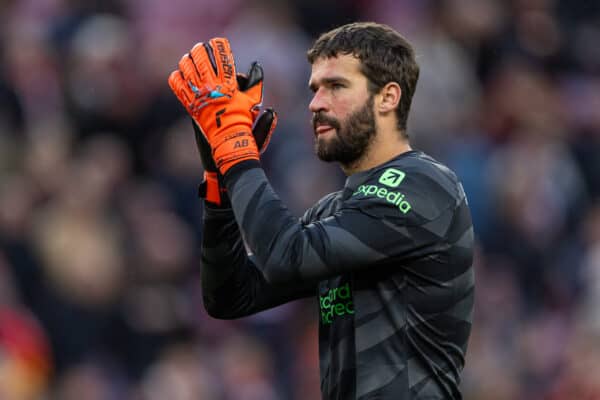 Appearances: 13
Starts: 13
Clean sheets: 5
---
Salah and Van Dijk are indispensible to this Liverpool team, and exactly the same applies to the ever-reliable Alisson.
The Brazilian was the Reds' star man by a mile in 2022/23 and that perfect form has continued into the current campaign, with no goalkeeper in the Premier League having a higher save percentage (80%).
It is hard to think of a single error of note from Alisson, whose shot-stopping in one-on-one situations has been unrivalled, and his distribution is as good as ever too.
Call it bias, but it is hard to think of a more complete 'keeper in decades.