Following confirmation that the expanded Anfield Road End isn't expected to be completed until 2024, ticket-holding supporters have been contacted to inform how they will be affected for upcoming matches.
It was announced earlier this month that the capacity of the stadium will not increase until after Christmas following further delays to the development of the new stand.
Last week fans were asked to return tickets to the club if they were unable to attend the Merseyside derby in order to help supporters who have had their tickets in the upper Anfield Road cancelled as a result of the delays.
That request has now been extended to include the next six home league fixtures, with the club contacting supporters to inform them that tickets in the unfinished section of the ground between now and Newcastle on December 30 are unfortunately now invalid.
The six fixtures impacted include Nottingham Forest (Oct 29), Brentford (Nov 12), Fulham (Dec 3), Man United (Dec 16), Arsenal (Dec 23) and Newcastle (Dec 30).
Fans who do still have a ticket to those games are being encouraged to return them to the club using the Ticket Exchange platform on the official website if they are unable to attend.
These tickets will be distributed to those who have lost out as a result of the delays, with fans who hand tickets back using this method to be refunded in full and allowed to keep their match credit.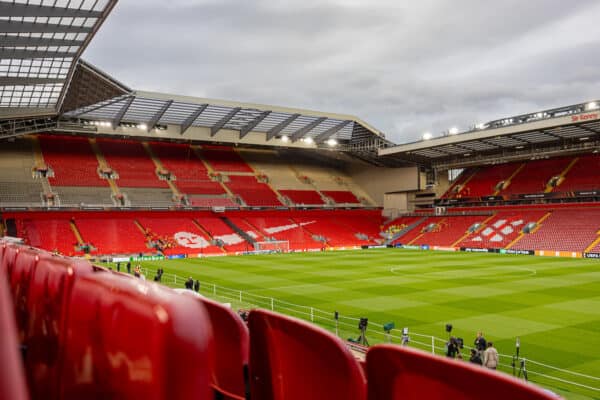 It is hoped that Anfield will be able to welcome a full-capacity crowd of 61,000 in time for any potential domestic cup clashes that the Reds may face at the beginning of January.
As things stand, a home draw in the third round of the FA Cup could be the first game in front of the completed stand on January 6/7, or a possible League Cup semi-final on either January 9/10 or 23/24 should the Reds progress that far.
The first league game to be staged at an expanded Anfield is set to be Chelsea's visit at the end of January, a whole month after Newcastle's visit just before New Year.