Liverpool FC are encouraging supporters who cannot attend this weekend's Merseyside derby at Anfield to return their tickets to the club.
The Reds return to action on Saturday lunchtime in a meeting with Everton following the international break.
It was confirmed last week that the upper tier of the Anfield Road stand will not open this year following the main contractor going into administration shortly before the first home game of the season.
Fans who had purchased tickets in the new upper tier for the upcoming derby were left disappointed by the news as it meant that their ticket for the game would no longer be valid and would instead be refunded.
Those tickets had been sold with the expectation that the expansion would be completed in time, but unfortunately, the delays have caused some to miss out.
In an attempt to help those supporters, Liverpool are calling on those who can't make Saturday's game to use the Ticket Exchange platform on the official website to allow those who have had their tickets cancelled to attend the game.
In return, the first 4,000 people who use the platform to return their ticket by 12pm (BST) on Wednesday will be given a full refund, allowed to keep their match credit and handed a £10 voucher per ticket returned.
The voucher can be used for all retail purchases before the end of next month and information on how to carry out that process can be found here.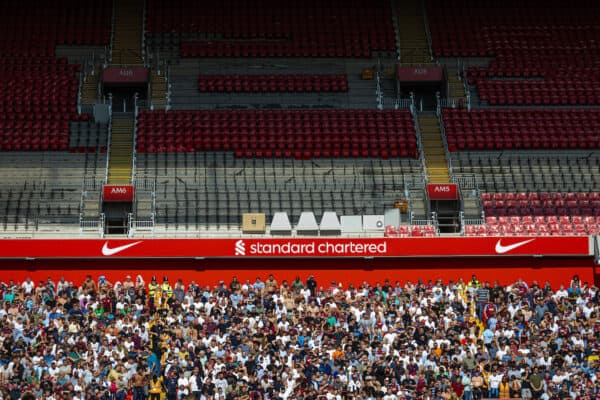 It is now hoped that Anfield will be able to welcome a full capacity of 61,000 supporters by the start of 2024.
Liverpool have played all of their home games so far this season in front of a reduced-capacity crowd as work continues to complete the development of the new stand.
A home draw in the FA Cup third round on January 6/7 could be the first game after the completion, or a potential league cup semi-final on either January 9/10 or 23/24.
The visit of Chelsea on January 31 would be the first league game in front of a full house if work was completed early in 2024, but even that isn't guaranteed.