Liverpool are expected to lose at least £10.5 million as a result of the Anfield Road Stand's upper tier not opening until 2024.
It was announced on Thursday that Liverpool's redeveloped Anfield Road Stand won't open in 2023, and the club are 'deeply frustrated', said CEO Billy Hogan.
With the delays come a loss of matchday revenue to the club as the stadium operates with a reduced capacity of around 49,000 – meaning 12,000 below the eventual 61,000.
On the renowned Price of Football Podcast, Liverpool University's Kieran Maguire estimated that the Reds would be losing about £750,000 per match with the stadium in its current state.
Having already played five games with no upper tier in use, Liverpool have already lost nearly £4 million in revenue and, with at least another nine games in the same state, the club stand to lose over £10.5 million.
Anfield games still to be played without upper tier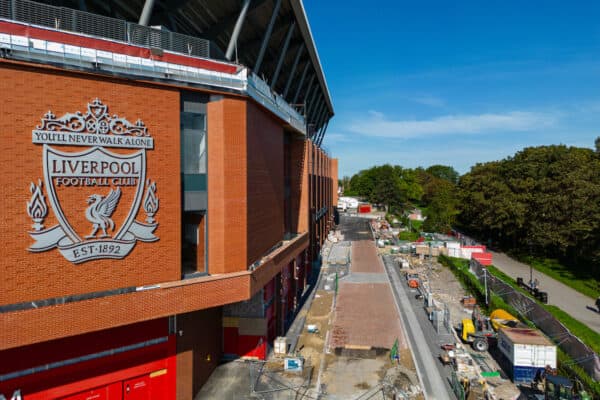 While the club originally targeted the first home match of the season for the opening, it was delayed and a 'phased' reopening was planned.
The plans were then thrown into disarray when the work's contractor, Buckingham Group, went filed for administration.
This put the completion back again and it will now be January 2024 at the earliest we see a full-capacity Anfield.
CEO Hogan said: "This is a really complex and deeply frustrating situation. We're all really disappointed to have to deliver this news, we know the impact of this news on many supporters.
"But our team here and the consultants, as well as Rayner Rowen, are working incredibly hard to ensure that we're doing everything that we possibly can to progress the project as quickly as possible."
Before the new upper tier can be full hold supporters, the club have to undertake at least one test event, as they did for the lower tier, to obtain a safety certificate from Liverpool City Council.