Luis Diaz has scored only one goal for his country since March 2022 and as expectation continues to grow, he has been told the responsibility of the team does not "weigh" only on him.
Diaz experienced an injury interrupted year last season with back-to-back knee issues robbing him of game time for both his club and country.
The electrifying winger is taking time to find his feet when it comes to goal scoring contributions this season – one goal and one assist for the Reds – but he is still very much considered a game changer.
For his country, the weight of expectation sits a little differently on his shoulders, and with just one goal in his last seven outings for Colombia, the pressure to impress is only growing.
But Colombia manager, Nestor Lorenzo, has stressed that they "don't want him to be the saviour" and goals are not the only indicator of a good performance ahead of games against Uruguay and Ecuador.
"We don't have the formula," Lorenzo said of Diaz, via AS. "The first thing we did was tell him that he should not put the team on his shoulders nor that the team's responsibility weighs on him.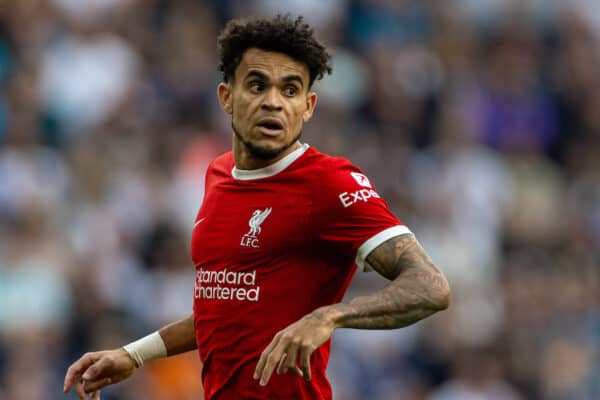 "People expect him to score four goals per game and that is not normal.
"His performance has been good and we hope he improves with training and knowledge with his teammates.
"In football you need partnerships, and in two [international breaks] he was injured and has missed those games that would have given him a little more rapport, but we have confidence in him, in his position and in his role.
"We don't want him to be the saviour either. I notice that if he doesn't score two goals he played badly, and that's not the case. In Liverpool, he plays every three days and here every month."
They are words Jurgen Klopp will no doubt value.
Diaz has featured in 10 of Liverpool's 11 games so far this season, playing the sixth-most minutes of any Red with 683, a tally that is already nearly half of what he managed in the entirety of 2022/23.