Reports in Colombia have confirmed that the kidnappers of Luis Diaz's father are representatives of ELN, a guerrilla group recognised as terrorists.
UPDATE:
"ELN says it did not know that they themselves had kidnapped
Luis Diaz
's father. They assure that they will ask for his release now" (
Semana
)
Diaz's father, Luis Manuel Diaz, was kidnapped along with his wife, Cilenis Marulanda, on Saturday night in the town of Barrancas, La Guajira.
Immediate police intervention saw the swift rescue of Marulanda, but Diaz Sr. remains missing, with police and army forces searching mountain ranges and jungle.
There had been fears the Liverpool winger's father had been smuggled into neighbouring Venezuela, but this has since been dismissed.
Following a reported arrest in Barrancas on Wednesday morning, various outlets in Colombian have reported confirmation of the group behind the crime.
Semana, Cambio and El Tiempo all corroborate word from the Colombian government that the National Liberation Army (ELN) orchestrated the kidnapping.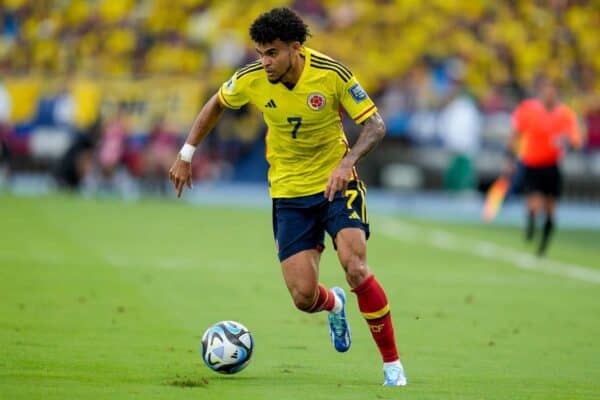 ELN, who have been operating since 1964, are a guerrilla group recognised as terrorists by Colombia, Venezuela, the United States, Canada and the European Union.
A government statement, signed by peace negotiator Otty Patino, reads:
"Today we have officially learned that the kidnapping perpetrated on October 28, in the Barrancas department of La Guajira, of which Luis Manuel Diaz and Cilenis Marulanda, father and mother of the soccer player [Luis Diaz], were victims, was perpetrated by a unit belonging to the ELN.

"Although Mrs. Marulanda was released a few hours later, the player's father has been kidnapped for five days."
The government's peace negotiators have held talks with ELN, demanding the immediate release of Diaz Sr.
"We remind the ELN that kidnapping is a criminal practice, violative of International Humanitarian Law," the statement continues.
#Comunicado ? | La delegación del Gobierno Nacional en la Mesa de Diálogos de Paz con el Ejército de Liberación Nacional, ELN, se permite informar a la opinión pública que: pic.twitter.com/XPiAMBy0on

— Alto Comisionado Paz (@ComisionadoPaz) November 2, 2023
"And that it is their duty in the development of the current peace process, not only to stop executing it, but also to eliminate it forever.
"As part of the development of the agreement on the ceasefire, our delegation will present this case to the current monitoring and verification mechanism, and will carry out all necessary actions to achieve the immediate release and with a guarantee of the life and integrity of Mr. Diaz."
Diaz has not travelled back to Colombia to reunite with his mother, but while he has remained on Merseyside he is not being considered available for Liverpool.
Instead, the club have issued off-field support for the 26-year-old and his extended family in the UK.