Luis Garcia has admitted he has one major "regret" from his Anfield career, but has described it as an "honour" to wear the Liverpool shirt.
The Spaniard featured 121 times and scored 30 goals across his three seasons at Liverpool, playing a major role in helping Rafa Benitez's team to reach the 2005 Champions League final in Istanbul.
Garcia netted in all three of the knockout rounds leading up to the fnal, including his famous 'ghost' goal against Chelsea in the semi-final at Anfield.
He also scored a brilliant long-range strike against the same team in the FA Cup semi-final the following season, but has described his absence from the final through suspension as a big "regret."
"We won the Champions League and later the FA Cup – unfortunately I missed the final, which is something that I still regret," recalled the former No. 10 in the 'My Liverpool Story' series on the club's official website.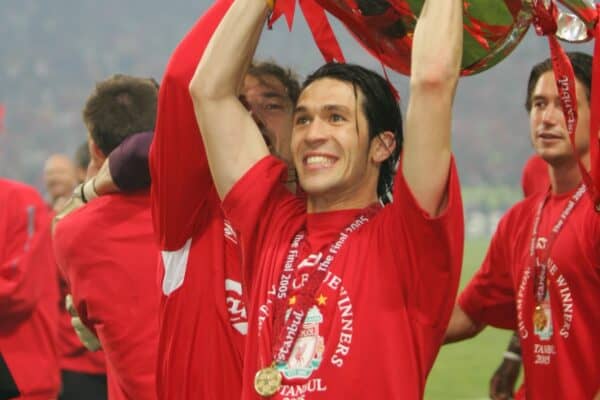 "That was a difficult experience for me but if you're intelligent you learn from your mistakes, and I made a pretty big one getting sent off in the build-up to that game.
"I scored in the semi-final, though, and it was against Chelsea again. So that is a memory I can look back on proudly.
"When I do talks now and clinics with young kids I always refer to that experience. You can never lose your cool. It was very out of character for me."
The Spaniard was sent off against West Ham in the league in the weeks before the final in Cardiff following a scuffle with Hayden Mullins.
Garcia went on to have spells at Atletico Madrid and Racing Santander after leaving the Reds in 2007 and is still remembered fondly by Liverpool fans.
His famous song on the Kop included the lyrics "he drinks sangria" – largely because it rhymes with his name – and it transpires that the Spaniard does indeed drink sangria!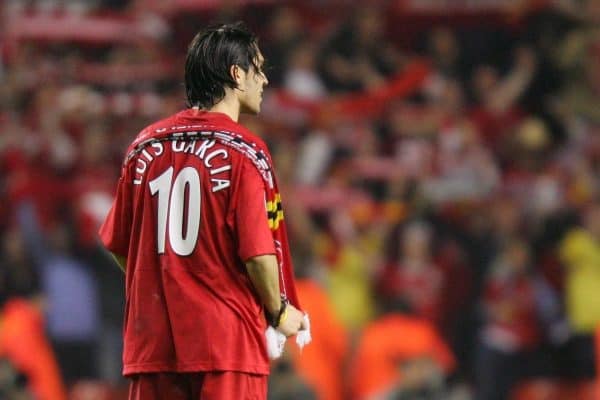 Garcia joked: "Oh, and I do drink sangria, in case you were wondering."
He retired from football in 2016 after a brief stint in Australia with Central Coast Mariners, describing his time at Liverpool as an "honour" and a "privilege."
"Pride and honour are two words I often use to describe my time at Liverpool FC," he continued.
"I was talking about it with some friends the other day, about listening to You'll Never Walk Alone as the players enter the pitch, hearing the crowd sing, shout and roar the team on.
"It is something every Liverpool fan should experience at least once in their life – to do that as a player was a privilege."