Darwin Nunez's first season in English football was a rollercoaster of experiences, and Luis Suarez was told to reach out to his compatriot, who is now thriving at Anfield.
Nunez had a mixed start to life at Liverpool, with a red card for a 'headbutt' delaying his integration into the side and Jurgen Klopp was left asking for more from his all round game.
A season on, Klopp has heralded his No. 9 for his "exceptional" connecting of the game and his defensive application, traits which the manager made clear he wanted to see.
Suarez, who Nunez looks up to, has been on hand to help the 24-year-old since he moved to Anfield, and that has included a 'warning' or two – with the former No. 7 having also needed to master how to handle underhanded tactics in English football.
"He has potential, technical ability and physical power that he is demonstrating," Suarez told AUF TV, via ESPN Uruguay.
"As a teammate, I am not surprised because I knew, even when he had a bad time in Liverpool last year I spoke to him, in Liverpool they told me to talk to him, I warned him and told him what English football was.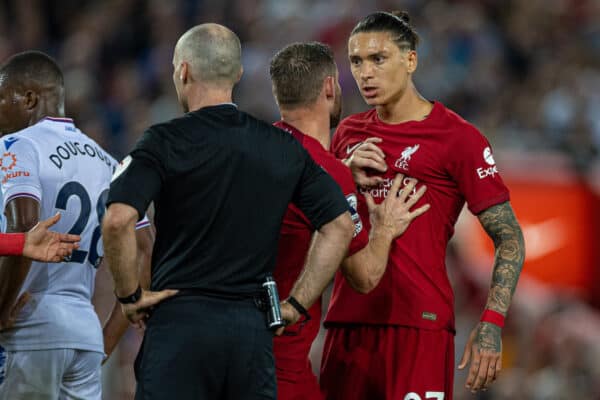 "He, with the heart he has, opened up and told me what had happened to him at that moment, we talked about it."
The pair will get more time to talk and trade stories and advice during the international break, with Suarez recalled to the Uruguay squad by Marcelo Bielsa – but he's not expecting his usual No. 9 shirt as that now belongs to Nunez.
"Also about the number 9 shirt in the national team, I told him that when I leave I want him to grab it. That's why, if you listen to Darwin's statements, he says it with total sincerity," Suarez said of the No. 9 shirt after debates in Uruguay.
"As a teammate I am happy for him; I spoke about it internally, and before the game with Brazil.
"These are things that we are happy about as teammates, we are different, we are from different generations, and I am happy for the moment that he is experiencing in his club and in the national team."
Nunez currently has seven goals and five assists this season, a complete 180 from his "bad time in Liverpool," and Suarez recently scored a 19-minute hat-trick in a boost to Gremio's unlikely title push.