Man City have announced record Premier League revenues of £712.8 million, but if you're raising a sceptical eyebrow, you are not the only one.
One hundred and fifteen, that is the number of charges the Premier League filed against Man City back in February, which predominantly concern the club's finances.
The allegations have since been referred to an independent commission and City's hiring of Lord Pannick KC as their defence lawyer, who has £10,000-an-hour rates, shows the severity of the case.
So, as you can imagine, Wednesday's news that saw City announce a revenue of £712.8million – a Premier League record – following their treble season, was met with a level of scrutiny.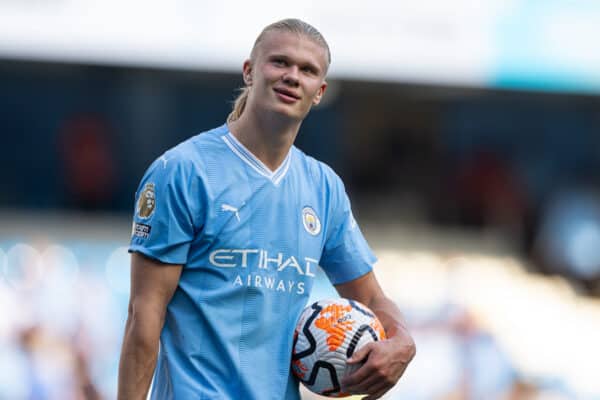 The report did not break down their commercial revenue, and at a time when their sponsorship deals are under a microscope, it does not clear up the anomalies from deals that have been scrutinised in the media.
For reference, Liverpool's latest set of accounts – to the end of May 2022 – was a club-record £594m in revenue, that is £118.8m less than City for 2022/23.
That in itself is puzzling, but that City can lead the likes of Liverpool and Man United in commercial revenue is another layer to a murky story. And social media was, understandably, full of sceptics:
And I believe in Santa Claus. https://t.co/WPRPzeRTUh

— Pete_Kopite (@PeteKopite) November 15, 2023
How on earth can Man City's commercial revenue be £100 million more than Liverpool's when they have hardly any fans compared to "big" clubs? Obviously I do know how but no-one seems to be punishing them meaningfully for their cheating!

— Neil (@1neilc1) November 15, 2023
It's strange how Man City make record revenue but can't fill their stadium and don't break down where the money has come from.

Not suspicious at all.

— Callum (@_callumstone) November 15, 2023
No one believes these figures are true

— Bottleyes (@deepblue0001) November 15, 2023
This whole Man City record revenue thing is a laugh! pic.twitter.com/wyJpnZ0GvV

— Stephen McCarthy (@loft27design) November 15, 2023
Great to see new fairytales being released just in time for the upcoming Christmas rush ? https://t.co/9gp9osmRZS

— Charlie Quinn (@quinnc1979) November 15, 2023
Sad that this is what football has become. A club like Man City gloating about revenues way above the big clubs and no journo questioning it…

— Rick (@UTD_Rick) November 15, 2023
Now, City did make note of the 115 charges for alleged breaches of financial regulations in their report, filing it under the 'Risks and Uncertainties'.
"The board acknowledges that there are a number of risks and uncertainties which could have a material impact on the club's performance," City's report stated.
"In February 2023, in response to the charges, the Club issued a public statement that it welcomes the review of this matter by an independent Commission, to impartially consider the comprehensive body of irrefutable evidence that exists in support of its position."
The charges filed against City could take up to four years to conclude, but who knows if that will be the case – it would not be a surprise to see it dragged on for a lot longer and even then, there isn't much faith around the process or outcome.